Question & Answers with Sri Sri Ravi Shankar

Q: Gurudev, What should one do when one is faced with conflicting choices?
Sri Sri Ravi Shankar:
Every confusion is a sign of growth, every time a pattern is broken. In such case, just relax. Inrelaxation your intuition works. Rely on it.
Q: Gurudev, For a beginner like me, how do I understand what self is?
Sri Sri Ravi Shankar:
Everything in the world changes. Our experiences change, our understanding changes, our intellect changes, we think differently at different times, thoughts are changing, and also our emotions keep changing. How do you know that everything is changing? There must be something that is not changing. Without the existence of something that is not changing you cannot even know things are changing. So you infer. E.g. when there is a smoke you say, 'there must be fire'. You just see the smoke and you infer that there must be fire somewhere. Similarly, you cannot directly experience that which is not changing, then how do you do it? Through inference.
The ancient people said there are three ways of knowing - Pratyaksha, Anumana, Agama. There are three proofs, one is Pratyaksha - you see direct. Second is anumana - you infer, e.g. you see the smoke and you know there must be fire, right! So when you see that everything is changing, and you know that you can experience change only through something that is not changing, through some reference point, then you infer -'There is something that is not changing in us and that is called 'SELF', your soul, your spirit, whatever you call it'!
So we went from body to finer - Body, Breath, Mind, Intellect, Memory and then ego. Finer than all this, is the 'SELF'. What the 'SELF' is? Finding that out is called spirituality… is meditation! And what this 'SELF' is made up of? It is…!
Q: Gurudev, Dearest Guruji, I heard about some people they are preparing themselves for living without food unlike you and me. Is this practically possible?
Sri Sri Ravi Shankar:
There are some people who are living without food but you know they don't have so much strength, they don't do much. If you want to be like a delicate doll sitting somewhere doing nothing, you don't need to eat much, you don't need to eat at all. Some people have practiced it for a long time. I know one gentleman who had come here to our ashram, said since the last thirty years he has not eaten anything.
Fine, how long did it take you to practice that? He said seventeen years. Seventeen years just watching the sun, slowly, slowly reducing the food, one time comes you don't need to eat anything; but he hasn't accomplished or achieved anything other than doing this. So if you want to take that as your life's mission - not to eat anything and practice that, well good! That you can do, no doubt. See for some people it has come to them naturally. Some people, nature has made their body, their system such that they don't have to eat, when they are happy and in meditation naturally food intake goes down, but it should not be done as a practice. I am reminded of the two great beings in India who were contemporaries, one is Lord Buddha and the other is Lord Mahavira.
Lord Mahavira did not eat at all, it is said he ate once in a year or three times a year or something like that. He didn't feel the need to eat. He was a prince just like Gautama Buddha or Buddha. As a prince he went out to find the meaning of life, to find the self. He won't eat for a long time. Very few times he ate, when someone brought food and offered him, he ate.
So Lord Buddha also tried this experiment; he also said okay I will also not eat and find out. Buddha forced on himself not to eat and his body became so weak and he could not even sit or walk or meditate, he became so dependant. At that time a lady came and brought him some rice pudding, he ate that and he got his prana back. Then Lord Buddha declared it is useless to fast too much! He said just by fasting you don't get enlightened.Lord Krishna has said very clearly in Bhagavad Gita; Lord Krishna has said Yoga is not for one who eats too much or for one who doesn't eat at all. It is not for one who doesn't do any activity or not for one who does too much activity, 'Yuktahara Viharasya'. Similarly not for one who does not sleep at all or one who sleeps all the time.
Yoga is for one who is in moderation and takes them out of misery, out of suffering, out of sorrow. Life is all about getting out of sorrow and how we can do this? 'Yuktahara Viharasya Yukta Cheshtasya Karmasu Yukt Swapnavabodhasya, Yogo Bhavati Dukhha'. One who has moderation in eating, one who has moderation in activity, one who has moderation in sleep and rest, for that person, Yoga brings them to enlightenment. Yoga brings them to the state where they become free from misery.
Moderation means what? Three meals a day is moderation, two meals a day is moderation, one meal a day?...Moderation? What is moderation that you have to see!
When you are hungry then you eat, eat only as much as is required, little bit. Not stuffing yourself when you are not hungry and also not stuffing too much, just gently little bit, little bit as much as is necessary, and activity is necessary along with it. So when you don't do activity and want to be in silence one or two or three days, okay then drop those days, take only water, some juice and then sit, you know; but you don't need to do all that, you don't need to do all those strenuous things at all.
The 'Art of Living' has given you such a nice package, such a nice path that suits today's active life, that suits our body, that suits our environment, our social cultural environment that we are in.
Q: Gurudev, Please tell about relationships and why they are often so difficult.
Sri Sri Ravi Shankar:
Well! You should again start reading celebrating love. Why do you think relationship is difficult?
Q: Gurudev, Guruji what is Shanti(peace)?
Sri Sri Ravi Shankar:
We must make you sit in a closed small room and play loudspeaker 24 hrs. And not some good music, some heavy music. Then after 24 hrs, when we switch it off you will come to know what is Shanti. (Laughter!!!)
Q: Gurudev, Is it ok to ask God helping us in exams, to get us through the examination? Does it happen?
Sri Sri Ravi Shankar:
Whatever you need to wish, you can do that, and it gets fulfilled. God is a very lively and loving consciousness. That is why, desires get fulfilled.
Q: Gurudev, In spite of spiritual inclination, some melodramatic tragedies keep on happening. Why is this so?
Sri Sri Ravi Shankar:
Tragedy is tragedy when you are affected. There is no explanation forsome phenomenon. Why accidents happen, why do people die? It is thesemoments when you say "Why me?" You know, the 'Why' in the mind isassociated with misery and the 'How' is associated with wonder and joy.
Whenthe question, 'Why this problem only with me?' arises in mind or itarises in some other's mind, better don't say anything. Just be! Noexplanation, no reasoning of that will suffix. You simply have to leavethose questions for those moments. Time will take you across. Time willmake you sail from that situation. Our tendency is to answer them orconsole them, but smile or a moment of silence will be better. Noexplanation. No reasoning, no theories will ever do anything. That iswhat I feel.
Q: Gurudev, I feel unhappy very often. How can I get out of it?
Sri Sri Ravi Shankar:
Right now are you happy or sad? Just be happy. So, the answer is within you.
Once, a woman went to a saint and asked, 'Why is the world so sad?'
If you can't leave the world when there is unhappiness, how will you leave a world full of happiness?
You will be in a great loss if you can't let go of the world. Just turn inwards to the Source, there is no sadness. Once you learn how to go inwards the world doesn't seem sad.
Just look at the world, where is the sadness? Birds are chirping;the river is flowing. Where is the sadness? I only see beauty in the world. Just look at all the faces (here)they are so happy!
In life, there's 20 percent sadness and 80 percent happiness. But our mind makes the 20 percent into 2000 percent.
Q: Gurudev, Can you talk a little about the God? How do I feel connected to the Divinity?
Sri Sri Ravi Shankar:
Just a conviction, I belong to Divine, who so ever is Divine!
Divine principle is not someone in the sky. Inside you in the form of consciousness!
Q: Gurudev, If joy and peace are truly our nature, why is it so difficult to be happy and satisfied in our daily life?
Sri Sri Ravi Shankar:
Is it so difficult? You know you should have one policy, 'We will not do anything which is too difficult!' Be easy going, a happy go lucky person. Why do you have to struggle? If being unhappy is easy, just go for it. If being miserable is the easiest thing and being happy is so difficult, why do you have to struggle to be happy! Got it? Go for the easiest, and the easiest is to be unhappy? NO! The simplest, the easiest thing is to be relaxed and happy. If you say why it is so difficult, we have to fix this a little bit. And that thing which fixes this is knowledge. Got it? (After a break of a few breaths) And I tell you, it's easy!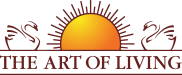 Founded in 1981 by Sri Sri Ravi Shankar,The Art of Living is an educational and humanitarian movement engaged in stress-management and service initiatives.
Read More