Question & Answers with Sri Sri Ravi Shankar

Q: Gurudev, Does the cycle of life and death never end?
Sri Sri Ravi Shankar:
The whole world is like that. It's all spherical: everything moves in cycles. You have to come back, but you have a choice. If you are born out of compulsion then it's the same old story again and again. But if you get liberated, then you have the choice and the will to be born when you want. When you come back liberated, it is joyful.
Q: Gurudev, I am very restless or I am very sleepy. How do I get a better balance for meditation?
Sri Sri Ravi Shankar:
Again these experiences are so common for a beginner. If you are just beginning to meditate, restlessness comes up or you feel very sleepy. When stresses get released from your system, such a passage may be common. Farry will tell you more on this. When it comes from a scientist mouth, it has more flavors to it. He is doing a lot of research in Oslo University on Kriya. They found how the chromosomes of your body change! He just told me some very exciting news. So when stress release happens, the chemical or structural form in which stress was stored gets released, you get all these experiences. Your endocrine system readjusts itself, because we have violated our body in so many ways so many times. We have not kept the balance; we have not honored our own body, so jerks may happen. How many of you have found some jerks? Emotions may come up and you feel completely confused. All this may happen. It's not that it should happen. Sometimes it doesn't happen and you say am I not releasing any stress? That person is getting stress released and I am so quiet. Don't compare your experience with anybody whatsoever. We all are so different. Everybody's nervous system is so different. And at different times, different experiences come to different people. So at any time we should never compare our experiences with others and feel sorry or happy about it.
Q: Gurudev, How does the Art of meditation help the mind, the body, spiritual aspirations and relationships and society as a whole?
Sri Sri Ravi Shankar:
Meditation helps to change your perspective. It improves the way you perceive things. It brings clarity in the mind. It improves your interaction with people around –what you say, how you react and act in different situations, you become more aware. In general, from a stress-free society to peace and health in individuals and from a violence-free society to a sorrow-free soul – all are side effects of meditation.
Q: Gurudev, Why is Krishna known as poorna avatar?
Sri Sri Ravi Shankar:
There are many aspects of Krishna which are complete. I have spoken about it in Krishna - absolute joy.
Q: Gurudev, If all are God's children, why is there a difference between people?
Sri Sri Ravi Shankar:
We make the difference. Some get 'A' grades or 'B' grades in school. We may have different talents and qualities. Some can lift 100 kilograms, some ten and some cannot even lift two.
Each person is unique in what they can do but at another level, everyone is the same. The blood in every person is red. Whatever breed a cow may be, the milk will be the same color.
No two people will have the same fingerprints. If you look at our qualities and talents, we are all unique. At the level of love, we are all the same. There is no difference.
A small child will not eat ten idlis. If you give an adult, a small cup and spoon, will it do? Capacities are different, yet everyone is the same.
Q: Gurudev, What should we do to always be happy?
Sri Sri Ravi Shankar:
First be more and more happy and then if some moments of unpleasantness creep in life- accept them.Don't get upset because you were upset sometimes in the past, and then you will always be happy.
Q: Gurudev, How can I balance peace while fighting for justice?
Sri Sri Ravi Shankar:
That is the whole essence of The Bhagavat Gita. Be calm from the inside and act whenever required. You should stand up and fight if necessary; but don't keep the fight inside yourself. Usually we fight inside and keep quiet on the outside. We should do the opposite. With meditation, it becomes easy to bring about this change. The power of satva and the power of meditation make it easy.
Today is Shri Ramanavami (Lord Rama's Birthday). Ra means radiance, Ma means myself. Rama means 'the light inside me'. Rama was born to Dasharath and Kousalya. Dasharath means 'Ten Chariots'. The ten chariots symbolize the five organs of perception (the five senses) and five organs of knowledge and action (For instance: reproduction, legs, hands and so on). Kousalya means 'skill'. Ayodhya means 'a society in which there is no violence'. If you skillfully observe what goes on inside the body, light dawns inside you. That is meditation. You need some skill to relax the tension. Then you start expanding.
You know you are here now, yet you are not. With this realization, there is a certain lightness that comes spontaneously. Rama is when the inner light shines through. Sita the mind/intellect was robbed by the ego, Ravana. Ravana had ten heads. Ravana (ego) was one who wouldn't listen to others. He was too much in the head. Hanuman means breath. With the help of Hanuman (the breath), Sita (the mind) was able to go back to Rama (the source).
Ramayana happened around 7,500 years ago. It had an impact on Germany and many other countries in Europe and Far East. Thousands of cities are named after Rama. Cities like Rambaugh in Germany, Rome in Italy have their roots in the word Ram. Indonesia, Bali and Japan were all influenced by Ramayana. Though Ramayana is history, it is also an eternal phenomenon happening all the time.
Q: Gurudev, What are the qualifications to gain liberation?
Sri Sri Ravi Shankar:
The fact that you are a sane human being is enough and the fact that you are a good human being. And ALL human beings are good!
Unfortunately, some scientists claim that human beings have dark and light sides. So the concept is that half of you is dark and half of you is light. That is not how it is. Just imagine someone coming up to you and saying, "You have a dark side. You could be a murderer." You would say, "No, I didn't even dream of something like that!" Then you start wondering, "Oh, maybe there is something like that inside me..." Then you put that seed in yourself and start nurturing that which was not there before.
There is a beautiful verse by the Indian poet Kabir, "I went to find a bad person in the universe, and I found none." There are negative tendencies in people but that is not the basic human nature. That is only on the circumference. Why is someone behaving negatively? Because they are hurt. A happy, joyful, centered person will never do harm to anyone, even to animals. See, even lions go for prey only when they are hungry, not all the time. That too, they don't kill other animals out of rage. They do it out of need.
So, these concepts that a person has a light and dark side are man-made, far from reality! Go into the soul, "Satchidananda"- true, blissful: the Consciousness.
A desire has arisen and I want to ask you about this. Give me a glimpse of self-knowledge.
You are getting it. Just relax. See, to catch a train, you have to hurry up, pack your things, go to the train station and get onto the train or go to the airport and catch a plane. But once you are on the plane, relax. Running between aisles holding your luggage will not get you to your destination any faster! Once you are on the path, relax.
Lord Krishna tells Arjuna after he has told him all that Arjuna had to do, "Drop all that, I will relieve you from your sins. You drop all that you are holding onto. Drop even your dharma. I will relieve you from your sins." Instead, people try to get rid of their sins. That will never happen. The Divine will relieve you of your sins.
All that you need to do is to let go of everything you are holding on to. It is beautiful. First, Lord Krishna makes Arjuna understand Dharma. Then, Arjuna is made to drop all of it. Lord Krishna says, "Take refuge in Me and Me alone. I will relieve you of all your sins."
Q: Gurudev, How does God see the world?
Sri Sri Ravi Shankar:
God cannot see two. For God there is no you and I! He can only see himself in everything and everyone!!
Q: Gurudev, Does everybody need a Guru?
Sri Sri Ravi Shankar:
Do you need an answer? If yes, then yes. If some people do not feel the need, then also it is alright. When you ask a question, and somebody gives an answer, the one who gives you the answer anyway plays the role of the Guru. You need medicine, and you go to a doctor. The one, who gives you medicine, becomes a doctor. Similarly who gives the answer, you accept him as your Guru.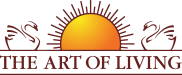 Founded in 1981 by Sri Sri Ravi Shankar,The Art of Living is an educational and humanitarian movement engaged in stress-management and service initiatives.
Read More