Question & Answers with Sri Sri Ravi Shankar

Q: Gurudev, Are we all part of the Divine Light Source?
Sri Sri Ravi Shankar:
Of course. But until it becomes your experience, keep it at the back of your mind.
Q: Gurudev, I have been introduced to two concepts which I find confusing. A. I am not the doer. Or B: I should take responsibility for little things even when I have little control. What's up?
Sri Sri Ravi Shankar:
Life is a balance between these two things. Taking responsibility and letting go. It's both. That's a fine balance. For the present and future take responsibility, for the past know that it has to happen that way and move on. So often we do the reverse. We think that the past was free will and regret and we think the future is all destiny and we don't do anything about it. But the wise one does you know what? The regard the future as free will, past as destiny and they are happy in the present. So you don't regret about the past and you know what you want to do in the future and you are on it.
Q: Gurudev, We worry about future and cry about the past. How can wechange the pattern?
Sri Sri Ravi Shankar:
Take past as a lesson, and see what you can do in the future. That iswhy we should take past as destiny and future as free will, that isintelligence.
Q: Gurudev, Distractions and problems of everyday life come up again and again. Is it better to lead a detached, quiet life?
Sri Sri Ravi Shankar:
Life is a combination of both: dynamism and silence, chaos and quietness. You shouldn't be afraid of either. Those who are used to chaos, are scared of silence. Many times, in my public talks I have observed that some people can't even close their eyes, they're so scared. Sometimes politicians and even professors can't sit for 10 minutes with eyes closed. They're scared to do so. People are so scared of silence, of stillness, of closing their own eyes. Similarly people used to their silence, to their comfort zone are so scared of chaos and disturbance. Both are incomplete. You should feel as comfortable with silence as you are with chaos, and that is the art of living. We see dynamism in silence and silence in chaos. When you are at home with both of them you are able to contribute in both situations.
Q: Gurudev, How do we use this time to expedite our spiritualgrowth?
Sri Sri Ravi Shankar:
Just exactly what you are doing now.
Q: Gurudev, What is the golden rule of a happy married life?
Sri Sri Ravi Shankar:
Well,I am not qualified to say anything, but let me think. Why don't you sitwith those who are happily married? What I have heard is:
Before marriage: a couple is mad for each other.
During marriage: They are made for each other.
And then: They are mad at each other.
After while: They are mad because of each other.
Somebody has formulated this!
Onething I know, marriage is an institution of patience, sacrifice, caringfor each other and sharing. If one is upset, other should keep quietand wait for his/her turn to get upset. If both together get upset atthe same time, then there is a problem! But in front of kids, oneshould better be civilized.
Q: Gurudev, Could you explain what liberation is? How do we attain it?

Sri Sri Ravi Shankar:
Liberation simply means freedom. Then you can say, 'I want nothing for myself, I'm complete.' Liberation is when you have accepted the whole creation the way it is, you've accepted people the way they are. Liberation is total peace; a peace which is unshakeable. And this sort of peace dawns when there is forgiveness, compassion, naturalness. You know if you assume you're somebody then you can't, if you are intelligent or stupid you have no liberation. You are neither intelligent nor stupid, neither rich, nor poor – if you think – 'Oh, I'm a very poor guy or poor lady,' no way you can get it! I am nothing! That sense of lightness, easiness, is what liberation is. A simple taste of it everyone has got, you know when? When your exams were over! The day you finished your exams when you were a child you came back home and threw those books on the sofa and just sat, relaxed! How did it feel? G R E A T, huh? That's all!

Q: Gurudev, Does everybody need a Guru?
Sri Sri Ravi Shankar:
Do you need an answer? If yes, then yes. If some people do not feel the need, then also it is alright. When you ask a question, and somebody gives an answer, the one who gives you the answer anyway plays the role of the Guru. You need medicine, and you go to a doctor. The one, who gives you medicine, becomes a doctor. Similarly who gives the answer, you accept him as your Guru.
Q: Gurudev, sometimes lots of visions come in meditation. What should one do?
Sri Sri Ravi Shankar:
Take it as a thought and leave it. Sometimes hallucinations may come as imaginations.
Q: Gurudev, Why are spiritual leaders mostly men?
Sri Sri Ravi Shankar:
Spirituality transcends gender. Men and women are equal. There are many vacancies here for women who would like to become swamis also! They should come to the forefront as well.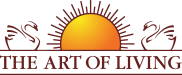 Founded in 1981 by Sri Sri Ravi Shankar,The Art of Living is an educational and humanitarian movement engaged in stress-management and service initiatives.
Read More