Question & Answers with Sri Sri Ravi Shankar

Q: What about people who haven't come to you yet?
Sri Sri Ravi Shankar:
They will come in sometime.
Q: What is greater – moksha or love and gratitude?
Sri Sri Ravi Shankar:
Love and gratitude cannot happen without some degree of freedom within.Moksha is freedom. They go hand in hand. To the degree of freedom that you experience, to thatdegree you feel gratitude
Q: It is said that God likes innocent people and luck supports the innocent. What should I to do to be innocent?
Sri Sri Ravi Shankar:
To be innocent, drop cunningness. Innocence is naturally present in everyone. You just need to blossom it. And how do you do that? Just be in meditation. 'I am nothing –Akinchan, I don't want anything, and all are my very own; I accept all and all accept me.' When you know that everybody is accepting you, you move ahead with naturalness. When you think people are not accepting you the way you are, then you think of doing something to gain acceptance and you start becoming unnatural.
Q: Guruji, I think I am suffering from chronic boredom problem. I get bored of everything very easily. I get bored of situations, of people, of places. Is there a cure to my problem?
Sri Sri Ravi Shankar:
Boredom! What do you do when you get bored of everything?! Let me think what you can do!
This is because you are thinking only about yourself. When you don't know what pleasure you will get you get bored because this world cannot really give you satisfaction, it can only bore you but if you come from a place of giving and not getting then you won't be bored. You will think what can I do, how can I be of great use. If you think on those lines and dedicate your life for a cause then boredom does not arise but if you are seeking joy in action then you will get bored. Boredom is simply what?!
You are seeking joy in action which you didn't get. You are seeking for some joy in the world which you didn't get and then you got bored. In the beginning it gave you some happiness, a particular object or situation but when you kept repeating it you got bored. So stop seeking joy in activity know that you are joy and then you won't look for joy and get disappointed or get bored, yeah!
Q: What is the difference between sankalpa and desire and if there is a difference then what is the technique to transform all desire into sankalpas?
Sri Sri Ravi Shankar:
You know I have already spoken about all this, about sankalpa and desire and how to change it. It is all about dispassion, dispassion works everywhere.
Q: There seems to be many wars and regional violencehappening in the world. What can we do to reduce the violence in the world?
Sri Sri Ravi Shankar:
The root cause of violence is stress and anger. And the only way I know toreduce stress and anger is through meditation, pranyama, Sudarshan Kriya.This is the only way. You can do something with ayurveda, can change the diet…you can do those things, yet they are all secondary.
Q: Guruji, please talk on angels, what is their role and purpose. Does everyone have a guardian angel that looks after them?
Sri Sri Ravi Shankar:
Yes, angels are just positive energy.
Q: Do you follow any religion?
Sri Sri Ravi Shankar:
Yes, I am a born Hindu. I continue to be a Hindu, but theprograms we teach are very secular. People of any religion can practice it.
Q: Why aren't you hitting the world just like that? Why so slow?
Sri Sri Ravi Shankar:
You all need a job too!
Q: I have been told since childhood that eating non – vegetarian is like committing a sin because we are killing helpless animals. Is it so?
Sri Sri Ravi Shankar:
Don't think those who eat non – vegetarian are sinful. It is only thattamsictendencies are encouraged when one eats non – vegetarian. That won't be good for them, for the world and for society. My dear, don't make your stomach a graveyard.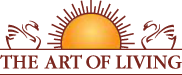 Founded in 1981 by Sri Sri Ravi Shankar,The Art of Living is an educational and humanitarian movement engaged in stress-management and service initiatives.
Read More