Question & Answers with Sri Sri Ravi Shankar

Q: Gurudev, Why are there so many different philosophies?
Sri Sri Ravi Shankar:
Why not? God loves diversity! What if there was only okra to eat? But you have so many fruits and vegetables. God seems to love diversity. He has created so many of us in different shapes, features and colors. He is definitely not someone uptight waiting to punish you. A spirit that loves diversity must be diverse in itself too. That is what the Rishis or Ancient sages found in meditation. There is only one energy force but with so many different forms. See, we all are same yet different. We like different things, so one can choose the form He/She likes to adore. Any form that one can connect to! See unity in diversity and celebrate diversity. Intelligent ones celebrate diversity, fools fight over it!
Q: Gurudev, Does thoughts happen by previous Karma or impressions in the mind?
Sri Sri Ravi Shankar:
Karma is nothing but impressions in the mind and brings about similar thoughts. Ya, it is very much possible.
Q: Gurudev, How do I come out of the victim consciousness, esp. when past memories refuse to leave?
Sri Sri Ravi Shankar:
The fact that you have realized this itself means you have come out of that. This is where Karma philsophy comes into picture. Something happened in the past, it was to happen and so it happened. Accept past and don't brood over it, move on. Suppose you have committed some mistake, you have insulted somebody and that person holds on to it for so long even after you asking forgiveness from them – million times, what do you do if that person still doesn't forgive you? Somebody has been wrong to you and you also have been wrong to someone. Don't you seek forgiveness and move on. Similarly, worst crime you have done, and you don't want someone to hold on till whole life. If the person forgives you, moves on, understands your position, how do you feel? See the other person the same way.
Q: Gurudev, When we take rebirth when does the old soul enter the body?
Sri Sri Ravi Shankar:
Rebirth happens! So many times we have died and taken birth. Soul can enter the womb at any one of the three times: at the time of conceiving, or the 3rd month of pregnancy, or at the time of birth. Many souls race and from these souls only one gets the body. In a race only one comes first, right? Sometimes, there are two then there are twins!
Q: Gurudev, Even Siddhas have to take a few births to get enlightened. Why is it so difficult to get enlightened?
Sri Sri Ravi Shankar:
It is not difficult. It is challenging!
Q: Gurudev, Dear Guruji, what is the meaning of being natural? Is it doing whatever comes to the mind and doing whatever one feels like?
Sri Sri Ravi Shankar:
No it is not doing whatever that comes to your mind. Doing whatever comes to your mind without any attention, awareness or thought would be foolish. Whatever comes to your mind should pass through the test of intellect or wisdom. Being natural is feeling at home; feeling at home even in adverse situations. You know when everything is good you feel at home but when things do not go your way you don't feel at home and you want to run away. So feeling at home in every situation, yeah!
Q: Gurudev,
According to Raj Yoga, it is said that practicing meditation is meant for people who
are reclusive and follow a strict and definite approach to reach salvation. Meditation is
difficult for a person with many responsibilities. You said everyone should meditate. What
are the implications of this on a normal person? (From Conversation with students of
Great Lakes institute of management, Chennai)
Sri Sri Ravi Shankar:
There are different forms of Yoga. Raja Yoga is Royal Yoga. In some forms, they spend a lot of time in practice. Some forms are for people like the prince who has so many responsibilities such that they can do the practice in a short span of time. Meditation is useful for people in all walks of life.
Q: Gurudev, Dearest Guruji, Jai Gurudev! Once I am on this path, is my spiritual progress your responsibility or my responsibility?
Sri Sri Ravi Shankar:
Now that you are asking this question, it is both of our responsibility. Yes, do your 100% and relax and when you feel that you can do a little better or a little more that indicates that you have been responsible. When you feel you are doing everything that you can then the responsibility shifts away from you.
Q: Gurudev, Guruji love should be fearless yet why does one experience fear in love?
Sri Sri Ravi Shankar:
Yeah because fear is love upside down. If you do the Advanced course, you will get all these answers. What are these three emotions, love, fear and hatred, how they are all formed of one energy, and how you can turn fear and hatred into love.
Q: Gurudev, I did the 'Art of Living' course to become sharp and focused but Guruji now you have become my biggest distraction but I love this distraction. I hope it is okay?
Sri Sri Ravi Shankar:
For sometime it is okay. It is said when you put alum in water, it removes all the impurities, purifies all the water and then dissolves itself, yeah!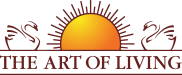 Founded in 1981 by Sri Sri Ravi Shankar,The Art of Living is an educational and humanitarian movement engaged in stress-management and service initiatives.
Read More