Question & Answers with Sri Sri Ravi Shankar

Q: Gurudev, You tell us to accept people as they are. I accept people as they are but I get frustrated and irritated. Please tell some recipe for acceptance without getting irritated.
Sri Sri Ravi Shankar:
When you feel anger inside, do you notice the sensation? Forget about the other person. It is the sensation which is giving you trouble. When you focus on the sensation, it gets dissolved. Why should you spoil your own nervous system? Why should you spoil your own beautiful body because someone said something. You know, 72 muscles are strained when you frown. Your body becomes a wreck.
Q: Gurudev, If truth is contradictory, how to find the truth?
Sri Sri Ravi Shankar:
Truth is something you can't avoid nor confront. There is no effort. Truth simply comes out. If you tell a lie, you have to manufacture. To tell a lie, a lot of effort is required. You're feeling cold, you're feeling hot, that is how you feel. No effort is needed.
Q: Gurudev, Please explain to me how we are responsible for how we feel? For example when we see a beautiful girl, a thought appears and then pleasure comes to me. But yesterday in the video, I understood it is the opposite. Why the desire appears only with beautiful girls? How do we choose that?
Sri Sri Ravi Shankar:
I think you forgot how you felt when you were five year old. When you were five, six, seven or eight- year-old, it was not a beautiful girl who attracted you it was beautiful food that attracted you!I will tell you a story. There were people of three generation- father, son and grandfather. They all went out for a holiday- vacation. So the youngest of the family, the grand child was so excited, he got good food.And the adult, the father, was so attracted with the beautiful girls at the camp. He said, 'What a beautiful day! I saw so many beautiful girls here. I hadgreat time!' Now the grandfather's turn had come. The grandfather said, 'It was such a relief here. So nice. We came out to this holiday camp. I had such good bowel movement! I never had like that before! What a relief!' He said, 'You both talk childishly. He talks about food, you talk about girls but in my age you will understand what the really happiness is'. So when someone is so old if they have a good bowel movement, that is great relief for them. They get good sleep, that is heaven for them. So, wait for some more time and you will see what is more beautiful in life!
Q: Gurudev, If we do something wrong with somebody and that person does good to us, do we have to bear fruit of that karma (action)?
Sri Sri Ravi Shankar:
Don't do so much of analysis. The karma that you need to go through, you will. And the karma which you don't need to go through, you won't. That karma which is to be finished with sadhna, pranayama will be finished. By surrendering to God, we get new life all the time. Don't think too much.Live in surrender, surrender leads to Samadhi.
Q: Gurudev, In an interview you mentioned that you are connected to Higher Consciousness? Guruji please tell us what actually is that Higher Consciousness?
Sri Sri Ravi Shankar:
It is right here, right now. Inside us and outside us. it is everywhere. Don't look for it somewhere in the sky, it is right here.

Q: Gurudev, Is the world permanent or changing?
Sri Sri Ravi Shankar:
You can see that the world is not permanent.
Q: Gurudev, How do we remember the good things and forget the bad?
Sri Sri Ravi Shankar:
It is better to forget bad things and it is good to remember good things. Both together are life but we forget this and remember all the negative things. It is important to remember what you hear in Satsang. Forgetting other people's mistakes is important. Remembering not to repeat our mistakes is important.Remembering lessons from others' mistakes is also important.
Q: Gurudev, While Ayurveda is considered to be an indigenous system of medicine then why did English (allopathic) medicine have permission by a government to take over Ayurvedic medicines? Also English (allopathic) medicine claims to have a faster recovery rate?
Sri Sri Ravi Shankar:
You know, statistics show contrary to this. Even in modern medicine, the probability factor of medicine not affecting is very high. Research says that the placebo effect with modern medicines is nearly 40 percent. 40 percent of the effect from medicines being administered can be brought about using a placebo. Modern medicines are being discovered every day and those which were used 10 – 12 years ago are being discarded. The problem is that these pharmaceutical companies have a lot of western interest. It is the economy which is ruling modern medicine rather than their effectiveness. I feel we should have a combined, holistic approach. Ayurveda has some very good qualities, allopathic medicines also have some very good aspects and also homeopathic. Holistic medicine is the best. It is wrong to completely discard modern medicine and it is equally wrong to discard natural cures, ayurveda. In case of emergency, allopathic does well and ayurveda has a unique way of attending to the root cause of disease. Not only symptoms but also healing without side effects. Today, much research has been done on this and many have experienced this. For instance: The probability of remission of piles by allopathic treatment is very high but in the case of Ayurveda it is less than one percent. These are the things one should adopt about Ayurveda. Ayurveda is, anyways, adopting modern methods of investigation. So, the best is to adopt the holistic approach. Our aim is not to benefit pharmaceutical companies but people.
Q: Gurudev, People are talking about the end of the world in 2012. When I started thinking about the end of the world, I wonder – what is creation?
Sri Sri Ravi Shankar:
2012 – nothing is going to happen. We will still do satsang like this. Only there will be more people!If creation was not made, how will you ask this question? It was made so that you can ask and I can tell!
Q: Gurudev, What is Upanishad?
Sri Sri Ravi Shankar:
Sitting close and listening is Upanishad. Upanishad is a collection of discourses of high knowledge, and the manner it was transmitted from a Master to students is very interesting.
One of the Upanishads beautifully brings this out well. Once a boy went to his father who was also his Guru and asked, 'What is God?' To which the father replied, 'Food is God', for everything grows from food, everything is sustained by food and when there is a lack of it, everything dissolves and everything again becomes food.
So the boy went and thought about it for several months, understood all about food and came back to his father, and again asked 'What is God?' The father said, 'Prana is God'. The boy went, thought and understands all about prana, how it is going in and out of body, how many types of prana there are and read all experiments about prana. He again came back to his father and asked, 'What is God?' The father looked at the child's face, so glowing and so vibrant. The father said, 'Ok, the mind is Brahman, mind is God'. The boy went and thought till he found the ultimate bliss.
Notice, that the student didn't complain to the teacher that he was earlier told 'Food is God' but later something else. He simply came and again asked the question. So this is an ancient way of teaching, step by step – food, then prana, then the mind, then the inner spirit, then the universal spirit, Bliss. Bliss is Divinity, the space. You are like the space. Then he said, 'There is no difference between you, me and the infinite self. We all are one. The Self, Guru and the universal energy are not different. All are made up of one substance.'
Today if you talk to scientists who study the string theory, who study quantum physics, they will say the same thing that is said in Upanishads. In the Upanishads, it was said thousands of years ago that 'God is not a person, sitting somewhere up in heaven but God is present everywhere. He is omnipresent and omnipotent, the energy of which you are also made of, everything is made up of.' Don't confuse God to be a person, somewhere sitting up in heaven. Godliness is your own nature.
God is Vibration. God is Love. God is Truth, Existence. God is Beauty.
People right through history have told this. Lord Krishna told Arjuna, 'People think I am a human being but I am not. People confuse the Divine to be a human being. But God is the force, He is energy. That is Divine and not a person.'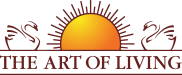 Founded in 1981 by Sri Sri Ravi Shankar,The Art of Living is an educational and humanitarian movement engaged in stress-management and service initiatives.
Read More