Question & Answers with Sri Sri Ravi Shankar

Q: Gurudev, I feel lustful at times. What to do and how to get rid of that?
Sri Sri Ravi Shankar:
When there is no joy in life then lust increases in you because then you get joy in that only. But when you find joy in life otherwise also, then the frequency of such desires starts reducing. When you start finding joy in sadhna (spiritual practices), joy in service, joy in satsang, joy in devotion, joy in surrender - that is the only way to come out of lust. No other way exists. When all are done together slowly, you come out of lust. Otherwise, you will have to wait for age. May be then you will be out of it. You won't be capable physically to do it but you get rid of it from the mind or not, that is not sure.No guarantee is there. Usually very old people see all obscene stuff and try to get satisfaction from it.
Q: Gurudev, Guruji, you have said to love the secret, but I feel curious to know it also!
Sri Sri Ravi Shankar:
Curiosity is natural. It sharpens the intellect. Loving the secret refines the feeling level. Life is a balance of the intellect and the feelings.
Q: Gurudev, In Muslim countries we have some resistance even with some new teachers. One of them read on the internet that the translation of the word Sohum is 'I am god.' It is not ok with Islam. Can you explain what it is meant and what is the intention by Sohum?
Sri Sri Ravi Shankar:
Sohum is the natural sound of breath. When you breath out the hum is there. Sohum is the natural sound. If you read it the other way round, it is Humsa. Humsa is that which uplifts, that which floats, that which discriminates. That consciousness which discriminates right from wrong, from the permanent to impermanent, from the beautiful to ugly - discrimination.Sohum does not mean 'I am God', it is 'I am that'. What is the 'that'? 'That' could be love, 'that' is truth, 'that' is love, 'that' is the beautiful space,'that' is what I really am! First I think I am just the thoughts, the emotions, the mind, but the true realization, I am not the thought, I am not the body, but I am that! What is that? It is the experience that is beyond words! That truth which is beyond comprehension! That beauty which is beyond any imagination. That reality which you cannot totally catch. That love is what I am! And if love is God or God is love and I am love then I am God too!Jesus said love is God! And said, I am love! I am that, I am. This is there in the Bible also. I am that I am. Thou art that! All this is there. But it is not the meaning that is important. What is important is the vibration of the sound. The sound Sohum, has some definite vibrations in the cosmos and that helps our spirits to blossom and that is what is most important.
Q: Gurudev, Dear Guruji, when can I become one with the Divine?
Sri Sri Ravi Shankar:
When will the wave meet the ocean?! My dear, Where is the wave?
If you feel the restlessness and longing, then you are blessed and fortunate. Your inward journey has begun. Do Seva Sadhana and Satsang. They will free you from restlessness and soak you in the fountain of love.
Q: Gurudev, Yesterday you talked about leela (game). One can comprehend it intellectually but how to make it an inner experience?
Sri Sri Ravi Shankar:
You don't have to make it an experience. You simply have to wake up and see that life is a game. Wake up this moment as I am speaking. Whatever happened till now, is it not like a dream? You had dinner this evening, meditated in the morning, did yoga in morning and went to bed last night, and if you go over your own memory there were good / bad events, you had profit, you had loss but right this moment it's all gone. Wake up this moment and you will see that tomorrow, the next 10 years is also like a dream! When you realize this whole phenomenon, that has happened in the past and future, it's all like a play, a game. You don't have to think this is a concept and I have to experience it. My dear, memory is memory. Your thinking that you have to experience memory is a concept and your thinking that you don't have it is again a concept. You simply have to realize right away that it is all a dream. This could be a dream. That very moment you feel a sense of relief. A soothing wave overtakes you. Don't wait till someday you will experience - it's all a game.May be after you leave the body you will experience one day. Then also you will realize I could have done that much before.
Q: Gurudev, Guruji, the youth is getting disappointed today because of chaos in society and corruption in politics. What is your message to youth?
Sri Sri Ravi Shankar:
All the youth should stand up now and start moving ahead together. When you all work in group then there is no such task that can't be accomplished.
Q: Gurudev, Out of two options available to do Seva or to be in Satsang with you, I chose Satsang but now my consciousness is pricking me. What should one chose?
Sri Sri Ravi Shankar:
If you have a responsibility to do seva, then you come to satsang so that when you are tired of doing seva, you can energize yourself.
Q: Gurudev, What to do when responsibilities come between you and your practices?
Sri Sri Ravi Shankar:
Guru Nanak or one of the ten Sikh Gurus has spoken on how a student should be. Like water. When stones are there on the path of water, what does it do? Water rises above the stones and flows. Similarly obstacles are there in life. You rise above obstacles and move through it. Have patience and flow over them.
Q: Gurudev, The decisions which world leaders make have a great impact on us while the work that we do on an individual basis impacts only other individuals...
Sri Sri Ravi Shankar:
First, you should not think that politicians are a special species, they are one among us. Many times, they feel helpless. They want to change the society, turn around the economy, but find themselves helpless. Any sane politician wants to have violence out of society, but they feel their hands are tied. It has to come from society. You may think the other is powerful, in fact it's a collective effort of everyone that make the society move - and NGOs, religious leaders, faith-based organizations, play an important part in bringing inspiration, inner strength.
The four pillars of society - politics, business, civil society and faith-based organizations - have to work in unison. The World Economic Forum has recognized the need for everyone to come together, so has the UN, and that is why they have made a caucus for religious leaders. A role has to be played by everyone, and we have to play in rhythm.
We need to spiritualize politics, to lessen corruption. We need to secularize religion, to lessen extremism and terrorism. Many think only they are going to heaven - I tell, you they make life for everyone a hell!
This is what spirituality is about - when you see the whole world as part of you, and you as part of everybody. There is that sense of sacrifice. Gandhi is a perfect example of being spiritual in politics. He was deeply spiritual, believed in truth and non-violence.
Finally, we need to socialize business, take up CSR (corporate social responsibility).
With these things, society will find a new level of understanding.
Q: Gurudev, Guruji, what is the secret of this place?
Sri Sri Ravi Shankar:
smiling): The secret is here (pointing to his heart).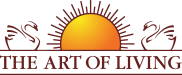 Founded in 1981 by Sri Sri Ravi Shankar,The Art of Living is an educational and humanitarian movement engaged in stress-management and service initiatives.
Read More