Question & Answers with Sri Sri Ravi Shankar

Q: Gurudev, I feel more connected to people here in Art of Living but I feel a disconnect from people in my office or even at home. I feel weak that way.
Sri Sri Ravi Shankar:
Why do you think you are weak? Wake up and see you have all the strength. You should do the DSN (Divya Samaj ka Nirman- one of the Art of Living programs which helps an individual to move beyond one's barriers and limitations.). There is no outside, no other at all. The Art of Living teaches you that the whole world is your family.
The ashram is your home, of course people are rosy here but everywhere you can't expect the same atmosphere. You may have to face hard criticism in the office. You have reach meditation to people. But what is the first principle of Art of Living? Accept people and situations as they are. If you don't learn the very first principle, you can't say you are doing the Art of Living.
Q: Gurudev, Why aren't you hitting the world just like that? Why so slow?
Sri Sri Ravi Shankar:
You all need a job too!
Then Sri Sri Ravi Shankar said: The pink sky on Sunday asks you to sing a song! You know which song? Jai Jai Radha Raman Hari Bhol!
Q: Gurudev, How do we remember the good things and forget the bad?
Sri Sri Ravi Shankar:
It is better to forget bad things and it is good to remember good things. Both together are life but we forget this and remember all the negative things. It is important to remember what you hear in Satsang. Forgetting other people's mistakes is important. Remembering not to repeat our mistakes is important.Remembering lessons from others' mistakes is also important.
Q: Gurudev, Whatever I did this year professionally did not work. I studied Hindi, Massage, Physiotherapyand Anatomy. I really want to succeed. Please help!
Sri Sri Ravi Shankar:
There is a lot of work to be done. There area lot of needs. 30% of the Europe is depressed and we have this beautiful knowledge that can help people overcome depression and suicidal thoughts. It would be very nice for us to work together towards a vision of a world with less suffering. I would like to have many youth to do Art of Living work full time. 3 - 4 days to go out and teach everybody. Once you become a teacher youcan teach, create a community for Art of Living here. You can have your own ashram here. Meditate here. Each one can do their job, and still contribute. It's a common pool where everyone can contribute. You can start up a community kitchen. You don't have to worry about grocery shopping. One person can go shopping, one person can cook, and everyone can take it in turns. A small community of 60 to 100 people can live like this. There can be celebration, meditation and yoga.
The whole atmosphere will become so uplifting! In the Bangalore Ashram, we have 800 people living together. Before we were only 10 to 12 people. Now there are so many people who want to come and live here at the ashram that we don't have place. It's because nobody needs to worry about their electricity bills, house, tax, and food. It is all being taken care of and everybody can contribute in whichever way they want to. The same is happening in Germany, Canada, USA and has recently started in Argentina. Our life is too short to spend time on unnecessary and unwanted things. Half of life is anyway spent on sleeping. The Next 40 to 50 years or for however much longer you will live on this planet, do you need people to take care of you, do things for you, or do you want to do something for others and for the society? Helping others and serving society, wouldn't that be a good idea? There should always be somebody to think about others, to care for them and to help them. I want you all to think about this. I don't want to call it an old age home. These old age homes are very depressive. Ashram is a place where there are old people, young people, children, everyone lives together. So theyounger generation is enriched by the experiences of the older generation, and the older feel enthusiastic with the young. We can create this type of atmosphere. What do you think?
Q: Gurudev, Guruji, the other day you talked about effort and effortless. But it needs lot of effort to be effortless.
Sri Sri Ravi Shankar:
It's worth doing it.
Q: Gurudev, You have highlighted the importance of innovation and creativity, but with that comes a lot of risk and uncertainty. It's only after numerous failures that a successful new technology or product is evolved. So how should one manage the failures that come as a by-product of striving for innovation? How to rise up after each failure and restart the journey to discover something new?
Sri Sri Ravi Shankar:
Failure is a part of the process. Meditation will help you to go ahead in spite of failures. Innovation without failure is possible if you are able to use your intuition perfectly. Both should act perfectly to achieve zero failure in innovation. If intuition is not in proportion then failure occurs more often.
Q: Gurudev, I have learnt to accept people as they are. However we have also learnt the concept of responsibility. I have a 13-year-old son. He is mature, breaks rules, leaves school in between, doesn't learn, doesn't come home on time, and hangs around with friends. That concerns me. How do I complete my role as a mother, accept him and place limits?
Sri Sri Ravi Shankar:
You are already doing it. It is very difficult to manage or deal with teenagers. Sometimes you need to be strict, and sometimes loving as well. It's like riding a horse. Sometimes you can let loose but sometimes you hold on tight. So managing teenagers is like riding a horse.
Q: Gurudev, If truth is contradictory, how to find the truth?
Sri Sri Ravi Shankar:
Truth is something you can't avoid nor confront. There is no effort. Truth simply comes out. If you tell a lie, you have to manufacture. To tell a lie, a lot of effort is required. You're feeling cold, you're feeling hot, that is how you feel. No effort is needed.
Q: Gurudev, Guruji, please speak about dharma and sanga.
Sri Sri Ravi Shankar:
Dharma and sanga. Our innermost nature is what dharma is. Yes, our innermost nature is dharma and sangha is our association, our environment.So events and attitude are influenced by only two things.The first is by your own true nature and another by your environment, the people whom you are with, you know.In a group if someone says, 'Come lets go and have a drink,' we will say, 'Ok, lets all go.' We will go.In a group if someone starts talking negatively, slowly another person will join a little later, then the third and the fourth. Soon you'll find that everybody starts talking negatively – this is the influence of the groupA child is influenced upto 25 percent by the environment, by the friends in the environment and the school they grow up in. Another 25 percent is from the parents' genes and tendencies. The next 25 percent is their own originality, their karmas, their samskaras, the impression that they come into this world with. The remaining 25 percent is through their own self-effort and their understanding. So parents have got only one-forth influence on their children. Only one forth. Similarly, our sangha which means our association has an influence on us. Usually what we call sangha is a group of people who are on the spiritual path. People on the spiritual path can help you with that much-needed energy, biodiversity energy for you to move on that path. That is why when you sit and meditate in a group, it is better than when you are alone.How many of you feel that way? In a group you feel like doing yoga, pranayam, even service activity. When you are alone, you get tired. You don't feel like doing it. But few of you join together and you do a lot of work. If you have to wash the dishes alone, you will feel so bored. But if 7, 8 or 9 of us are washing the dishes, time just flies like that. You don't feel tired. I have told you don't feel exhausted isn't it? How many of you have this experience?At home if someone is asked to wash that many dishes, you would crib. And here you do it with the smile, you do it happily joyfully. So sangha can or the group sangha can help you move up in life. It puts you in touch with the dharma; and sangha only happen with the enlightened.That's why Lord Buddha said Buddham, sangham and dharmam. Three things - the enlightened one, the company of people and your true nature - all these things important and they all are one and the same.
Q: Gurudev, What are the three most important values?
Sri Sri Ravi Shankar:
You want to limit it to three?!
A sense of belongingness with the whole world. You have to take this stand, feel that you are part of the whole world and all are part of you.
Commitment to whatever you take up, and an integrity inside of you which says you are going to see your commitments through.
The third value is living in the present moment, not holding onto the past and getting into trouble in your own mind. Do you know how many problems we can create for others when we hold onto the past?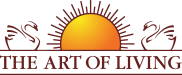 Founded in 1981 by Sri Sri Ravi Shankar,The Art of Living is an educational and humanitarian movement engaged in stress-management and service initiatives.
Read More