Question & Answers with Sri Sri Ravi Shankar

Q: Gurudev, Out of meditation and prayer which is preferable?
Sri Sri Ravi Shankar:
Meditation is a better form of prayer. In prayer you are asking for something. Meditation is saying, 'I am ready to listen'. Just imagine if somebody only keeps on asking and is not ready to listen to you. Don't you get frustrated? In the same way, God also gets frustrated but when you sit for meditation, and ready to listen to him, He bestows all the favors to you.
Q: Gurudev, Do we have to be interdependent and do we need to look for interdependency?
Sri Sri Ravi Shankar:
You don't have to be interdependent. It is just that you need to realize it. The word 'independent' is obsolete. It is nature that we are interdependent on. We have one nature, one ocean, one air, one earth and everyone is dependent upon it. People are one! We are interdependent!
Q: Gurudev, How can we love someone who did a terrible thing to us?
Sri Sri Ravi Shankar:
Don't love them. Just accept them. First accept and then see the culprit not as a culprit but a victim. Due to circumstances they did so. If they would have had wisdom they wouldn't have done it.
Just a few days ago, a lady came to the ashram. She has three children and her husband was killed by Maoists. Later she became an Art of Living teacher and when she went back, she taught the Maoists Sudarshan Kriya and pranayama. Maoists were so amazed. They asked her: 'You are not angry with us, we killed your husband?' She said, 'No, you didn't have knowledge of what you were doing. I want you to be in knowledge'. They all did Sudarshan Kriya, pranayama and left the path of violence. They were crying in front of her like babies. The way she described brought tears in everybody's eyes. All those 2000 people present had tears in eyes.
This is the power of wisdom. It unites people of all roles and attitudes.
Q: Gurudev, Guruji, it takes effort to start sun salutation but then I start finding intoxication in it. Will you please describe the phenomenon behind?
Sri Sri Ravi Shankar:
Yes, you should do sun salutation. A little effort is needed for a beginner and a little effort is essential to begin with. What is happening with effort? The 'rajogun' or the restlessness in body is getting channelized. Thetendencies to act get fulfilled and then what you are left with is simple harmony and that is sattva. So rajogun (restlessness) gets exhausted by your exercise and sattva brings you into meditation. So it's good to put some effort in the beginning and in the end you let go and relax, there lies the reality.
Q: Gurudev, Jai Gurudev Guruji. Why is it that nature has made man and woman so different? If it is so important to have equality, isn't it just another step away from nature's law? I am a man and I would like to treat a woman as a woman. And I would like to be treated like a man. My rules are decency and respect. Isn't everything else obsolete? Of course, there should be equal rights and I know in some parts of the world education is needed. But in the western world, I think that debate is a bit twisted.
Sri Sri Ravi Shankar:
You know, the women rights' activists sometimes forget that they have rights and they fight for that which they already have. When you are asking this question I think what's bothering you is the feminist movement where they think the world is dominated by man. They are not totally wrong also. Most of the times, it is correct. But they are demanding rights. They are asking the men to be treated equally. I would say, who is to give you rights? You have it. You take it. Don't ask a man to give you rights. When you are asking for it, you are already losing it. Assume you have it and you move on.
Q: Gurudev, Is the world permanent or changing?
Sri Sri Ravi Shankar:
You can see that the world is not permanent.
Q: Gurudev, Why is there is a rift between migrants and local people?
Sri Sri Ravi Shankar:
Rift between the migrants and people living there... one of the reasons is that the migrants are not mixing with the local people. They remain in their own community and campus. They don't adopt the country they are in. This is a big issue. That is going to keep people separate.There is an old saying, 'Be a Roman when you are in Rome.'So if you are in a country, you should adopt that culture, you should be with the country, flow with the norms of that country. This is essential for migrants to know and understand. Secondly, the fear. Migrants fear that they will lose their roots. This they need not do. They should strengthen their roots as well maintain their original customs – language, culture, religion, tradition. That is fine. They should do that. On the other hand, there is much awareness about cultural diversity. There have not been many festivals which integrate all kinds of people, of all different cultures, civilization, religions. This multi-cultural events, multi-religious events need to happen more often. That would bring people together, their hearts and minds together.
Q: Gurudev, Whatever I did this year professionally did not work. I studied Hindi, Massage, Physiotherapyand Anatomy. I really want to succeed. Please help!
Sri Sri Ravi Shankar:
There is a lot of work to be done. There area lot of needs. 30% of the Europe is depressed and we have this beautiful knowledge that can help people overcome depression and suicidal thoughts. It would be very nice for us to work together towards a vision of a world with less suffering. I would like to have many youth to do Art of Living work full time. 3 - 4 days to go out and teach everybody. Once you become a teacher youcan teach, create a community for Art of Living here. You can have your own ashram here. Meditate here. Each one can do their job, and still contribute. It's a common pool where everyone can contribute. You can start up a community kitchen. You don't have to worry about grocery shopping. One person can go shopping, one person can cook, and everyone can take it in turns. A small community of 60 to 100 people can live like this. There can be celebration, meditation and yoga.
The whole atmosphere will become so uplifting! In the Bangalore Ashram, we have 800 people living together. Before we were only 10 to 12 people. Now there are so many people who want to come and live here at the ashram that we don't have place. It's because nobody needs to worry about their electricity bills, house, tax, and food. It is all being taken care of and everybody can contribute in whichever way they want to. The same is happening in Germany, Canada, USA and has recently started in Argentina. Our life is too short to spend time on unnecessary and unwanted things. Half of life is anyway spent on sleeping. The Next 40 to 50 years or for however much longer you will live on this planet, do you need people to take care of you, do things for you, or do you want to do something for others and for the society? Helping others and serving society, wouldn't that be a good idea? There should always be somebody to think about others, to care for them and to help them. I want you all to think about this. I don't want to call it an old age home. These old age homes are very depressive. Ashram is a place where there are old people, young people, children, everyone lives together. So theyounger generation is enriched by the experiences of the older generation, and the older feel enthusiastic with the young. We can create this type of atmosphere. What do you think?
Q: Gurudev, When we do mistakes, people get angry. But even when we rectify the mistake people don't leave their anguish? What to do?
Sri Sri Ravi Shankar:
Bring them to the course. They are not living in the present. Bring them to the present. They keep on hanging on to the past. You have changed but they forget to change.
Q: Gurudev, What's the role of pain and suffering in life?
Sri Sri Ravi Shankar:
Pain is unavoidable, but suffering is optional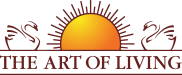 Founded in 1981 by Sri Sri Ravi Shankar,The Art of Living is an educational and humanitarian movement engaged in stress-management and service initiatives.
Read More