Question & Answers with Sri Sri Ravi Shankar

Q: Gurudev, You must be very disappointed with this age.
Sri Sri Ravi Shankar:
Do I look disappointed?
Q: Gurudev, Knowing that my life goes by karma, is it still alright to ask for something after prayer/puja?
Sri Sri Ravi Shankar:
It's like asking should I feel thirsty? If you feel thirsty, you will ask for water. Should I ask for water has no meaning, since you have already indicated that you're thirsty. If a prayer comes, let it come. It just comes up.
Q: Gurudev, How is it that some people are peaceful by birth even though they are not really doing any spiritual practices?
Sri Sri Ravi Shankar:
If you heard the yoga sutras of Patanjali – there are some people who are so by birth, some are peaceful because of their past impressions. They would have done these practices in some previous lifetime if not now. That has brought them peaceful impressions in this life time. If parents are very peaceful, mother had a peaceful time during pregnancy – that also creates strong impressions. Some people have had a tough life from the very beginning – things don't disturb them – they have endurance to disturbances. Someone has lived in a noisy area, then any sort of noise doesn't disturb them.
How much stress you could handle, how much contrast you have experienced in situations, makes the difference. In third world countries – arguments don't bother them. They fight and have tea together. You are not used to fighting and then sitting with them immediately. These are all how we have trained ourselves, our mind.
Q: Gurudev, Guruji I want to increase my faith…

Sri Sri Ravi Shankar:
Stop the struggle to strengthen the faith. Assume you have faith, if it shakes, pray to God to make it strong.
Q: Gurudev, Guruji, I have lot of weaknesses and I feel bad about them. When will I become like you?
Sri Sri Ravi Shankar:
You have realized that you have weaknesses. That's the first step. Now, do you want to remove the weakness or not? The very pinch of having the weaknesses will help you to come out of them. If you simply accept them and say I am an ordinary person only etc…. you will continue to have them.
Someone is there to take away your weaknesses. Have this faith. Ok, you slipped once, twice, thrice, doesn't matter, keep moving ahead. People say take vows never to commit them again. Breaking the vows makes it worse. Surrendering is better.
Q: Gurudev, Is it important to take bath in Haridwar during Kumbh or will bathing in Rishikesh suffice?
Sri Sri Ravi Shankar:
It's perfectly ok to bathe in Rishikesh. You can take a dip wherever the Ganges flow.
When such parva comes, Ganga comes to every home. In South India, during Diwali the Ganga snan (bath) is done. The usual greeting is, "Have you done Ganga snan?" If you take a cold water bath in the morning, it means you have done Ganga snan.
On the banks of the Ganges, many sadhus do penance and they transfer all the merit in the waters of the Ganga. Teerth ko Sant Puneet banate hai – Teerthani pounaynti sataha!
Jaise teerth sabko puneet karte hai, sadhu ganga ko puneet karte hai. (Just as the Ganges purifies all, the saints purify the Ganges.)
The Ganges is chaitanyamayi (enlivened) hai, brahma roop hai.
As soon as you bathe you feel fresh and new. All the impurities of the mind are washed away. The mind becomes healthy.
I wouldn't say the same for the Ganges at Kanpur and beyond. The Ganges water should be kept pure. If the Ganges is polluted then its benefit won't be to the extent of its fame.
Q: Gurudev, We are hearing so much about Shivratri. What is the importance of Shivratri?
Sri Sri Ravi Shankar:
We are either in the sleeping, waking or dreaming state. Shiva is the fourth state of consciousness - the meditative state. On that particular day, just before the new moon arises people stay awake all night and celebrate. The belief is that whatever you wish for comes true. For the general public, the night of Shiva is the night of celebration.For the wise seekers who are on the spiritual path, every day and every night is a celebration.
Q: Gurudev, Guruji whenever the Earth is burdened with sins it is said that God will come down. This is Kalyug, why hasn't God come so far?
Sri Sri Ravi Shankar:
The God is inside you. Let Him come out.
It's been so many years since you came on the planet and still you haven't given birth to the one inside you.
Log Kahte Hai Ishwar Nazar Nahi Aata
In Bando Se Poojho Ishwar Ke Siwa Kuch Najar Nahi Aata
People say that we can't see God, Ask people here – They can't see anything else other than God.
God is not an object to be seen. He is the seer. That's why in yoga it is said that "become established in the seer."
Shareer ko aram, man ko vishram, to ban gaye atmaram.
Give rest to the body, relaxation to the mind, and you will become established in the Self.
Q: Gurudev, Dear Guruji, in my prayers I keep asking the Divine for my wishes to be fulfilled, is it selfish?
Sri Sri Ravi Shankar:
No no, keep asking, if you don't ask the Divine where else will you ask? But remember, you will only get when the time comes.
Q: When will matter be united with the spirit? Sri Sri Ravi Shankar:When were they separate? Who is listening to my answer? Is it matter or spirit? Matter listens or the spirit?
Reply from audience - don't know
A dead body also has ears, the sound hits it. But does it hear? Who is listening?
When this small 'I' relaxes, it gets in touch with the Universal Spirit, and that is meditation.
Q: Gurudev, Could you speak about love?
Sri Sri Ravi Shankar:
It is not possible that a person does not know about love. It's love that gets distorted into anger and anxiety. It is almost impossible to talk of love. Sage Narad said a little and after that he said it is inexpressible - Anirvachniyam.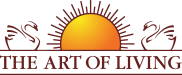 Founded in 1981 by Sri Sri Ravi Shankar,The Art of Living is an educational and humanitarian movement engaged in stress-management and service initiatives.
Read More