Question & Answers with Sri Sri Ravi Shankar

Q: Gurudev, Doesn't there arise any conflict between different religious and spiritual organizations?
Sri Sri Ravi Shankar:
There are different methods and patterns but the ultimate aim is same – to uplift humanity. All are good. Inter religious seminars are conducted time and again. As far as my knowledge is concerned there are no conflicts between them.
Q: Gurudev, How to increase devotion?
Sri Sri Ravi Shankar:
Open your ears wide and listen. You are a devotee and a true devotee. Don't ever raise a doubt on this. The badness is imposed from outside. Inside you are one with the Truth. Your devotion is also true devotion. This is the way to think. Otherwise, the self doubt transforms into guilt and then you spoil your mind. Move with the belief that I am a true devotee. Hear this with open ears.
Q- Krishna ki chaturta, Ram ki gambheeta (Lord Krishna's mischievousness, the seriousness of Lord Rama) … Guruji, which way to follow?
Sri Sri Ravi Shankar:See there is no fight here. They came at different times, so that there is no competition. They came to tell us that, "We are all one". Here there is no conflict of which is better which is worse, everything is essential. Each one has a style, place and time.
It is like you sing different songs for different occasions in life. In a marriage you don't sing a song that is sung at funerals.
Q: Gurudev, Guruji when I am angry I cannot control myself but later I feel bad that I have said something to someone. Right now when my mother was telling me to ask a question I was angry but as soon as I saw you, it vanished. What should I do to control anger?


Sri Sri Ravi Shankar:
You mean to say the switch of your anger changes when you see me!(laughter). Ok then keep on looking at me.
Q: Gurudev, Guruji, what can tie society in one thread bringing all together for service?


Sri Sri Ravi Shankar:
You keep on doing service; others will automatically join. Don't make an effort to make others join you. You just do it and keep motivating others. Ask them if they want to come along. They will also come. If you are enjoying doing service, others will also get motivated to do it. Leaders should be like this. But usually they want so much perfection that they end up annoying every one. In this kind of service people come once and then they run away. Nobody wants to work with a person who is full of complaints. So serve along with fun. When happiness comes from within with regular Sadhna and Satsang, everything happens naturally.
Q: Gurudev, Guruji, some people have assumed that they are Radha, but there are so many Radhas, what to do?
Sri Sri Ravi Shankar:
The real Radha doesn't see anyone other than Krishna, how did you see other Radhas?
Q: Gurudev,
How should a teacher be?
Sri Sri Ravi Shankar:
There are two types of teachers.
The first kind includes those who believe in scolding and pointing out mistakes. This is a tamasic style. The second kind will tell you that you have all the positive qualities. Some people who are a little thick-skinned may need a little strictness.
Q: Gurudev, Does past karmas affect our life?
Sri Sri Ravi Shankar:
Both past and present karmas affect our life.
Q: Gurudev, How can we stand together if we can't stand for ourselves and don't have a sense of satisfaction inside?
Sri Sri Ravi Shankar:
when you have inner satisfaction then everything happens effortlessly for you. When you don't have that, even small things become a struggle. Wisdom is about having that inner satisfaction. Wake up and see what is bothering you and why are you not satisfied? You don't have food, you don't have shelter, you don't have money or you don't have a companion? Pin point the area and then deal with it. You think when you have x amount of money or that much fame, then you will be happy. Wake up and see life from a broader perspective and you will see that this is not the truth. This is another illusion. Then you settle down. Meditation is the answer.
Q: Gurudev, Which is the energy centre in our body?


Sri Sri Ravi Shankar:
There is energy centre in every cell of the body. Heart, mind, everything is an energy centre. The whole consciousness is a manifestation of energy.
Q: Gurudev, What makes a child learn wrong language?
Sri Sri Ravi Shankar:
Every child is born innocent. But they learn abusive language from environment. Initially they only imitate their parents or people in their surroundings. But then it becomes a habit. Whatever you give comes back to you. That spoils your mind only.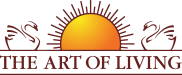 Founded in 1981 by Sri Sri Ravi Shankar,The Art of Living is an educational and humanitarian movement engaged in stress-management and service initiatives.
Read More