Question & Answers with Sri Sri Ravi Shankar

Q: Gurudev, How to transform negative energies into positive energies?
Sri Sri Ravi Shankar:
That is what we all have to do, and that is what we are doing. Let us get more and more youth together and change this atmosphere in society.
Q: Gurudev, Guruji, is there any particularly good direction to sit in to practice our spiritual practices, and also when you are sleeping?
Sri Sri Ravi Shankar:
Any direction is OK. Usually, you face the sun if the sun is there, east and west during sunrise and sunset respectively. When sun has already set and it's dark, usually we face the north.

But that is not so important.

Why do we face the sun in the morning or evening? This is because force of energy is from one direction. So, if you are sitting facing one side and force is from the other side that means there is no balance on the other side. Suppose, you have one light here, and no light there, then there is an imbalance between the right and the left. So, sitting accordingly balances the right and the left. You are to balance right and left for meditation. So, it is said that way. But it is secondary, not even secondary, it is tertiary. It is not that important.
Q: Gurudev, On one hand, desires need to be dropped, but is it okay to have a desire for liberation? Whenwill that get dropped?

Sri Sri Ravi Shankar:
Yes, it is okay to have a desire for liberation.

Q: Gurudev, What is Enlightenment?


Sri Sri Ravi Shankar:
The book 'Celebrating Silence' contains little excerpts on many topics. You read that and then we will discuss about it.
Q: Gurudev, Guruji, how do I silence my mind?
Sri Sri Ravi Shankar:
The will to silence itself pays in many ways. Meditation and Sudarshan Kriya helps, too.
Q: Gurudev, How can I be a selfless devotee? I have been doing business with you till now. What step should I take to be the same?

Sri Sri Ravi Shankar:
This wish has arisen in you, so take it for granted that it has already started. I don't mind even if you do business. Anyway, you would be getting much more than you give. Live joyfully. You wouldn't encounter any loss even if you do business.


Q: Gurudev, I feel very strong in your presence and it feels good. I am very grateful to have you in my life.
Sri Sri Ravi Shankar:
Good good. Knowledge, meditation and relaxation will give you cool heart, and soothe your heart!
Q: Gurudev, How do I know that I have acquired knowledge?
Sri Sri Ravi Shankar:
How do you know if you have some pain in the body? How do you know that you love somebody? How do you know you are feeling fear? It is inbuilt. Same way you get to know. When you get knowledge joy, happiness, cleanliness, sweetness, sincerity, integrity, all reflect by itself.
Q: Gurudev, How important is self-love? Is it necessary to love oneself before we can reach out to the rest of the world?
Sri Sri Ravi Shankar:
Yes. But please don't sit and chant "I love myself!" Do you chant "I am in Milwaukee!"? Your body, mind, consciousness are all made up of truth, love, beauty and peace. Take it for granted that you love yourself. Nobody can afford not to love oneself because you are love. That's just an illusion if it appears that you don't love yourself.
Q: Gurudev, You have been involved in this. How do you propose or manage to reconcile between enemies?
Sri Sri Ravi Shankar:
Many times those who appear to be enemies are not actually enemies. I would give you an example of what we did in Iraq. We gave some meditation and Sudarshan Kriya to the troubled youth there. There was such a huge transformation in them. The youth minister sent 50 youth leaders to the 'Art of Living' international centre in Bangalore to be trained as ambassadors of peace. It was challenging to begin with, but there was amazing transformation in them in a period of one month. The same boys went back and started to teach thousands of people how to be calm. You know, we are not taught how to manage negative emotions neither at home nor at school. You get angry, upset, greedy or depressed, but we are not taught how to manage our mind.
I am not saying that we have solutions to resolve all the conflicts in the worlds tomorrow itself. It is not practical. But what has given us hope is, after experiencing meditation, there is enormous change in the same people who appear to be aggressive or enemies.
In 2001, there was a difficult situation in Kashmir. But things have changed now. We can make effort drop by drop. In Jahanabad also our efforts have given good results. All this has given me enthusiasm to go in all conflict zones and do more work. Though, it is a big challenge.
When some people think that only they will go to heaven and others to hell, they create hell for others. We need to educate them with a broader mindset. So, every child should know little bit about all the world's wisdom. We have globalized things like potato chips but we haven't globalized wisdom, and education on peace and non-violence. When people are stressed, they either become violent and aggressive or suicidal tendencies arise in them. The solution for depression, suicidal tendencies, social and domestic violence is to teach them how to calm their mind. It is very important to teach them how they can get rid of negative emotions, stress, and all those unwanted emotions. How can we heal them? That healing touch is essential.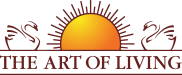 Founded in 1981 by Sri Sri Ravi Shankar,The Art of Living is an educational and humanitarian movement engaged in stress-management and service initiatives.
Read More