Question & Answers with Sri Sri Ravi Shankar

Q: Gurudev, Does one need to have a Guru or spiritual leader to seek enlightenment?


Sri Sri Ravi Shankar:
You are asking a question and you want an answer. You want medicine and anyone who gives you medicine becomes a doctor. The seeker wants an answer, wants someone to tell him, to guide him. If someone says, "I'm not a patient but I need medicine," and someone says "I'm not a doctor but I'll give you medicine," what do you call both? Anyone can tell you what you want to hear but a little guidance does help. Someone should be there to give you assurance. When you learn swimming and the trainer says "Go ahead", you get that confidence to go. Someone who has such confidence can become your guide.
Q: Gurudev, In your books, most of the examples come from the Hindu tradition of the Gita, not so much from the Koran and the Bible? Have you read the Koran, the Bible or any other religious books other than of your own religious tradition?


Sri Sri Ravi Shankar:
I am not a theologian. I speak from my experience. One of the scriptures that I usually quote from is of course the Gita. I also quote from the Bible. I am not averse to any religious scripture in the world. What I am averse to is fanaticism of any sort. You need to study every religion or scripture before you can come and talk about it. So, since I have not studied all of the disciplines like Bible and Quran, I must spend at least four to five years studying each before speaking about them. Yet the essence of all these scriptures are spiritual values which I think I can very easily find in my life. I can easily speak on the essence of the Bible. That is why I say unless you become like a child, you can't get so far. This is true because every child has that freedom. The child inside you is alive. You are still that innocence. That is spirituality. It is when you meditate, when there is unity among diversity and oneness with the whole universe.
Q: Gurudev, I was wondering what exactly the mind is. Is it a little space in our brain or is it universal? And yes, I want to tell you that you rock.
Sri Sri Ravi Shankar:
Mind is energy which is all over the body. See, every cell in your body is emitting some energy and the totality of all that energy around you is what you call the mind. Mind is not present at some point in the brain, but mind is all over the body. There is so much deep knowledge about consciousness; we should sometime go much deeper into it. We will understand more. The more you understand, the more wonder-struck you are. Wow!
You know, people have phantom hand, that means they really don't have a hand, but they feel they have a hand and they feel sensations like itching or paining in that hand. People who have lost their hand or leg in a war or accident, later sometimes, they feel they have a phantom hand or a leg. Though, they don't have it physically. That explains or gives a clue that the mind is not just in one spot, it is all around the body. The aura of body is mind. We think that mind is inside the body, it is the other way around - Body is inside the mind. Body is like the wick of the candle and mind is like the glow all around.
Q: Gurudev, I have become aware of people who want to take control of our food and water supply, putting a great burden on it. What to do?
Sri Sri Ravi Shankar:
The 'Art of Living' is putting a lot of attention on this. In India some people wanted to produce genetically modified plants. This has been banned in France and other countries. The 'Art of Living' stood firmly together and opposed it, and the government had to stop it. You cannot do it alone, you have to stand against it as a mass movement, and bring justice to the human planet. The greed of a few people gets into their heads. We are not against scientific experiments, but without proper testing and making sure that it does not have any side effects, and producing it on a mass scale for commercial purpose is not acceptable. For example, genetically modified cotton yielded three times more crops in the first year, andalso good cropin the 2nd year. However, it completely wiped out the crop in the third year and many farmers committed suicide. The 'Art of Living' worked to give farmers hope and helped them see the value of their lives. The cattle ,which ate the genetically modified cotton, died, and the virus emitted by these crops attacked the trees. The whole area became a desert. The company earned huge profits. This is called economic violence. There are many forms of terrorism. Economic terrorism is that where greed of a few people make other people suffer, they make a mess of the economic system, and devastate so many families.
Q: Gurudev, How do we increase willpower?


Sri Sri Ravi Shankar:
Meditation and breathing enhance the inner power. These practices get us in touch with ourselves. You know, willpower comes to you with three things.
First, when you love something then you follow through with it. The commitment is there.
Second, where there is some fear there is commitment. If someone says that if you don't follow this diet you have to have an operation, then you will follow.
Third is greed. If someone tells you, "You do this for a month then you will get a million dollars," I tell you, you will not miss a single day!
Either through greed or fear or love you follow your commitment. And I feel the last one is better than the other two.
Q: Gurudev, What advice do you have for parents handling teenagers?

Sri Sri Ravi Shankar:
The 'Art of Living' Foundation has wonderful programs like 'Know Your Child' Workshops which can help parents understand their children better.

Q: Gurudev, Do you ever get angry? What is the solution to anger?

Sri Sri Ravi Shankar:
This is a very important question. In the 55 years of my life, I have never said a harsh word. I could not do it. The worst I have ever said is, "You stupid."

Sometimes I want to show anger and people don't believe me. That is my problem. Things work better with some anger. Anger is good if you are aware of it. It should last only as long as a line drawn on a water surface lasts. Some carry over anger from the previous day, previous month, or ten years ago. The mind suffers. Get out of anger, frustration, jealousy and greed. Meditation will help. Pranayama, Sudarshan Kriya and yoga are the answers.

Q: Gurudev, What happens to a relationship when someone passes away? Does it end or does it continue into the next lifetime?

Sri Sri Ravi Shankar:
Both are possible. Some end and some continue to the next lifetime.

Q: Gurudev, Any suggestions for people who suffer from allergies?


Sri Sri Ravi Shankar:
Meditation, pranayama, Sudarshan Kriya will help. Also, there are two books all should pick up - Celebrating Silence and Celebrating Love. Last time I traveled to the U.S., I came through JFK. As I was passing through security, the man behind the X-ray machine in the next row came to me and showed me the book 'Celebrating Silence'. He asked, "Are you this person?" I looked at it and said, "Looks like that". He asked me to sign the book. I said that usually I only sign the customs form! I gave my signature and he told me, "Someone gave me this book on my birthday last December and since then my life has changed. I've just read one page here and there over time and it has made such a difference". He has not done a meditation course or anything. So, it would be good if all read it. It is not any big philosophical text but just snippets of wisdom. 'Celebrating Silence' and 'Celebrating Love'. Also you can put on a meditation CD to relax. After a while, you won't need any extra support.
You have come now, so drop all your worries here. Give me all your worries, botherations and problems. I want you to go home knowing that you are not alone. You can heal and bless other people. I tell you, it's not only Guruji who gives blessings and healing. Everyone has this power to heal and to bless. So, anyone of you who wants to do that, you have to do a little bit more meditation, pranayama, kriya and you will have the power to bless others. There are seven billion people on the planet. So, we each must come up with this ability to bless others.
Q: Gurudev, Sometimes I don't know whether I am doing the right thing. I lose courage. How do I handle such a situation?

Sri Sri Ravi Shankar:
At those moments, just relax. The right thing will happen to you.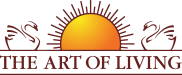 Founded in 1981 by Sri Sri Ravi Shankar,The Art of Living is an educational and humanitarian movement engaged in stress-management and service initiatives.
Read More