Question & Answers with Sri Sri Ravi Shankar

Q: Gurudev, How do we locate the queen bee within us?

Sri Sri Ravi Shankar:
Meditate, meditate, meditate, meditate, and meditate.

To be continued in the next post..


Q: Gurudev, After my course and Advance courses, my anger has been reduced to 80 percent. How can I completely get rid of anger?
Sri Sri Ravi Shankar:
The remaining 20 percent will also reduce. You can keep some anger with you also. It would be a good source of entertainment for others.
Q: Gurudev, What is the difference between desire and resolution?
Sri Sri Ravi Shankar:
All the work in life happens through intention. You had this intention in mind to come here, and then only you could come here. If something keeps on bombarding your mind and doesn't let you sleep, then that is desire. You should not think that one should have no desire in the mind. Resolve to accomplish bigger tasks. Take on greater jobs in your hands. But you should also keep those aside at times and relax for some time.
Q: Gurudev, It is quoted in every spiritual book that everything happens according to God's wish. Then where does doing good or bad come from? If everything is decided by God only then what are we doing here, and what are our duties?
Sri Sri Ravi Shankar:
Everything has been decided for animals. But humans have been given the sense of discrimination. God gave the human beings freedom to chose, to chose between right and wrong. Right is something that gives you long term happiness, may be at the cost of short term sufferings. The wrong is something that gives you short term joy and long term sufferings.
Q: Gurudev, How can we bring this knowledge, of breathing & meditation that is taught through the Art of Living programs, to low-income families and communities?


Sri Sri Ravi Shankar:
You know, the Art of Living Courses are around $200-$300. This is a very small amount and students and seniors, anyways, pay a reduced course contribution. There are expenses when courses are organized. The volunteers have to hire a hall, get supplies and pay rent. Nearly 60-70 percent of the course contribution is spent on course expenses. Remaining funds go to support service projects in places like post-Katrina New Orleans.
Also, if you offer the course free, people don't value it. People don't take responsibility to sit and learn. You can't do charity from an empty bowl. And there is no point in taking charity to do charity. So our teachers teach these courses for a contribution.
Of course anyone who wants to donate to a charitable cause is most welcome, but our donations are only about 15 percent of our total income. Mostly, all our expenses are covered by course contribution. And, in case someone says they cannot afford to pay the course contribution, we never stop them from attending the course. There is always 10-15 percent scholarship in every course. If some of you want to sponsor a course for street kids, we would definitely love to organize that. We have so it in many places across the world.
Q: Gurudev, How realistic is it for a person to become enlightened in one lifetime?


Sri Sri Ravi Shankar:
You don't have to be very special. You can have it right now in this room.
Q: Gurudev, What should I do so that I get enlightenment? I want enlightenment, I want to see God.
Sri Sri Ravi Shankar:
You want enlightenment? You want to see God? Do service and just relax!
Q: Gurudev, Praying for peace does not seem to work. Is there a more practical way to achieve peace?

Sri Sri Ravi Shankar:
Praying for peace does work! In 2004, there was a war between India and Pakistan. The chief of the Indian army called me and asked me to pray for the soldiers. We prayed for both the sides. The war did not happen at all. Action, education and prayer are all necessary for peace.

Q: Gurudev, How come you manage to smile in all the circumstances?

Sri Sri Ravi Shankar:
You know, this is our brand mark. Our logo is smile. If you see somebody and they are not smiling, and they say they have done 'Art of Living', don't believe them. I am sure, all those who are here, who have truly done it will agree with me.
Q: Gurudev, When you are in front of us, you ask us to close our eyes and meditate, but we don't feel like even blinking our eyes (we want to keep seeing you). Don't laugh it off, devotees are perturbed.
Sri Sri Ravi Shankar:
Should I get you a mirror? Go within yourself and you find how beautiful you are.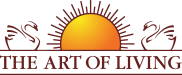 Founded in 1981 by Sri Sri Ravi Shankar,The Art of Living is an educational and humanitarian movement engaged in stress-management and service initiatives.
Read More