Question & Answers with Sri Sri Ravi Shankar

Q: Gurudev, I have to struggle all the time for every work, and I don't get the satisfactory results either. What should I do?
Sri Sri Ravi Shankar:
Why do you have to put these ideas in your mind- 'I have to struggle for everything, and I don't get satisfactory results'? You only put this sort of affirmation on yourself –got it? It may be like that at sometime in the past, but it may not be like that in the future.
Q: Gurudev, What is your advice for people on planet Earth? How can we live such that after 50-100 years we would still have fresh air to breathe?

Sri Sri Ravi Shankar:
Care for nature, like native communities worship nature. Honor the environment. In a place in India if you cut one tree, you have to promise you will plant five of the same kind within the next forty days. There is a whole ritual in which one who is cutting the tree speaks to it, telling it that after cutting it will be useful to us. We must care for nature, not exploit it.

Q: Gurudev, Sometimes I don't know whether I am doing the right thing. I lose courage. How do I handle such a situation?

Sri Sri Ravi Shankar:
At those moments, just relax. The right thing will happen to you.

Q: Gurudev, Whenever I see you, tears start to roll down the eyes. I feel as if I know you since ages. Is it true?

Sri Sri Ravi Shankar:
: You are doubting your own experience. Then it is surely true. We doubt the positive, and not the negative. We doubt somebody's honesty. Nobody has ever doubted dishonesty of a person. Same way, if somebody asks you if you are happy, you say, "I don't know whether I am happy or not". But we are so sure of our depression. We doubt in the existence of God. We never doubt in the existence of this changeable and mortal world. Evolved scientists understand that there is a question mark on the apparently looking reality.

Q: Gurudev, It seems people are more sad than happy. How is there a God?

Sri Sri Ravi Shankar:
Read "Celebrating Silence" and "Celebrating Love." God is the Generator, Operator and Destroyer. Some people have a wrong understanding of God. Our understanding of God is that he is omnipotent, waits for you to make a mistake and then gets angry. But no, God has given you intelligence and the discriminative power. This is established in the laws of nature. Animals do not violate the laws of nature, they do not have indigestion. Forests do not make mistakes unless man meddles with it. In which everything has come up, exists and dissolves – That is God. God is space. That space which you experience in meditation.

Q: Gurudev, What did Jesus mean by saying- 'I am the bread that you eat.'
Sri Sri Ravi Shankar:
I have spoken about it in the book- 'Jesus - the embodiment of love'.
Q: Gurudev, How were you able to establish three centers in Pakistan?

Sri Sri Ravi Shankar:
The people of Pakistan are very good. They just do the Sudarshan kriya. We have teachers there. When you are stuck in concepts, you are in the box. It is when you get an experience that you can come out of the box.

Q: Gurudev, After my course and Advance courses, my anger has been reduced to 80 percent. How can I completely get rid of anger?
Sri Sri Ravi Shankar:
The remaining 20 percent will also reduce. You can keep some anger with you also. It would be a good source of entertainment for others.
Q: Gurudev, Please explain the meaning of Sat Chitananda.

Sri Sri Ravi Shankar:
Sat is "that exists." Chit is "that knows." Ananda is "bliss."

Q: Gurudev, Is world peace possible?
Sri Sri Ravi Shankar:
World peace comes with individual peace. If individuals become peaceful, communities become peaceful. Then the leaders of the world will also become peaceful, and we can have world peace. When people have broad vision for the whole world, world peace is a possibility. We need to spiritualize the politics, socialize the business and secularize the religion.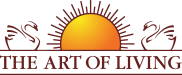 Founded in 1981 by Sri Sri Ravi Shankar,The Art of Living is an educational and humanitarian movement engaged in stress-management and service initiatives.
Read More