Question & Answers with Sri Sri Ravi Shankar

Q: Gurudev, Does one need to have a Guru or spiritual leader to seek enlightenment?


Sri Sri Ravi Shankar:
You are asking a question and you want an answer. You want medicine and anyone who gives you medicine becomes a doctor. The seeker wants an answer, wants someone to tell him, to guide him. If someone says, "I'm not a patient but I need medicine," and someone says "I'm not a doctor but I'll give you medicine," what do you call both? Anyone can tell you what you want to hear but a little guidance does help. Someone should be there to give you assurance. When you learn swimming and the trainer says "Go ahead", you get that confidence to go. Someone who has such confidence can become your guide.
Q: Gurudev, Whenever I meet you, I don't feel satisfied. I feel you give more time to others than me. Today also in darshan line, you never looked at me and moved ahead. And whenever I get a chance to talk to you, I just don't know what to talk! Then I think, "Oh! I forgot to ask this, forgot to tell this". The analysis starts in my mind. What to do?
Sri Sri Ravi Shankar:
How can I not see you? I leave none unseen, I see each and every one-all who come to visit me in the darshan line. And you forget to ask or tell anything on meeting me, that's OK. You have told it now, got your chance, yes?
Q: Gurudev, On one hand, desires need to be dropped, but is it okay to have a desire for liberation? Whenwill that get dropped?

Sri Sri Ravi Shankar:
Yes, it is okay to have a desire for liberation.

Q: Gurudev, Any suggestions for people who suffer from allergies?


Sri Sri Ravi Shankar:
Meditation, pranayama, Sudarshan Kriya will help. Also, there are two books all should pick up - Celebrating Silence and Celebrating Love. Last time I traveled to the U.S., I came through JFK. As I was passing through security, the man behind the X-ray machine in the next row came to me and showed me the book 'Celebrating Silence'. He asked, "Are you this person?" I looked at it and said, "Looks like that". He asked me to sign the book. I said that usually I only sign the customs form! I gave my signature and he told me, "Someone gave me this book on my birthday last December and since then my life has changed. I've just read one page here and there over time and it has made such a difference". He has not done a meditation course or anything. So, it would be good if all read it. It is not any big philosophical text but just snippets of wisdom. 'Celebrating Silence' and 'Celebrating Love'. Also you can put on a meditation CD to relax. After a while, you won't need any extra support.
You have come now, so drop all your worries here. Give me all your worries, botherations and problems. I want you to go home knowing that you are not alone. You can heal and bless other people. I tell you, it's not only Guruji who gives blessings and healing. Everyone has this power to heal and to bless. So, anyone of you who wants to do that, you have to do a little bit more meditation, pranayama, kriya and you will have the power to bless others. There are seven billion people on the planet. So, we each must come up with this ability to bless others.
Q: Gurudev, Any predictions when the world will be one?

Sri Sri Ravi Shankar:
When you and I start working together. Technology has made the globe into a village.Spirituality will make it a family.

Sri Sri then invited people in the audience to visit India.


Q: Gurudev, In your books, most of the examples come from the Hindu tradition of the Gita, not so much from the Koran and the Bible? Have you read the Koran, the Bible or any other religious books other than of your own religious tradition?


Sri Sri Ravi Shankar:
I am not a theologian. I speak from my experience. One of the scriptures that I usually quote from is of course the Gita. I also quote from the Bible. I am not averse to any religious scripture in the world. What I am averse to is fanaticism of any sort. You need to study every religion or scripture before you can come and talk about it. So, since I have not studied all of the disciplines like Bible and Quran, I must spend at least four to five years studying each before speaking about them. Yet the essence of all these scriptures are spiritual values which I think I can very easily find in my life. I can easily speak on the essence of the Bible. That is why I say unless you become like a child, you can't get so far. This is true because every child has that freedom. The child inside you is alive. You are still that innocence. That is spirituality. It is when you meditate, when there is unity among diversity and oneness with the whole universe.
Q: Gurudev, Can you please talk about our connection of our solar plexus and the sun? How to strengthen the connection, strengthen our nervous system and increase our immunity?
Sri Sri Ravi Shankar:
Pranayama and meditation. Simply know there is a connection. You are connected to the air all around. Whether or not you know, the connection is there. The center of gravity in the body is the solar plexus, and the center of the universe is the sun.
Q: Gurudev, You have done a lot for my life? What can we do for you?
Sri Sri Ravi Shankar:
The society needs you. The society is to be benefitted through you. Like you have felt happiness, same way you can bring this happiness to 10, 20, 50 people. When you are happy and others become happy through you, I will also be happier.
Q: Gurudev, You are not only a Guru, a Spiritual Master, but you are also so skilled in management. How come you manage everything?

Sri Sri Ravi Shankar:
Guru is not a physical entity, but Guru is embodiment of knowledge and discretion. Guru is pure consciousness. There is no difference between universal consciousness, Guru and the Self. You should also be a Guru to someone. What does it mean to be a Guru? You don't expect anything from them, and do whatever you can to uplift them with the feeling of love. Start with the one, then two, three…..10. 'I am for you; you don't need to worry' - Then you would also be able to say this for everybody.

Q: Gurudev, Praying for peace does not seem to work. Is there a more practical way to achieve peace?

Sri Sri Ravi Shankar:
Praying for peace does work! In 2004, there was a war between India and Pakistan. The chief of the Indian army called me and asked me to pray for the soldiers. We prayed for both the sides. The war did not happen at all. Action, education and prayer are all necessary for peace.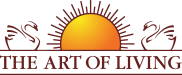 Founded in 1981 by Sri Sri Ravi Shankar,The Art of Living is an educational and humanitarian movement engaged in stress-management and service initiatives.
Read More