Question & Answers with Sri Sri Ravi Shankar

Q: Gurudev, Can you talk to us about realizing our purpose in life?


Sri Sri Ravi Shankar:
This is something everyone has to find for themselves. What is the purpose of our life? You can ask this question but don't take an answer from anybody. One who knows will not give you an answer and anyone who tries to give you, does not know. That's the criteria. The very question "What's the purpose of life?" is very precious. It means a lot to you. If this question has arisen in your mind you can give a big pat to your back because this question can remove the cobwebs from your mind, your confusion. It can remove all those unnecessary things and put you on track again and again and again. There is no single answer. It is a path on which we need to travel. "Who am I, what do I want, what is the purpose of my life?" It will move you forward in life. So give a big pat on your back, "Oh I am so lucky this question came to my mind." What's the purpose of life? You know, many don't even think about this question. They simply exist. They eat, sleep, watch television and then they die.
Q: Gurudev, My mind conflicts between spiritual world and material world. How to overcome this?
Sri Sri Ravi Shankar:
As such there is no conflict. You have to balance your life. Some breathing exercise and yoga would help you long way. Along with this some social work activity - what we call seva in India. We earn and then we spend on our selves. Isn't it good to give at least 3 - 4% of our earning to those who are in need of it? There are 300 million children in the world who need education. You can also participate in the project. One day in a month, take a time of in a group, and go and help clean the environment. Strengthen the environmental programs and social service activities.

Q: Gurudev, I have lost my trust, how can I regain it?

Sri Sri Ravi Shankar:
Don't make an effort to regain it. Listen to your heart. Trust can never be lost. Doubt as much as possible, but truth always stands up to the doubt. Truth is so strong that doubt cannot destroy it. So, it is good to doubt. And the trust which moves through the doubt and stands, that is true trust.
How many of you here have not visited India yet? How many of you would like to come to India? Oh, very good. You know, we will organize a group from here. You have a home there in India. All of you come for a week, ten days, 15 days…whatever is possible. You can all come to India, and have a glimpse of all the service activity.
Q: Gurudev, Can you please tell how does one get rid of doubt?
Sri Sri Ravi Shankar:
You know, doubt is always about something that is positive. You always doubt the honesty of a person, and never doubt the dishonesty of a person. When someone tells you, "I love you", you ask really? When someone tells you, "I hate you", you never ask them really. Isn't it? You are not sure about your happiness. When someone asks about our happiness, we say, "Well, I am not sure." But we are so sure of our depression. We never doubt our weakness, we always doubt our capabilities. If you observe, all good things like love, happiness, honesty, and sincerity are being doubted. So, any doubt must be good.
Q: Gurudev, What is the link between ego and self confidence?

Sri Sri Ravi Shankar:
Ego is feeling uncomfortable in the presence of someone else. Self confidence is, feeling at home. Ya? Being natural is antidote to ego, and being natural is so complementary to confidence. It goes with confidence and is inseparable from confidence. When you are confident, you are natural. If you are natural, you are confident.
Q: Gurudev,
How can I safely detoxify my body?
Sri Sri Ravi Shankar:
Pranayama, proper diet, raw food, juice, vegetables, and relaxation.
Q: Gurudev, How do you deal with people who think they are right all the time?
Sri Sri Ravi Shankar:
They may be saying that but they realize when they have taken a wrong step. They cannot justify that they took a wrong turn but they know it. They don't have courage to admit the wrong thing. So you be compassionate to those who say that they are right all the time.

Q: Gurudev, Today, children are getting more attracted to western culture. My son gets annoyed if jeans is washed after one wear. We have to pay an extra amount to get torn jeans, that is how he loves to wear it. How can we bring a change in this attitude?

Sri Sri Ravi Shankar:
You know, all these fashions keep on changing. So, don't worry. None of the fashion can stay forever. You create such awareness in your children and their friends. You inspire them to adopt some different styles. That is why I am telling every parent has to be a good uncle and aunt. You can't care for your children only. You have to care for their friends. You should have at least six parties for your children at home in a year where you should interact with friends of your children. Call them all over to your house, have a pajama party, sit with them, talk to them, share stories, find out from them. If you spend one Saturday evening in two months, you can make a great difference.

Q: Gurudev, How do I come out of negative patterns in my life?
Sri Sri Ravi Shankar:
Once you see yourself acting in a pattern, you are already stepping out of it.
Q: Gurudev, Who are you and what is your mission?
Sri Sri Ravi Shankar:
I will give this question back to you. And that is my mission - to put this question back to you. Who are you? When you ask yourself who you are, the journey has begun. The spiritual journey just begins with these two questions. Asking others is futile. You ask yourself ' who am I?' and 'what do I want to do in my life?'.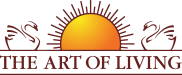 Founded in 1981 by Sri Sri Ravi Shankar,The Art of Living is an educational and humanitarian movement engaged in stress-management and service initiatives.
Read More