Question & Answers with Sri Sri Ravi Shankar

Q: Gurudev, Even after doing Seva, Sadhna and
Satsang
regularly why does doubt arise in the mind?
Sri Sri Ravi Shankar:
Our doubt is always about the good thing. We don't doubt someone's dishonesty but his honesty. If someone is honest we question if he is really honest. We don't ask is he really dishonest? We don't doubt a thief, we doubt a good man. Then we doubt the existence of God.
*White string worn around the body
Q: Gurudev, You told that God can be experienced in a state of effortlessness. What does it mean to be effortless?

Sri Sri Ravi Shankar:
Being effortless does not mean stop eating, drinking or doing other work. This has a deeper meaning. Keep on doing all your work, and while doing your work, know inside you that you are doing nothing. In the beginning, you sit for some time and experience that you are doing nothing. Then you will start experiencing that even you are doing but there is a field in you which is not doing anything.
Ancient sages had beautifully explained this. There are two birds sitting on the same tree. One is eating and the other is only witnessing this. In the above context, it is the free bird which is being discussed, the bird which is effortlessly witnessing. Pay attention to that also. The two birds are friends. They live together. One is always witnessing and other is involved in all the work.
Effortlessness does not mean sitting idle. Lord Sri Krishna said in Geeta that you cannot be without doing any action even for a second. Keep on doing your karma and at the same time be the witness of your karma. This is very deep knowledge.
After the session a book was released –Understanding Shiva. While launching the book Sri Sri Ravi Shankar told thatthe book also included a scientific perspective of all pervading Shiva tattva.


Q: Gurudev, Why is it that people who are not on the same path don't understand us and take it against us? I don't understand.
Sri Sri Ravi Shankar:
Let them talk. So what? Take it. It doesn't matter. We don't insist that everyone talk only good. By their talking, you don't become negative.
So, don't be football of others' opinion. Let anybody say anything. It doesn't matter. When you are clear in your heart, and what you do is right, what you want to do is right, you just do it. What do you say? (Clapping from the audience.)
Q: Gurudev, Why do thoughts come and where do they originate from? Why do the thoughts rule us?
Sri Sri Ravi Shankar:
Where do the thoughts come from? From the mind, or the body? Close your eyes and think about it. That itself becomes a meditation. Then you will reach the point or space within you from where all the thoughts come. And that is fantastic.
Q: Gurudev, Guruji I work in a hospital where people are dying and I am hoping to bring this yoga there. I am facing a little difficulty in understanding what is the difference between the yoga of living and the yoga of dying?
Sri Sri Ravi Shankar:
You must have heard by now, yoga has eight limbs.. I don't know how much of pranayama and asanas(postures) you can make someone do when they are sick and dying. It may not be possible at all. Some good bhajans(uplifting music), soft and instrumental music will also help. This is called laya yoga. Some words of wisdom will help. This is gyan yoga. Your mere presence there will help. Your being there without any effort will help. When we are in the 'doing' consciousness, thinking what to do, we reduce our energy. When we are in the 'being' consciousness, suddenly the light, air and energy come in you. You can make them feel better with that presence and energy of yours.
There are three things which are very important whenever you sit for meditation:
1. I want nothing for next 20 minutes or half an hour.
2. I do nothing.
3. I am nothing.
Any effort is an impediment in meditation and so 'I do nothing'. And then if you have any notions about yourself, I am rich, I am poor, I am intelligent or I am stupid, you can't go into meditation. You cannot progress on the spiritual path. So you have to come to this – I am nothing.
These are the three golden rules which I feel are very important and with which you can sink deep into meditation.
Q: Gurudev,
The 'Art of living' is full of inspirational teachers. What does it require to be a good teacher? Sri Sri Ravi Shankar: Yes, take a teachers training, and get well trained.
Q: First of all, thank you for being my master. Secondly, I am a sikh and in Sikhism our last Guru told that there is no other master now but only 'Guru Granth Sahib'. So, my family members do not want me to follow you as a guru. How to convince them about you?
Sri Sri Ravi Shankar:
It is alright. Say Wahe guru, Wahe guru. Let them follow whatever your tradition is, but they can do the course, can make friends with all!
Q: Gurudev, If whatever we do is in search of happiness, then why is there so much pain and misery in the world?

Sri Sri Ravi Shankar:
There is a story of Mullah Nasurudin. His wife was pregnant and the time of delivery had come. But the baby was not coming out. When doctor told this to Mullah Nasurudin, he ran to the market, bought a toy, and kept that toy in front of her wife. He said, "After all this is my child, so he will surely come out with greed". Whole our life we keep on running behind things with the hope of getting something. We keep on looking for some kind of profit. How would such person experience happiness? Neither does a greedy person get happiness nor does a person who is bombarded with too many desires. The one who relaxes in his consciousness is happy. One, who is centered, experiences the true happiness. I am not saying there is no happiness in the outer world, but the happiness you get when you go within is incomparable.
The world is running in search of happiness. The body gets baked, the mind gets baked, the intellect gets deluded but still we keep on getting stuck in the same repetitive cycle. When you meet Guru, you come to know that you are the source of happiness. Then the mind calms down, and you realize that you are the one in whose search you kept on running here and there.
Q: Gurudev, I dropped alcohol after Art of Living course. If I meet my old friends who still engage in these sorts of habits will they extract my positive energy?
Sri Sri Ravi Shankar:
Don't worry. As long as you remain firm in knowledge, and Sadhana - you can help them come out of all sorts of negative habits.
Q: Gurudev, Why do liars, sinful people progress more than honest people?
Sri Sri Ravi Shankar:
People who practice unethical ways, cannot come up in life. This is the truth. It will not be sustained.
You have patience. Don't think that all honest people are suffering. Suffering is not because of honesty, but because of foolishness.
You have to have smartness, intelligence, dynamism, and creativity alongwith honesty.
Sudarshan kriya* - a stress-elimination breath technique that is taught in Art of Living programs
Q: Gurudev, What is a sign of the dawning of wisdom?
Sri Sri Ravi Shankar:
Prasanna chitta (pleasant state of mind) is a sign. Friendliness, foresight, intuition, a mind in the present moment – these are signs of wisdom.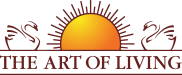 Founded in 1981 by Sri Sri Ravi Shankar,The Art of Living is an educational and humanitarian movement engaged in stress-management and service initiatives.
Read More