Question & Answers with Sri Sri Ravi Shankar

Q: Gurudev, How does one deal with insensitive people?
Sri Sri Ravi Shankar:
Don't let it affect you. When you say somebody is insensitive, you are branding yourself as very sensitive. The moment you give a license to yourself to be very sensitive, you start to justify yourself when you get upset. The world is big and there are all sorts of people in the world. We have to live with all and work with them.
Q: Gurudev, What is the difference between idea and thought?
Sri Sri Ravi Shankar:
First you tell me their meanings and I will tell you the difference. We attach meaning to words. You got it?
Q: Gurudev, What is the difference between a dream and an aim?
Sri Sri Ravi Shankar:
When you talk about an aim you think it is practical, but when you say I have a dream, you think it may be or may not be practical. When you say, 'I have a dream' there is a little doubt about it but you feel stronger about having an aim.
Q: Gurudev, Is there a way to understand the course of karma?
Sri Sri Ravi Shankar:
Gehana Karmonogati - who knows the way of karma? It is so deep. Even great sages get confused over what is karma and what is to be done. It is never ending. Every action will have some flaw.
There is no one standard to measure it. Jains had put Krishna in hell because of his sins of creating many wars. Then they saw his good deeds and put him in heaven. Do karma according to the intellect. An action which inspires you with enthusiasm and energy, even if it has flaws is worth doing. Leaving your karma by sitting idle is inappropriate.
There is some flaw in the best of the action. For instance, a teacher earns his salary by teaching students. If children were born wise there would be no need for teachers.
A doctor's job depends on someone's illness. Lawyers would not be required if there were no quarrels. Their sukh (joy) depends on others' fights. In every interaction, you will see some flaw. If you focus on the flaws everywhere, the world will not work.
Be gungrahi (imbibing virtues) - put your attention wherever there are positive qualities. The wise give inspiration to everyone for their work. There is no big or small work - every work is respectable.
Q: Gurudev, Dear guruji, Last night you said that, 'If you don't do all that you can do, then your consciousness will prick you. I know I am capable of a lot, but sometimes it feels like such hard work. I always do my best, and always serve. How do I keep service from feeling like a burden?

Sri Sri Ravi Shankar:
No, do only as much as you can. Sometimes you take commitment. At that moment, it appears too much. But that will be over. Finish that commitment. And don't think about it. You know, It becomes a burden if you think, 'Oh, how much I worked'. You recuperate everyday. So, you should never count how much service you did. It will be very small as compared to what we have consumed!

Q: Gurudev, What if I don't reach my goal and experience misery instead?
Sri Sri Ravi Shankar:
When you are doing good things in the world, you will never find yourself in a bad spot. Misery will never come to you when intentions and actions are benevolent.
Q: Gurudev, Guruji, when I heard that the world is going to come to an end in 2012, it was a blessing in disguise for me because I was able to stop my racing and really look at myself and do the things I really wanted to. I could bring some rest for my mind.
Sri Sri Ravi Shankar:
Pralaya (dissolution) can happen anytime. Thousands of black holes can swallow the solar systems, the sun is carefully moving through them. Whether dissolution happens or not, you still keep your calm and work to uphold justice and the truth without being caught up in craving and aversion. Do what you can.
Q: Gurudev, I have seen people blessing the food. What is thesignificance of blessing food?
Sri Sri Ravi Shankar:
The carrots, noodles, salad that youate yesterday are now listening to me. They are sitting here. Everything isalive in this universe in some way or the other. So today, when you have lunch,look at the food and welcome it to satsangtonight, to sing and to dance. Ancient people knew this and that is why theysaid to bless the food. Thought is nothing but a quantum of energy andconsciousness. Food absorbs thought. So, bless the food today for lunch. Don't thinknegative while eating. That is where the negative cycle begins. It is veryscientific.
Q: Gurudev, What is the difference between rest and laziness?
Sri Sri Ravi Shankar:
What you get after doing work is rest. Doing nothing and keep lying down in tamogun is not rest. You feel restless in this state.
Q: Gurudev, Life has a dual nature. How do you feel oneness in that duality?
Sri Sri Ravi Shankar:
Like high tide and low tide in an ocean, they come and go but the ocean remains. How was it five, ten, fifteen years ago? You went through a down time and a high time. It came and it went. Looking back in time you gain strength. "This will pass."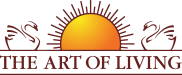 Founded in 1981 by Sri Sri Ravi Shankar,The Art of Living is an educational and humanitarian movement engaged in stress-management and service initiatives.
Read More