Question & Answers with Sri Sri Ravi Shankar

Q: Can you please talk about our karma governing our future?
Sri Sri Ravi Shankar:
Yes, your karma forms your future. I have talked about all these things in the book 'An intimate note to the sincere seeker'. You should read that.


Q: How do you deal with people who keep hurting you time and again?


Sri Sri Ravi Shankar:
Come on, nobody can hurt you, at the most they can blabber. When they blabber, they do it out of their ignorance. If you don't want to get hurt, nobody can hurt you. You should realize you are strong and nobody can hurt you. It's good to have some spicy crackers here and there. You should be a director, if you are a player in the play, you get stuck into it. You should just become a witness. Notice your mind when you're upset. Something is happening inside the body.


Q: You often say we all are like your hairs and you come to know even if one hair is stretched. I have been pulling your hairs since many days, but it seems as if you haven't noticed it?
Sri Sri Ravi Shankar:
(With a naughty laughter) yes, some of the hairs seem to have been uprooted!
Everything has its own time. If you pray and wish all your prayers get fulfilled today itself, it is not possible. Have patience. (Making a gesture with his hands where right hand is facing audience and second is slanted downwards, and both palms shown above) Have you seen hands of all Gods and Goddesses like this? Same for Laxmi, Vishnu…Do you know its meaning? Have patience, I am giving. This is one meaning, when you need something. Another meaning is – come, surrender and you find there is no need to be afraid of anything whatsoever. (Right palm raised and facing audience) This is called abhaya mudra. Abhaya means without any fear. (Left hand slanting downwards with palm facing sky) And this is called Varada mudra which indicates - I am giving you whatever you want.
I don't mind even if you ask for more.


Q: Guruji, what can tie society in one thread bringing all together for service?


Sri Sri Ravi Shankar:
You keep on doing service; others will automatically join. Don't make an effort to make others join you. You just do it and keep motivating others. Ask them if they want to come along. They will also come. If you are enjoying doing service, others will also get motivated to do it. Leaders should be like this. But usually they want so much perfection that they end up annoying every one. In this kind of service people come once and then they run away. Nobody wants to work with a person who is full of complaints. So serve along with fun. When happiness comes from within with regular Sadhna and Satsang, everything happens naturally.
Q: How do I know that the service that I am doing is right?
Sri Sri Ravi Shankar:
You ask the people whom you are serving. If someone doesn't want to cross the road, don't drag them on the other side (Laughter follows). Service is that which is needed by the people.
The gentleman continued to ask what if someone wants drugs.
Sri Sri Ravi Shankar: Then that is not service in the first place. Don't call it service if someone wants to kill someone else. You have certain basic human values. Anything that destroys human life is not a service.
Don't regret about the past however it has been. You have learnt the lesson. Just accept it and move on, learning from it.
Gentleman continued to asked that should one act on the best judgment one can make at present.
Sri Sri Ravi Shankar: Your consciousness will tell you that it is wrong and you should not do it.
Q: How do you break an addiction?
Sri Sri Ravi Shankar:
To begin, look at it in the short term. Say for the next one month I am not going to do it. What gets us over an addiction?
Greed – you will get $10 million if you don't smoke for one month. Greed will make you keep the vow.
Fear – fear keeps you out of addiction if you are afraid of sickness or death.
Love – if someone promises someone they love then they will not do it.
And of course, meditation.
Sri Sri Ravi Shankar:
Do either of the two things:
Become such a devotee like Yudhishthir, who gets Lord Krishna who is full of cleverness or else become clever, awaken that element in you.
The world thinks you to be better than you actually are.The world thinks you to be less worse than what you actually are. If you think like this, then what you want, will happen. Whatever kind of sankalpa you release in the universe that kind of result will come to you.
Realize this now or later after a decade. Once you realize it, you will bow down to this Universal Self. Otherwise you will blame the world and become sad making yourself blemished. Some people indulge in self pity, "I am very good but people do wrong with me."
Who says people did wrong? Who asks you to be stupid and be swept away in emotions? Some fall in love crazily, they talk so much and the other person doesn't know how to handle it.
Wise know how to accept love and give. But everyone is not wise. We want everyone to behave like the wise but we behave like an ignorant.
a look at yourself. This is swadhyaya study of oneself. Swa – means self, adhyaya – means study. Swadhyaya doesn't mean turning pages of books.
Q: Guruji, with your grace I got a new car but if you don't sit in it, what's the fun of having the car?
Sri Sri Ravi Shankar:
Your body is the car of which the heart is the motor. It's enough for you to have a seat for me there. What's the fun of sitting in the other car! Make me reside in your heart.
Q: How to draw the line between not being a football of other's opinion and also listening to them? Isn't it also important to listen to other's opinion?


Sri Sri Ravi Shankar:
Yes, it's like a riding on a bicycle.
Q: I want to progress spiritually really fast. How do I get on the fast track? I have lost so much time already.


Sri Sri Ravi Shankar:
When you go on a train you should simply relax. If you keep running inside the train you are not going to reach any faster. Got it? Just imagine someone with a suitcase running fast in the train from one compartment to another compartment. My dear, it's not going to make you reach any faster. To catch the train you have to run fast, once you are in the train, just relax.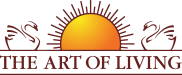 Founded in 1981 by Sri Sri Ravi Shankar,The Art of Living is an educational and humanitarian movement engaged in stress-management and service initiatives.
Read More