Question & Answers with Sri Sri Ravi Shankar

Q: Gurudev, What if I don't reach my goal and experience misery instead?
Sri Sri Ravi Shankar:
When you are doing good things in the world, you will never find yourself in a bad spot. Misery will never come to you when intentions and actions are benevolent.
Q: Gurudev, What to do with negative thoughts?


Sri Sri Ravi Shankar:
It is ok to have negative thoughts at times. When you think a negative thought should never arise, then you encourage it. Accept even the most negative though that comes to you. Then you find it is not even there. It is just a dim energy.
Q: Gurudev, What is important in a husband-wife relationship?
Sri Sri Ravi Shankar:
A secret for women: Always pump the ego of the man. Praise him. He always has to prove himself in society. Don't burden him further to prove his love for you. With her words, a woman can enhance or decrease the self-esteem of a man.
And a secret for men, don't step on the emotions of a woman. She may complain about her father or family, but you don't join her. She will switch the part. Don't complain about her family. Don't say no to anything spiritual she wants to do.
Q: Gurudev, How do we balance having a wish (really wanting something) with surrender?
Sri Sri Ravi Shankar:
When you wish for something the wish just happens naturally. You have no control over it. It doesn't ask your permission. It doesn't need a visa for entry!
So, just say "Let thy will be done"!
Q: Gurudev, Is it right if one's parents do not appreciate the virtues of a child but compares demerits of the child with the good qualities of other children?
Sri Sri Ravi Shankar:
Once in a while it is ok. When the intention is that their child should learn, then it's ok. But if it happens every time, then it is not ok.
Q: Gurudev, Guruji, is it difficult for a woman to organize something for she has to manage the home also. How does a woman do it effectively?
Sri Sri Ravi Shankar:
Don't think of anything as difficult. Even if it is difficult, it becomes more difficult when you perceive it to be difficult in your mind. If you get a difficult task to do, however much difficult it seems to be, know that we have an even greater power within. It is available to us and according to that we get tasks to do.
Q: Gurudev, How to balance studies, work and seva?
Sri Sri Ravi Shankar:
How do you balance a bicycle? Exactly the same way.
Q: Gurudev, I get caught up in my problems. How do I come out of this?
Sri Sri Ravi Shankar:
When you think your problem is big you are not looking at others' problems. When you compare your problems with others, your problem starts looking small.
Q: Gurudev, Why do liars, sinful people progress more than honest people?
Sri Sri Ravi Shankar:
People who practice unethical ways, cannot come up in life. This is the truth. It will not be sustained.
You have patience. Don't think that all honest people are suffering. Suffering is not because of honesty, but because of foolishness.
You have to have smartness, intelligence, dynamism, and creativity alongwith honesty.
Sudarshan kriya* - a stress-elimination breath technique that is taught in Art of Living programs
Q: Gurudev, Guruji, I think life is miserable. What should I do?
Sri Sri Ravi Shankar:
You think life is miserable because you are hanging onto desires of the past, impossibles of the past, you are not accepting the present, you are not moving ahead or you are hoping for something too much. Correct? Be practical. Life is a mixture of problems and pleasure. What does your mind do? It messes up the problems and blows it out of proportion and makes oneself miserable. So who isresponsible for your misery? Yourself. So when is the program? When is the program not to be miserable? (Laughter) Now, right now have you gotten over your misery right now? (A dim 'yes' from the audience) The 'Yes!' should be louder (A strong 'Yes' this time). That is it.You know, if the room is dark for 20 years, it doesn't take another 20 years to bring light in. it just needs one connection, one switch on and the whole darkness goes away. Your life may have been miserable in the past, but wake up and see, so what? Problems come and go in everybody's life. Look at your past, problems came and they have all vanished. Right? We forcefully make the problem stay, just wake up and see, where is the problem? The problem is not there. You can have some physical problem in the body sometimes, some pain here and there but is there anyone who has never suffered physical illness?Everybody has some physical problem at some point in their lives and when you violate laws of nature, pain comes, suffering comes. Pain is inevitable, suffering isoptional.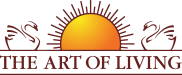 Founded in 1981 by Sri Sri Ravi Shankar,The Art of Living is an educational and humanitarian movement engaged in stress-management and service initiatives.
Read More