Question & Answers with Sri Sri Ravi Shankar

Q: Gurudev, Will the world be destroyed in 2012? Is that true?
Sri Sri Ravi Shankar:
People used to say this in 1999 - that world will be destroyed before the Millennium. In fact, in Canada people stocked up six months worth of groceries (laughs).
There will be a positive spiritual shift that will happen. You know, people are meditating in Terra Del Fiago (near South Pole) and in Norway (near North Pole) and chanting Om Nama Shivaya, becoming vegetarians and taking up Indian traditions.
Q: Gurudev, Guruji, please talk on the story of Ajmila in Srimad Bhagwad.
Sri Sri Ravi Shankar:
In Srimad Bhagwad there is a story of king Ajamila. He had many vices. When he was on his death bed he called his son's name – Narayan. And when he uttered God's name, he got liberated. This story is there to build trust in people that however their past has been, there is no need to waste time in tension and guilt about the past. Even at the last moment if you chant Narayana's (Lord's) name, you have a chance to be liberated. This does not at all mean that you do whatever you want in life and at the last moment chant Narayana's name. It doesn't give you the license to indulge in vices. It only indicates that you don't have to be guilty of your past and go on repenting the past. The past is gone. At least now be devoted and connected to the Divine.
Q: Gurudev, Everyday people make requests to you that can be directly requested to God. Is it that God pays more attention to you than to us?
Sri Sri Ravi Shankar:
I leave that question with you to wonder about. You should have something to wonder about. Besides, why do want to know all the trade secrets!(Laughter)
Q: Gurudev, When we experience meaninglessness and a hollow and emptiness in life, does it not give rise to depression and a sense of loss?
Sri Sri Ravi Shankar:
You know when you feel so empty and there is nothing, definitely it gives rise to depression. That is where love, devotion, dedication and a cause combined with the knowledge that everything is nothingness, has to come.
That's why Lord Buddha said everything is nothing. Along with that he said education, sacrifice, devotion all this is a must. Compassion with nothingness makes you very beautiful.
Q: Gurudev, My sister called me in the morning. She was crying because her son is suffering from an incurable disease, and his condition was not well. I could not be physically present there. I closed my eyes and prayed to you. At 4 o'clock in the evening, she called me saying that her son is doing well. All I want to know is how it is possible that I am sitting here and praying from here makes things better there?

Sri Sri Ravi Shankar:
This is a trade secret. It is easy to be popular but it is difficult to be a Guru. A Guru has responsibility along with.


Q: Gurudev, I had an experience of being nobody and I was so happy, but then I started to take on some responsibility and started to feel like I was somebody again — different and special. The ego came up. How can I sustain being nobody at the same time as carry out responsibilities and playing the roles that I have to play?


Sri Sri Ravi Shankar:
Never mind. You do something and everyone adores you and says how good a human being you are.
See life from a bigger context. There are six and a half billion people on the planet and they all live for sometime and then everybody dies. People who praise and people who are also praised, both die. The whole universe comes to an end at some point, so renounce it all. So when you see your life from a bigger context, you will see you are everybody.
Q: Gurudev, I have finished my final year engineering exam. I want to study, I want to pursue higher studies, but I cannot concentrate when I sit to study. I want to study, what should I do?
Sri Sri Ravi Shankar:
If you are not getting concentration in your studies, watch for these three things
(i) Your diet, watch what you are eating. Diet makes a big difference.
(ii) Do you do any physical exercises? If you just keep sitting on a couch watching TV, or keep sitting on computer with internet etc. then the circulation is less in your body. Then you tend to become lazy and will not feel like studying. So, it is necessary to do a little bit of physical exercise, yoga, pranayama, meditation and also participate a little in singing etc. Doing all these, whatever is the need for your system will be furnished, and then you can grasp more in studies. Also your learning and retaining capacity will increase, and you will be able to study as well as gain much more in shorter time.
Go for higher studies if you want to. Choice is yours, blessings are mine!
Q: Gurudev, How to get God answer your prayers?

Sri Sri Ravi Shankar:
Have faith that he will answer and will do whatever is good for you.

Q: Gurudev, Can I practice silence and meditation by myself at home? For how many days?
Sri Sri Ravi Shankar:
Yes, you can practice meditation. Silence might be difficult at home. Keep as much silence as you can, but there is no need really. You come here (ashram) and practice silence. Once in a while, you can do it for one day. You can say: 'Ok, I will be in silence for one day per month'. Unless there is such a congenial atmosphere at home, it is not possible and then people will also get confused and will wonder what has happened to you.
Q: Gurudev, What is emptiness, empty mind? Can you speak more on this.
Sri Sri Ravi Shankar:
Sri Sri hand gestures empty space.
You got it? That's emptiness. If no, then the mind is already empty.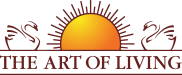 Founded in 1981 by Sri Sri Ravi Shankar,The Art of Living is an educational and humanitarian movement engaged in stress-management and service initiatives.
Read More