Question & Answers with Sri Sri Ravi Shankar

Q: Gurudev, Between karma and bhagya (good fortune or luck), which is more important?
Sri Sri Ravi Shankar:
When you are in front of the television, do you listen to the voice first or watch the screen? They happen simultaneously, isn't it? In the same way, both karma (action) and bhagya(good fortune) are important. When we perform appropriate actions, then we become bhagya or fortunate. When we have good fortune, then our actions are fruitful.
Q: Gurudev, What does the mantra Bhadram Karne-bhi-h Shrnuyam Deva... mean?
Sri Sri Ravi Shankar:
This is the first mantra to be recited before any pooja. It means, let my ears hear good things, let my eyes see good things, let us speak only good words, let our life be on the Divine path.
Q: Gurudev, Let's take one idea - that the Imam will say, "we take care for all believers, not only the Muslims", and the Rabbi will say not only the Jews, but for everyone. So what actually do we have to do to evolve because at the moment the extremists dictate the course of events?
Sri Sri Ravi Shankar:
First of all, inter-faith dialogues and education for those people is essential.
Second is that the people of the same community will have to identify the extremists and isolate them. For this, a neutral person needs to be there. A third party will have to come and facilitate the dialogue, re-orient them and bring them together. As you saw, we worked in Kashmir. There were 1500 Hezbollah Mohadin group terrorists who were transformed. These people came and shared, "We were doing something that was wrong. We were killing people." They were caught in a prison in India with whom we worked.
So the first step tomorrow, I would say, is to work in the prisons with those terrorists. Through them contact other terrorists who are out there in the world. Bring them this education, this spiritual experience, a transformation in their mindset. I know it is not an immediate work; it gives results in the long term. In 2001 nobody could go into Kashmir. Businesses were shut. There were no electoral processes. The state of Kashmir was in a mess. Then, with our work till 2004, a big shift has happened. Today 69% of the people voted in Kashmir, and businesses have started though it took between 5 to 7 years. Drop by drop we would bring some difference, some transformation.
Similarly, if we can have 100 youth working for this cause in Israel and Palestine and train these people to think from a different perspective, I'm sure we can find greater peace, because I have seen this work in Iraq. I would like to give you an example of Iraq. You know, in Iraq we started the work between the Shias and Sunnis. There was such a big animosity between them. 8000 Sunnis were driven away from the Shia village. When we met one of the Sunni people, we took them to the Shia village and made them understand. Eventually they [the Shias] said that they [the Sunnis] may all come back. This is just one example.
I know there is so much more to be done. I know we have not achieved total peace in Iraq, but we have moved significantly. We invited about 50 youth from Morocco and 50 from Iraq to India. These people were so fanatical. They would not accept us because we are Hindus. Hindu means idol worshippers. But just in a matter of 3 weeks they started shaking hands and started dancing with us. There was such a harmonious atmosphere.
We had 22 people from Israel and about 150 from other Arab countries. When they first arrived in Bangalore, the Iranians, Iraqis, Arabs were so furious. They said, "Why didn't you tell us that you brought Israelis also!" It was as though we had committed a very big crime. They said, "You have cheated us." But just in three days there was a difference – they started liking each other and honoring each other. We had 150 Arab youth singing Shalom and Om Shanti. That gave us big hope that we can do something.
Q: Gurudev, What do you think of 2012?
Sri Sri Ravi Shankar:
Let me remind you of 1999. There was a hue and cry in North America. The world is going to shut down. There was going to be a big disaster. But nothing happened. I think it will be the same in 2012 as well. Business as usual. But people will be more creative. Children will be more spiritual. People will imbibe human values more. The amount of violence, the sense of aggression and violence will decrease. We will make more sustainable choices. Naturally we will become more spiritual. There will be less addiction and sickness.
Q: Gurudev, Dear Guruji, many of us who are on the spiritual path desire self-realization not only for ourselves but for society at large. Has such an enlightened human society ever existed on this planet, and is it utopian for one to desire this for our society in the future?
Sri Sri Ravi Shankar:
You should desire for utopia, you should have dream. You know, what you think impossible, you should really dream for it and make it possible. We did one village like that in India. There was a notorious village, notorious in the sense that nobody would go into the village after five or six o' clock, because of robbers, thieves, full of crime and a lot of problems. This village was adopted by one of our teachers, and you know, what he turned that whole place into in three months? Unbelievable! He took this village and made everyone do the course. Now, everybody in the village, Young and old, sing and dance in the satsang everyday. They have made a rule that anybody, who smokes or drinks or any substance abuse, will be fined. So, the village is free of smoking and drinking, the entire village has become organic, and they have a shop without a shopkeeper. I have also brought a CD of this village.

In my last trip, Swami Pragyapalji told me that we have such a village, and that there is a shop without any shopkeeper but the shop runs very well. People take the needed stuff and put the money in the basket there. People were all astonished that the village has been running like this since the last two and half years. A shop without a shopkeeper and nobody steals. And they have removed locks from all the doors. No door has any locks, no house has any locks and it has become the most self-sufficient village. It has pure drinking water and the entire village is painted in pink color. Everybody chose to have pink color on their walls as a symbol of unity. Both the government of India and government of Maharashtra gave this village cash awards calling it the most ideal village. So, one teacher, if you could imagine something that is thought of as utopia, made it possible.

After seeing this, 180 villages are on the way to become ideal villages.

In New Delhi, few volunteers thought to clean the Delhi for Asian games are coming. In India, there is lot of garbage here and there, and people don't keep streets clean. They would take things out and dump those in streets. So, they started with this idea to clean Delhi.

They thought to forget about government for everyone keep blaming the government. You cannot imagine what a group of few 'Art of Living' volunteers have achieved? They inspired one million people to come up and take the brooms, take the plastic bags and segregate the garbage, and clean the whole city. They could gather one million volunteers in a city of 15 million people, and they are doing this from 12th of September. The Delhi government, who was never cooperative with the 'Art of Living', in the sense they never came to any of our functions, suddenly woke up and decided to help them. Now, the government is announcing the great job done by the 'Art of Living' volunteers.

So, you should think, plan and dream what you really want. It may not happen immediately but you can achieve that.
Q: Gurudev, Guruji, you give so much importance to Satsang. Is there any scientific reason behind?
Sri Sri Ravi Shankar:
Satsang means the company of reality, being in touch with the truth. Satsang is not just singing. Singing some complicated songs which you don't understand is not Satsang. Music is a part of it. The second part is understanding the logic. The third part is sitting and reposing in yourself, in deep meditation, being with yourself.
Q: Gurudev, If one desires to have something with all the heart, does he/she get it?
Sri Sri Ravi Shankar:
If it is good for you, you will get that.

Q: Gurudev, Dearest Guruji, I had a question in my mind when we were speaking about energy centers today, in the knowledge tape. I feel constant energy in my secondchakra but I don't have any desires to do sex because I know it leaves me tired and dull. On the other hand my creative energy has not manifested itself. I would like to use my creativity and write, sing, dance, etc. How will it come to this point? Please show me a way. Give me ability to make my creative energy alive.
Sri Sri Ravi Shankar:
Ya! Continue your meditation. If a particular chakra has been used a lot then automatically energy goes there quite a bit. But it will keep moving,definitely moving. You focus more on navel center and then dance, sing. Singing and dancing, that is all part of our practices. You know, it uplifts you in more than one way.
Q: Gurudev, How should be one's relation with the Master? One is an ordinary person and other is a person with so many powers. Should it be like a friend or a beloved?
Sri Sri Ravi Shankar:
Let love be love. Don't give it a name. Love is above all relations. Being in love with the master is like being in Love with the divine. Master, God and spirit are not different. These all are one. Only one exists – one non dual existence. Everything is divine.


Q: Gurudev, Why do thoughts come and where do they originate from? Why do the thoughts rule us?
Sri Sri Ravi Shankar:
Where do the thoughts come from? From the mind, or the body? Close your eyes and think about it. That itself becomes a meditation. Then you will reach the point or space within you from where all the thoughts come. And that is fantastic.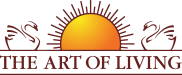 Founded in 1981 by Sri Sri Ravi Shankar,The Art of Living is an educational and humanitarian movement engaged in stress-management and service initiatives.
Read More