Question & Answers with Sri Sri Ravi Shankar

Q: Gurudev, Do we all have a purpose in life or we all come and go whenever? If there is one purpose, what is it?
Sri Sri Ravi Shankar:
You know, it's best to take out a paper and pen, and list out what is not the purpose of your life. By negating it will be easier for you.
Q: Gurudev, What is emptiness, empty mind? Can you speak more on this.
Sri Sri Ravi Shankar:
Sri Sri hand gestures empty space.
You got it? That's emptiness. If no, then the mind is already empty.
Q: Gurudev, Why does the Divine love us?
Sri Sri Ravi Shankar:
It is good to ask this question. When we demand love, we destroy love. When we feel that we have been loved by people in abundance, then we will see that we have also grown in abundance.
Q: Gurudev, What karma gives you liberation from the cycle of birth and death?
Sri Sri Ravi Shankar:
You are at the right place.
Q: Gurudev, Craving and ego are troubling me. What to do?
Sri Sri Ravi Shankar:
Be natural. Take things as they come.
Q: Gurudev, Apart from the joy one gets in service, is there anything else also that one gets?
Sri Sri Ravi Shankar:
You get what you call good luck. Doing service increases your luck. But doing service in order to enhance luck will be cheating. You do service because you cannot live without that.
Do whatever you can in your capacity.
Q: Gurudev, When I am in silence or otherwise, a voice in my head keeps talking. The more I ignore it, the more it stays. Is it a normal phenomena?
Sri Sri Ravi Shankar:
Talk to your teacher and ayurveda doctor. If too much words going in the head, there is pitta imbalance, vata derangement. When there is too much impurity in the system then such things happen. You can go for panchkarma
Q: Gurudev, Dear Guruji, recently scientists have said that they can create life in a laboratory by manipulating and intervening the genes. Isn't this contradictory to spirituality and religion, with man creating life and giving consciousness to innate objects?
Sri Sri Ravi Shankar:
: Not at all. You have heard this saying – 'God made man in his own image'. Right? So, whatever God can do, man can do too. God made man, created him as his own image. It is written in the Bible. Right? There is a story about it in Mahabharata epic also, written some 5000 years ago.
So, test tube babies are not new phenomena. Queen Gandhari , from one embryo, had put pieces in hundred pots and created hundred types of kids. But what quality the kids came out with, that you all know! So, there is a big question about the risk, but this is a fact that Gandhari created 100 children in hundred pots. So, test tube babies or creating life in lab is not a new phenomenon. It was done some 5000 years ago also!
Q: Gurudev, Who is Shiva?
Sri Sri Ravi Shankar:
One should ask, what is that which is nor Shiva? The whole world is filled with Shiva. Shiva – whose body is in the whole universe. It was very difficult for artist community to portray Shiva in a picture, because Shiva is beyond imagination. For this reason Shiva was given blue color. Blue signifies all pervading, infinity which has no limits. It has no shape. The ved(Ancient Indian scriptures), the knowledge has no shape. But it infiltrates each and every particle of the universe.
'Saam sada shiv' – Shiv tattva includes both shiva and Shakti(Male and female energy). Parvati is not different from Shiva. Parvati is that which is born out of celebration. Celebration cannot be there without Shiv tattva. It is impossible to separate Shiva and Shakti even for a second. If Shiva is everywhere, how can Shakti be there beyond its scope. Puranas include various stories of Shiva with a vision that even a child could understand something about this tattva.
You all experience three states of consciousness – awake, dream, and sleep. The fourth state which is called 'turia' ,that you experience in deep meditation, is Shiva. When you experience that state, innocence blossoms. And without innocence you cannot dissolve in that tattva. Hence, He is called Bholenath.
Q: Gurudev, Should we follow the character and play of Gods?
Sri Sri Ravi Shankar:
There is a story in each character. One should follow the character of God like Sri Rama's character but the play of Lord Krishna is not
to be followed. Play of God is not comprehensible.
Do as what Sri Rama did but do as what Sri Krishna said and not did. If you follow Lord Krishna's play and do all that He did, you will end up in a jail, then you reach your birth place. (Audience laughs) When you listen to Lord's play, your heart becomes joyful. Everything is Lord's play only.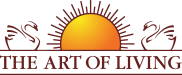 Founded in 1981 by Sri Sri Ravi Shankar,The Art of Living is an educational and humanitarian movement engaged in stress-management and service initiatives.
Read More