Question & Answers with Sri Sri Ravi Shankar

Q: Gurudev, Guruji, telling the truth causes problems outside and telling lie creates problems inside (us)? What to do?
Sri Sri Ravi Shankar:
Solve the problem. Problems are to be seen as challenges. Someone who is brave like challenges and you are brave, I tell you.
Q: Gurudev, You say that there is no difference between you and me, then why do I feel sorrow?
Sri Sri Ravi Shankar:
The sorrow is there because you have not fully realized this. Your heart and mind have not accepted this deep inside. As soon as you accept, the sorrow disappears.
Q: Gurudev, You have talked about hidden meanings behind symbols in Hinduism which seems to be very illogical. Could you please talk about many crores of devtas?
Sri Sri Ravi Shankar:
Crores, koti means types. 33 crores means 33 types of Divine impulses. In our body also there are 33 types of divine impulses. There are 33 types of genes in our body. A particular type makes the eye, a particular type makes the nose, like that a particular type makes eardrums, hair, nails. All these are made up from a particular type of gene which are of 33 different types.
Like this, there are 33 rays of Divinity. There is one light, one God, one Parmatma yet there are 33 aspects. Devas are the 33 different aspects of Divinity. Here crores is not referred to as a number. The Divine has no form but ancient saints have said you can adore Him in any form or name. All the thousand names belong to God only. This is very, very deep science or deep knowledge. It's amazing. When you go deeper into this, then you feel the 'wow'. People - who have written this, have discovered this - have simply stupendous knowledge. The Universe is not so simple. It's very complex. Modern physics also say that the deeper and deeper you go, there are so many different type of particles. So the universe is diverse. The Divinity which manages, rules, and has made this diverse universe is devta.The English name, David, is a Sanskrit word. Dev + vid, dev means Divinity, vid means to know. David means one who knows Divinity. Divinity is not somewhere up in the heaven. It is present in the world, universe, everywhere. And it has to be realized when the mind is calm, serene and settled in our heart and when the emotion and intellect merge into a serene blend in silence then you are able to perceive the subtle reality of Universe and that is devta.
Q: Gurudev, What is the rule to be reborn? Who maintains records of all human beings? Why don't we remember anything about our non-physical form?
Sri Sri Ravi Shankar:
It is not very difficult to know. You can do the eternity process and you could know.
Q: Gurudev, How do I evoke my self esteem?
Sri Sri Ravi Shankar:
With sudrashan kriya. Two-three part 2 courses are very essential.
Q: Gurudev, Why are parents neglected by their own children? Brothers are being murdered by their own brothers.
Sri Sri Ravi Shankar:
Parents are being neglected because they didn't spend enough time with their children, and didn't imbibe spiritual education in them. They made the children too materialistic and selfish. This is because you gave them food, clothes and a roof over their heads but not knowledge.
Q: Gurudev, In Sanskrit, each word has the meaning hidden in itself. So what is the meaning of Akshar?
Sri Sri Ravi Shankar:
Akshar means something that cannot be destroyed. Rice is also called Akshat because it cannot be destroyed. You eat rice and it transforms into the life energy and that leads to jeev (being) which again leads to life energy. It is always there in the body. That is why even a grain of rice is not destroyed.
In physics it is said that an atom can never be destroyed. Our ancestors brought this truth to light millions of years ago. Then they said that not even a grain is destroyed. It may lose its form but is never destroyed. Shar means destruction. Akshar means that which cannot be destroyed. Like a seed we sow is never destroyed, it takes different forms and exists in space. Its vibrations are never destroyed.
Q: Gurudev, Is it possible to become like a child again and to rekindle that positive vibration around us?
Sri Sri Ravi Shankar:
It is possible. The secret lies in our own breath. Through breathing exercises, certain breathing techniques and some practice of meditation, we can rekindle positive vibrations within and around us.
Are you aware that sometimes for no reasons you feel like talking to some people and, sometimes for no reason you want to avoid some people? I am sure everyone has this experience!
We convey more through our presence than through our words. If we are uptight, angry or stressed, then we become repulsive. Now, the question is how do these negative vibrations come in our aura? We are storing all these negative things that we have seen and heard in our aura.
Q: Gurudev, Which is the best way to reach God – path of knowledge or path of devotion?


Sri Sri Ravi Shankar:
You cannot like something without knowing about it. Suppose you like gulab jamun(Indian sweet). Knowing about its taste is gyan yoga, buying and eating it is karmayoga, and liking it is bhakti yoga. Devotion is liking something. When you like something then their arises a thirst to know about it. All three go together.
Q: Gurudev, Why is meditation difficult to follow?
Sri Sri Ravi Shankar:
There are three things to start a good habit: greed, fear or love. First, if someone says they will give you a million dollars for not missing your practice, will you do it? You would say "I will do for five more days, just to be safe." If you have promised your loved one you will not smoke, you will keep the promise. If your doctor says you will die if you do it, then also you will quit smoking. I prefer love over greed and fear. A Guru is a symbol of love and commitment.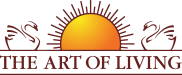 Founded in 1981 by Sri Sri Ravi Shankar,The Art of Living is an educational and humanitarian movement engaged in stress-management and service initiatives.
Read More