Question & Answers with Sri Sri Ravi Shankar

Q: Gurudev, What is the significance of pilgrimage in Hinduism? What is your experience of any Pilgrimage?
Sri Sri Ravi Shankar:
Best pilgrimage is Inward Journey! A pilgrimage is an opportunity for people to come together and pray together. As you know, praying together generates more energy, you know, a synergy. But don't think God is only in pilgrim centres! God is omnipresent and omniscient. Ancient Rishis meditated in some places and put all that energy in some idol there. The scriptures talk about God as having no name and no form. There is freedom to worship God in any form or any name. Wisdom from anywhere was acknowledged.
Q: Gurudev, My wish and will for my spiritual growth is not consistent. Sometimes it is not very strong? How to be more aware of myself; how to see more and stop the chattering in my head for longer periods?
Sri Sri Ravi Shankar:
Just drop this more. I want to be more; I want to be more… Relax. Love for growth in the field of spirituality and mind is deep relaxation. All positive qualities are already within you. When you go deep in meditation, they unfold naturally. We can't say: 'I want this flower to blossom quickly. What do I do? Should I open the petal?'
If I want the flower to blossom, just allow, let it be. Pour some water; in time it will blossom.
Q: Gurudev, How to attain the power of vision that Sanjay had in The Mahabharata?
Sri Sri Ravi Shankar:
By being centred. When you experience the depth of meditation then naturally you get knowledge. There is no effort involved, no roting of scriptures is required.
Q: Gurudev, Even after surrendering mistakes, why does the mind feel upset?
Sri Sri Ravi Shankar:
Because you did not surrender completely!
Every moment, realize that there is a new person in you. Don't think of the past.
Q: Gurudev, What is sin and virtue?
Sri Sri Ravi Shankar:
Sin is that which inflicts pain on yourself and also on others. Virtuous action is that which brings peace and happiness to you and also to others.
Q: Gurudev, When will everyone embrace the Art of Living?
Sri Sri Ravi Shankar:
There is nothing inside or outside the Art of Living.
Q: Gurudev, How can we strengthen the faith?


Sri Sri Ravi Shankar:
Your very thought to strengthen thefaith strengthens it. Move ahead assuming that your faith is very strong. Whenyour intellect is purified, faith automatically gets strong. We should have apure diet in order to purify the intellect. So, pay attention on your food. Ifyou eat food thinking all sort of negative things in the world, that alsoaffects the intellect. Many times people get time to converse only duringmeals, and they discuss about topics like diseases while preparing and eatingthe food. This is very wrong, and we need to get rid of this habit. You becomewhat you eat. The type of food you take governs your mind. And again your mindhas a direct impact on your body. That is why you should eat food with a happystate of mind. If we are very excited, we cannot swallow food with ease. Alsoif we are restless, we end up eating more food. So, it is important to havefood with awareness.


Q: Gurudev, I am a student and I am so much impressed with the education system here. Could you please tell me some of the values that I can take back along with me?
Sri Sri Ravi Shankar:
Respect the teachers. There is so much respect for the teachers in the Indian education system. That respect is missing in the western schools and colleges. Also respecting the elders is one of the beautiful cultural identities here.

So, we create a new wave where we take the best of the east and the west, and have a wonderful global family. Take best available in both the worlds, and create a beautiful society.
Q: Gurudev, Why do negative feelings like regret and frustration exist? Has anything productive ever come out of them? And if not, what is the way to turn these emotions into productive one?
Sri Sri Ravi Shankar:
You should read 'Celebrating Silence'. I have answered all these questions there.
Q: Gurudev, Could you please tell us something about prakriti and parmatma?
Sri Sri Ravi Shankar:
There are two things – prakriti and parmatma. Prakriti moves according to rules. Parmatma is free. Human being is a combination of both. With the increase in the parmatma element, man experiences more freedom. An increased level of prakriti means one is no different from animals, birds or trees.
In the human being there is a glimpse of the parmatma and there is prakriti also- it's a precious combination.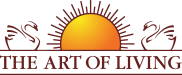 Founded in 1981 by Sri Sri Ravi Shankar,The Art of Living is an educational and humanitarian movement engaged in stress-management and service initiatives.
Read More