Question & Answers with Sri Sri Ravi Shankar

Q: Gurudev, Guruji, if human being knows that if one is born then he has to die, then why does he worry so much about death?
Sri Sri Ravi Shankar:
Well, there is lack of spiritual education, broader vision and knowledge of who one is. Ok, let me ask you all a question. You know, all those who have grown old don't feel that they have grown old. How many of you feel this? (Many raised their hands). You are 50, 60 or 70 years old and you feel that everybody else has grown but you haven't changed. You see your little 1- 2 year-old child has grown to 16 years but you don't realize that you have also grown equally. You know, many times father and son, mother and daughter have this conflict because neither father nor mother think that they have grown older. It is the same problem with mother – in – law and daughter – in – law in India, perennial household word because you feel that you haven't changed, you haven't grown. This is because there is something deep inside you which never dies, which never grows old. Time doesn't touch that aspect deep within you.
Q: Gurudev, Guruji how come you have so many disciples?
Sri Sri Ravi Shankar:
Somebody asked me, 'How come you have so many followers?', I replied, 'I keep on running ahead of everybody.'(Laughter) People continue to come behind me. Then he asked, 'How do you do it?' to which I replied, 'It's very easy. You keep running ahead.'(Huge laughter)
Q: Gurudev, Despite so much research there's not yet a cure for HIV. Is there any hope and what is your message to those afflicted with HIV?


Sri Sri Ravi Shankar:
Those who are living with HIV and AIDS must remember that we are all going to lose our body one way or another. Everybody is going to die. Now lift your eye above this body consciousness to know your spirit. Spirit has no disease. Spirit is beyond it. Keep your mind alive, energetic, loving and happy. People with disease die and people with no disease also die. Sometimes they die out of nowhere. Sometimes sick people live longer and many times healthy people suddenly die. All possibilities are there. So, know that you are more than the body. You are consciousness. You are light. Honor that light. Please don't sit and brood over it. Look ahead and engage your life in educating others who are not informed about HIV. And instead of seeking solace, become a giver of solace to others.
Q: Gurudev, Does time and mind have any relation?
Sri Sri Ravi Shankar:
You should read the book 'Celebrating Silence' or 'An intimate note to the sincere seeker'.
Q: Gurudev, If I think badly of others, will something bad happen to me? Or will my positive thinking work for me?
Sri Sri Ravi Shankar:
Don't get entangled in these thoughts. Just be simple, easy, and relaxed.
If you don't have a complicated mind, you won't have bad thoughts. Just observe the mind and relax.
Q: Gurudev, What mistake can't be forgiven?
Sri Sri Ravi Shankar:
One who does not forgive, he is mistaken.
Q: Gurudev, Guruji what is guru tattva?


Sri Sri Ravi Shankar:
You asked this question because you want to know something. So this thirst to know is discipleship. The one who answers is the Guru. The source from which you get all the answers in life is the Guru Tattva. We need answers to feel complete. The knowledge makes you complete. The element that brings fullness in you is the Guru Tattva. In whose presence you don't feel any lack is Guru Tattva.

Q: Gurudev, I am a coward. All my life I have been afraid of every little thing. I see risks and danger in my way and fear everything and everyone. I'm afraid to get hurt. How do I overcome all this?
Sri Sri Ravi Shankar:
First of all remove this label – 'I am a coward'. Who said you are a coward? Drop this label. When you label, like the saying in the bible 'As you sow, so shall you reap' you go on encouraging that. You are wonderful. We are all here to support you, and I am here to support you, and everybody here will support you! Don't think you are weak. Just drop it.
Q: Gurudev, We have heard you saying that plenty of blessings are being given here, but how much amount we can receive depends totally on the capacity of our container. So, is there a way to increase the capacity or size of our container to have more?
Sri Sri Ravi Shankar:
yoga increases your capacity, your skills. Yoga, Pranayama, Dhyan- all the things which you are doing here increase your capacity and your qualities. Service does that too.
Q: Gurudev, Can business be a force to promote peace between nations?


Sri Sri Ravi Shankar:
Three dimensions will bring peace. There should be spirituality in politics, corporate social responsibility in business and secularism in religion.
This is deeply ingrained in our minds.Mahatma Gandhi and Nelson Mandela are examples of secularism in religion and spirituality in politics.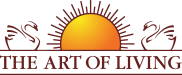 Founded in 1981 by Sri Sri Ravi Shankar,The Art of Living is an educational and humanitarian movement engaged in stress-management and service initiatives.
Read More