Question & Answers with Sri Sri Ravi Shankar

Q: Gurudev, When we are sad, what does god feel?
Sri Sri Ravi Shankar:
God says "Oh my god! How foolish this person is!" There is so much beauty around in the world, and you are thinking so small and getting sad .Look at the reality of the world, enquire for the secret of the universe and the sorrow diminishes.
Q: Gurudev, How does one know who his true Guru is?
Sri Sri Ravi Shankar:
I suggest that you don't bother too much on who is true and who is not. You see what is it that you need. You take knowledge and then continue to move on. There are so many Gurus today and you should move ahead thinking yourself to be one of them. You are not less than any of them. But we need to adopt a balanced approach. There should neither be guilt or self blame nor arrogance or pride. On the spiritual path, both of these attitudes must not be there. There is only loss involved either way. And hence one should move on that middle path.
Q: Gurudev, Is memory a blessing or curse?
Sri Sri Ravi Shankar:
Forgetting bad things is a blessing. Forgetting good things can be a curse.
Q: Gurudev, What is role of service in order to have inner contentment?

Sri Sri Ravi Shankar:
You know, we should have a goal in life. My goal is to bring happiness to more and more people. If we sit and keep thinking of ourselves all the time, we'll be depressed. We should see, 'How can I be of service? How can I be of use to others?' This thought is very useful. Very, very, very useful. Ya?

So, 'Art of Living' provides a platform for everyone to come together and do some service. You know, when United Nations announced, 'Stand up and take action' - they wanted tree planting; 'Art of Living' volunteers have planted 55 million trees around the globe.
We all can jointly do some service activity. Reduce violence, reduce stress, create a sense of belongingness, and spread the positive vibration of love and peace. Shall we all do this together? Is everyone committed to do this? (A resonating yes from the audience.)
Q: Gurudev,
How can I have positive qualities?
Sri Sri Ravi Shankar:
If you think you don't have any positive qualities, you will never have them. Think that you have all the positive qualities – they are only taking a little time to manifest.
Q: Gurudev,
Under your guidance, there is no discrimination on the basis of religion, then why are there different religious symbols displayed here (in The Vishalakshi Mantap, meditation hall)?
Sri Sri Ravi Shankar:
They are on the pillars and not in the mind and heart. If someone says he is a Hindu, Jain etc, we would tell them to hang it on the pillar and be free from within!
Q: Gurudev, My husband is very arrogant. How do I reduce his arrogance?
Sri Sri Ravi Shankar:
Ok, make your husband's arrogance very strong. Say, 'There is nobody like you.'
Keep increasing his arrogance.
Wherever there is arrogance, it will be taught a lesson.
Q: Gurudev, When we experience meaninglessness and a hollow and emptiness in life, does it not give rise to depression and a sense of loss?
Sri Sri Ravi Shankar:
You know when you feel so empty and there is nothing, definitely it gives rise to depression. That is where love, devotion, dedication and a cause combined with the knowledge that everything is nothingness, has to come.
That's why Lord Buddha said everything is nothing. Along with that he said education, sacrifice, devotion all this is a must. Compassion with nothingness makes you very beautiful.
Q: Gurudev, Even after surrendering problems, I worry about them. What to do?
Sri Sri Ravi Shankar:
This is to say, 'I gave it away' and even after giving you say, 'I have it with me'. If even after giving it away again and again, it comes back to you like a ball you again and again keep giving it away. Don't give up until you have totally given up!
Q: Gurudev, Guruji, will there be a positive change in the civilization; no wars and hunger and poor people? Is it possible to create a world of peace, harmony and friendship? Is it possible in our lifetime?
Sri Sri Ravi Shankar:
Yes, we should have this vision; we should start working towards it.
All these problems are there in the world to wake us up. If there were no problems, we would sleep, we would be very selfish, we would not do anything about it. These problems are there for us to wake up and do something about it.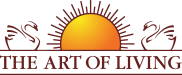 Founded in 1981 by Sri Sri Ravi Shankar,The Art of Living is an educational and humanitarian movement engaged in stress-management and service initiatives.
Read More