Question & Answers with Sri Sri Ravi Shankar

Q: Gurudev, How do you live with someone who has a lot of anger?
Sri Sri Ravi Shankar:
Meditation. Learn breathing techniques. You can manifest change.
Q: Gurudev, How to increase our competence to receive knowledge?
Sri Sri Ravi Shankar:
Just have thirst, it comes naturally. There is no special competence required, a mere thirst is enough.
Q: Gurudev, I have love for people but I don't laugh when others laugh and I don't cry when somebody dies.
Sri Sri Ravi Shankar:
Don't get into a dilemma. Be at ease, in your nature. Be the way you are.
Q: Gurudev, How far can a violent person go until we decide to defend ourselves? How do we draw the line between tolerance or love or acceptance or understanding and self-defiance?
Sri Sri Ravi Shankar:
Tolerance doesn't mean allowing anybody to do any violent act, but violence can't quell violence. Through wisdom, without getting upset, tensed, the way a doctor treats patients you must shut the violence. You know what we do is to react to violence. Reaction to violence is no good but action to violence is essential.
Q: Gurudev, How to handle stress without conflict?

Sri Sri Ravi Shankar:
First find inner peace, and then you can handle situations. When you are peaceful, then the solutions come. Do you mean problems in relationships? If your question is about conflict between spouses, then there are three options.

Advice for women – Don't ask your husband to prove himself. Pump his ego. The whole world might say that he is an empty head, but you as a wife must always praise him. You can tell him, "You are brilliant. It is a different thing that you don't use your bright mind". Never step on his ego. He has to prove himself in the world, but he wants to relax when he comes home. He shouldn't have to prove himself at home.

Advice for men - Never step on the emotions of your wife. She will tell you the problems at her home and may complain about her father, brother or relatives. But if you join her bandwagon, she will take a U turn. If she wants to go on a spiritual or religious program, don't stop her. If she wants to shop, give her your credit card.

Advice for both - Never question someone's love for you. If someone asks you to prove your love to him or her, how would you feel? It is like a burden. Demand destroys love. Never demand love. Instead of this you say, "Why do you love me so much? I am not worthy of your love". The moment you say this, the other person will melt and start loving you even more, and will even forgive you for your mistakes.

Q: Gurudev, Is dispassion connected to upbringing or past impressions?
Sri Sri Ravi Shankar:
Vairagya or dispassion is associated with viveka or the power of discrimination. When we were small children, we wanted to have cotton candy or lollipops and toys. As we grew up, these desires dropped by themselves. We became dispassionate about toys but got attached to something else. In course of time, desires drop effortlessly. When we move ahead with awareness then our attachments drop even faster, and with love. It doesn't mean that you throw everything out of your house! There is no desire to procure anything. Irrespective of the desire being fulfilled, there is no feverishness or attachment.
Q: Gurudev,
What can I do to come out of the guilt and self judgement? I feel so bad when I do things even though I know in my heart that what I have done is the best for me?
Sri Sri Ravi Shankar:
More advance courses.
Q: Gurudev, Please speak on love. Also, how is discipline best exercised?
Sri Sri Ravi Shankar:
Here again you cannot force yourself to love something or not love something. Just relax and be yourself.
Discipline can only be required in three situations. You don't need discipline when there is love. When you love something you don't need to discipline yourself to do it, right? The second situation is when there is fear. If you fear you are going to have nervous breakdown that fear will make you do what is required. Third is greed. If someone offers you one million dollars to do something thing for one week, you would not miss one day of doing that thing. So greed, fear and love keep you in discipline.
Q: Gurudev, My husband is very arrogant. How do I reduce his arrogance?
Sri Sri Ravi Shankar:
Ok, make your husband's arrogance very strong. Say, 'There is nobody like you.'
Keep increasing his arrogance.
Wherever there is arrogance, it will be taught a lesson.
Q: Gurudev, How to attain the power of vision that Sanjay had in The Mahabharata?
Sri Sri Ravi Shankar:
By being centred. When you experience the depth of meditation then naturally you get knowledge. There is no effort involved, no roting of scriptures is required.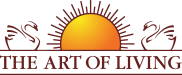 Founded in 1981 by Sri Sri Ravi Shankar,The Art of Living is an educational and humanitarian movement engaged in stress-management and service initiatives.
Read More