Question & Answers with Sri Sri Ravi Shankar

Q: Gurudev, Is it really possible to be stress-free in this world?
Sri Sri Ravi Shankar:
I am stress-free here in this world and so are many others. It is possible. You would have been like that as a child. I tell you, you can have this. You don't have to wait till old age. I tell you it is possible now.
Q: Gurudev, What is the benefit of Mantra japa?
Sri Sri Ravi Shankar:
Mantra japa definitely benefits you. Mantra increases mental power and energy. The seed mantra 'Omkar' is common in all Indian religions- whether it is Jainism, Buddhism, Hinduism, Zoroastrianism or Sikhism. You may chant Om Namah Shivaye.
Q: Gurudev, I dropped alcohol after Art of Living course. If I meet my old friends who still engage in these sorts of habits will they extract my positive energy?
Sri Sri Ravi Shankar:
Don't worry. As long as you remain firm in knowledge, and Sadhana - you can help them come out of all sorts of negative habits.
Q: Gurudev, Who is Shiva?
Sri Sri Ravi Shankar:
One should ask, what is that which is nor Shiva? The whole world is filled with Shiva. Shiva – whose body is in the whole universe. It was very difficult for artist community to portray Shiva in a picture, because Shiva is beyond imagination. For this reason Shiva was given blue color. Blue signifies all pervading, infinity which has no limits. It has no shape. The ved(Ancient Indian scriptures), the knowledge has no shape. But it infiltrates each and every particle of the universe.
'Saam sada shiv' – Shiv tattva includes both shiva and Shakti(Male and female energy). Parvati is not different from Shiva. Parvati is that which is born out of celebration. Celebration cannot be there without Shiv tattva. It is impossible to separate Shiva and Shakti even for a second. If Shiva is everywhere, how can Shakti be there beyond its scope. Puranas include various stories of Shiva with a vision that even a child could understand something about this tattva.
You all experience three states of consciousness – awake, dream, and sleep. The fourth state which is called 'turia' ,that you experience in deep meditation, is Shiva. When you experience that state, innocence blossoms. And without innocence you cannot dissolve in that tattva. Hence, He is called Bholenath.
Q: Gurudev, How do we stop depression?


Sri Sri Ravi Shankar:
Doing pranayama (stress elimination breath techniques) and yoga regularly. Stop thinking about yourself only, "Oh, what about me?" This is a technique to get depressed, if anyone wants to get depressed they should only have one question, "What about me?" Come on. Think about the world, about other people around you, what you can do for the world. You have a big picture around you about what you can do, then depression will run away from you. So two things:
1. Is to do your practices and
2. Is set up a goal for yourself, do something in the world that would be useful to many more.
Q: Gurudev, How can we continue to love people who commit fraud or other such crimes?
Sri Sri Ravi Shankar:
They are not incorrigible.There is a victim crying for help inside every culprit. You will observe in society, those who are greedy usually have no friends. The greed disappears the minute they make friends. Similarly, corruption cannot happen within the boundaries of friendliness. People who are corrupt or commit fraud are victims themselves. They are not spiritually educated. You know, we know one thing from all our programs, especially the 'Prison SMART program', that there is a good soul crying for help and starved for love even within a criminal. Yes, we can help them.
Q: Gurudev, I don't know what is good for me and what is bad?
Sri Sri Ravi Shankar:
Drop that which gives you short termhappiness and long term suffering. Just keep this in the back of your mind.
Q: Gurudev, What to do to get peace of mind?
Sri Sri Ravi Shankar:
Meditation.
There are two types of sadhaks (devotees).
1) One who is yet to get onto the path. They have to work hard, (parishrama).
2) One who has already on the path. They have to rest, (vishraama)
Those who are just starting on the path are like those who are running to catch the train and those who have already begun are those who are already sitting inside the train. People who are just starting are worried about their ability to catch the train; they have to catch a taxi from home, rush to the platform on time, find the right platform, and then find the correct coach, and then get on the train. Until they get on the train, they cannot rest.
If those who are on the train already run from one compartment to the other, will they reach their destination sooner? What is the use of running inside the compartment?
After getting into the compartment, put your luggage down and relax. And then you will get to your destination. You can take rest. You have the satisfaction that you are already on the path, that the guru is the engine driver who will take you to the destination, and you only need to relax.
Think about this, and make a decision about what kind of sadhak you are.
Q: Gurudev, How to get rid of laziness?
Sri Sri Ravi Shankar:
If there is greed, laziness will go away. If there is fear, laziness goes away. When you are in love, there is no sign of laziness.
Q: Gurudev, What is the purpose of dreams?
Sri Sri Ravi Shankar:
There are five kinds of dreams:
1. Dreams in which old experiences repeat in the consciousness.
2. The ones that display your desires and fears.
3. Intuitive dreams - that foretell what is going to happen.
4. The dreams which are not related to you but to the place where you are sleeping. For instance, if you are sleeping in China you may see dreams in Chinese.
5. This type is the mixture of all the other types.
99 percent of the dreams that you have belong to the fifth category, so it is wise not to give much importance to them. The wise believe this world itself to be a dream. Whatever we experience through the sense organs is the impression of the world on us. What you did a few hours ago is just like a dream in the present moment. It's a memory. There is not much difference between a memory and a dream.
*Traditional colorful floor decorations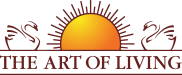 Founded in 1981 by Sri Sri Ravi Shankar,The Art of Living is an educational and humanitarian movement engaged in stress-management and service initiatives.
Read More