Question & Answers with Sri Sri Ravi Shankar

Q: Gurudev, How can one be both friendly and centered?
Sri Sri Ravi Shankar:
When you don't expect anything from your friends then you will be centered. You know, when you are friendly some sort of expectation is there, you enjoy being friendly. Stop enjoying being friendly. But be friendly because it's your very nature. Then you will be centered.
Q: Gurudev, I see a lot of people smoking and drinking. What do I do?
Sri Sri Ravi Shankar:
I too have the same question! Education, Education! These people need to experience some higher joy. See with Sudarshan kriya how fast do they drop the habit and come out of it. We'll do a program for that. We have done it in some countries and it has been successful. 65% of people stay without smoking. 30-35% come back to smoking but the quantity has reduced. Earlier they would take 10 packets, now they take 2 packets.
Q: Gurudev, Can you explain the meaning of accidents and illness in our life? What does it mean when they keep happening to us, even when we do actions to take care of ourselves, like coming to this course?
Sri Sri Ravi Shankar:
See, whether you come to the course or go shopping, it is the same. If you don't stop at a red light or stop at a green light, someone will hit you. They don't see you. When you falter with the traffic rules, or someone else falters, then you are in trouble. You are not in isolation; you are in connection with many other factors in life.
Q: Gurudev, I have benefited a lot after doing the YES+ course but a problem has emerged in life too. Previously, I used to ask my parents for every small thing, but I started taking some decisions of my own after doing YES+. Now my mother feels insecure about our relationship, she thinks her daughter is going away from her. But it is not the case in reality, and I also respect her more than before. How to get the situation where she does not feel insecure, and I can also do things with my decisions?
Sri Sri Ravi Shankar:
The most difficult thing to do is to express our feelings correctly, and to understand others' feelings correctly. Lacking this skill is the biggest issue faced by the society today, and this has to be developed. It is never perfect, some ups and downs do happen in this matter. Like, what we feel, we cannot express fully, and cannot understand correctly what others feel. This keeps happening in life but when we become more calm and happy, we are able to understand other's mind more and more. That's why it is very necessary to do meditation, pranayama etc. That gives more inner clarity, and then we feel that others can understand us better, and also we can express our views better.
Q: Gurudev, We 25 people have come from Nepal, and have a question - when are you coming to Nepal?
Sri Sri Ravi Shankar:
I will come soon.
Q: Gurudev, Another question on love. When you were here last time, you said not to say 'I love you' too much for too much expression of love destroys it all. Now, my husband never says it. What to do?
Sri Sri Ravi Shankar:
Listen! I have no experience of all this and what husband and wife say to each other!
May be, you should ask your husband why does he love you so much. May be he is waiting for you to say. This is a chance when you can say and look at his face.
Q: Gurudev, What is the connection between the thought and the action?
Sri Sri Ravi Shankar:
You should never do thoughtless action or you will be in trouble. There are two dimensions of our life. Sometimes you act without thinking and sometimes you only think and don't act. Source of both - thought and action - is you. Knowing who you are, your thoughts get streamlined and actions become perfect. Your thoughts and actions are aligned.
Q: Gurudev, How old are you?
Sri Sri Ravi Shankar:
I am a little over half a century but I still have a few more years.
You know everybody wants peace. Peace is the innate need of people but they don't know how to get rid of the negative emotions, tendencies, anger and frustrations. Education is needed in the world today to teach people how to let go of the negativity, let go of the past and move on to the future.
Q: Gurudev, Guruji, how to deal with the failures?
Sri Sri Ravi Shankar:
Knowing that it is the step to success in the future.
Q: Gurudev, How to be non-judgmental?
Sri Sri Ravi Shankar:
By studying your own past. Look at how many times you have been judgmental. Every time you have been judgmental, you have been on the wrong foot. So just be aware of that. The moment you are aware that you are judgmental, you are already out of it. You can't be judgmental in the present moment. You are judgmental in the past.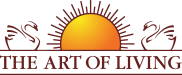 Founded in 1981 by Sri Sri Ravi Shankar,The Art of Living is an educational and humanitarian movement engaged in stress-management and service initiatives.
Read More