Question & Answers with Sri Sri Ravi Shankar

Q: Gurudev, What is causing so many people fall in depression?
Sri Sri Ravi Shankar:
If we keep thinking what about ourselves all the time, we will get depressed. You should see what you can do, and how you can contribute to the world.
We all have to work towards having a stress free, violence-free, drug and alcohol free, and healthy society.
Violence free society, disease free body, confusion free mind, inhibition free intellect, trauma free memory and sorrow free soul is the birth right of every individual, and that's what I have been telling around the world. We are all one family; we all belong to one family.

Q: Gurudev, What is the best form of prayer?
Sri Sri Ravi Shankar:
Prayer happens in two conditions. One is when you are utterly grateful and second is when you are utterly helpless, nowhere to go. Both are authentic and always get fulfilled. Being both, helpless and grateful, is very rare and very powerful. It is a total form of prayer.
Q: Gurudev, I find it difficult to like my wife. How can I make myself love her to have a fulfilling life together?
Sri Sri Ravi Shankar:
I cannot speak on that because I have no experience. But I have a suggestion for you.
Tip for women: Never step on the ego of your man. You should always pump the ego of a man. You should not put him under pressure to prove his love for you. The whole world demands a man to prove himself. At home he should come and simply relax. At many times men cannot express their love the way women may wish. You should ask him why he loves you so much even if he doesn't, and then he will start loving you really. Don't put him under pressure to prove his love for you. This is very important.
For men: Never step on the emotions of your wife. She may complain to you about her family, but if you join her, she will spin around. It is a very delicate area. Be politically correct. Don't say a word about her family because it's very dear to her. Also don't stop her if she wants to go on pilgrimage, temple, meditation or a spiritual program. If she wants to go for shopping just give her your credit card. Then you will have peace at home.
Q: Gurudev, I see a lot of people smoking and drinking. What do I do?
Sri Sri Ravi Shankar:
I too have the same question! Education, Education! These people need to experience some higher joy. See with Sudarshan kriya how fast do they drop the habit and come out of it. We'll do a program for that. We have done it in some countries and it has been successful. 65% of people stay without smoking. 30-35% come back to smoking but the quantity has reduced. Earlier they would take 10 packets, now they take 2 packets.
Q: Gurudev, Guruji there are so many people in the world who are suffering on behalf of ancient beliefs and rituals. Can you please talk about it?
Sri Sri Ravi Shankar:
People are suffering with modern beliefs also. They think drugs, cigarette, alcohol gives them joy and then they suffer. Not every ancient belief is wrong and not every modern belief is right. We need to accept combination of both old and new. People are suffering because of superstitions which have no sanction of scriptures or science. People are suffering because of some rituals which are not at all part of ancient scriptures. It's a lack of wisdom which make people suffer. Nothing else.
Q: Gurudev, Why is it that people who are not on the same path don't understand us and take it against us? I don't understand.
Sri Sri Ravi Shankar:
Let them talk. So what? Take it. It doesn't matter. We don't insist that everyone talk only good. By their talking, you don't become negative.
So, don't be football of others' opinion. Let anybody say anything. It doesn't matter. When you are clear in your heart, and what you do is right, what you want to do is right, you just do it. What do you say? (Clapping from the audience.)
Q: Gurudev, Dearest Guruji, today, I learnt courage from you. I often thought that you were a scary and angry person. But I found so much peace in you. I am afraid what if I lose you.

Sri Sri Ravi Shankar:
You can't lose me, and I can't lose you!Our mind projects our feelings on others. This is what happens most of the times. Sometimes people ask me if I am angry at them. They say that I didn't smile at them or talk to them in crowd, and comprehend that I am angry at them. But why would I be angry at them? There are so many people in crowd. I smile at some, and pass a bigger smile to them who have a long face so that they also smile. But smiling at some doesn't mean I am angry at others. Many times we project our own emotions on others, especially when we love someone. If you are angry or upset at others, you think that others are angry and upset at you. Here knowledge of the self is so important so that you can have a balanced perception. With the knowledge, you know what is happening inside you, and you know what is happening inside of others. That clarity of perception, observation and expression can only come through meditation.

Q: Gurudev, Guruji, I did the Eternity Process and I saw many things from past lives. I experienced a lot of devotion and I even saw you. How much of it is true? Am I just making stuff up?

Sri Sri Ravi Shankar:
You don't have to doubt it. As I said, these experiences are a mixture. One is from your consciousness and your deep experiences. Sometimes it could also be through your fantasy. So, sometimes fantasy gets into it. Then the experience comes up. You know, it's usually mixture of it. Even if 20 percent of fantasy is mixed with 80 percent of reality, you don't need to think or do anything. It's an experience. Take it as it has come and move on.You are much more than all the experiences. You are much more than all the identities and the roles that you play. That is the Self-knowledge. That is the real spiritual knowledge. This is the Upanishadik knowledge.


Q: Gurudev, How can we continue to love people who commit fraud or other such crimes?
Sri Sri Ravi Shankar:
They are not incorrigible.There is a victim crying for help inside every culprit. You will observe in society, those who are greedy usually have no friends. The greed disappears the minute they make friends. Similarly, corruption cannot happen within the boundaries of friendliness. People who are corrupt or commit fraud are victims themselves. They are not spiritually educated. You know, we know one thing from all our programs, especially the 'Prison SMART program', that there is a good soul crying for help and starved for love even within a criminal. Yes, we can help them.
Q: Gurudev, What do you say about the westernization of our culture?
Sri Sri Ravi Shankar:
Pick up good things like cleanliness and following the rules from the Western society. Western Civilization has such cleanliness and the sense of following rules. We need to pick up that in the East.

I want to tell you a story. Way back in 1978 when many of you were not even born, I was in Switzerland and it was the first time I had been there. I was walking in one of the areas which hardly had any crowd. I took a chocolate and just put the wrapper on the road – like what we do in India. There was hardly any crowd there. An elderly lady, with a stick, saw me from a far distance. She came to me and said,"You have to pick this up and put it in the dustbin." She showed me the dustbin placed a little farther. You know an elderly lady coming all the way walking with her stick and telling me that I should pick up that chocolate paper. I was so impressed with the amount of responsibility people take to keep the city clean. We must learn this in India that how clean they keep, and how environmental conscious people in the West are. Even if people protest in western countries, they do it as a silent march. We have to learn all this from Western Civilization.

And then what we don't have to learn from western civilization?
Too much formality, the mother has to take permission to go to her daughter, or the daughter has to take appointment from the mother. This has started to happen somewhere in urban society also. The naturalness, sense of belongingness is disappearing from the society. There is such a sense of belongingness and human values even in a village in the east, and that is to be maintained.

There are some cultural identities like respecting the elders, and we shouldn't lose this. This is very important aspect of the entire east.

There is a trend of expressing too much love in the west. People end up being diabetic saying honey, honey all the time! And it is opposite in the east. So, we need to have the middle path in the expression of love. Not expressing even once, like the case is with some parents and their kids, or among siblings, is wrong. Also keep on expressing love all the time is also wrong. Expressing love is like sowing a seed. If you keep it just on the surface, it won't sprout, but also if you bury it very deep underneath the soil, even then it won't sprout.
There are many things in the east which people in the west search for, like joint family and the sense of belongingness.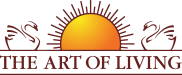 Founded in 1981 by Sri Sri Ravi Shankar,The Art of Living is an educational and humanitarian movement engaged in stress-management and service initiatives.
Read More