Question & Answers with Sri Sri Ravi Shankar

Q: Gurudev, When you say lets stop the world for an hour, for 10 days. What do you mean by that?
Sri Sri Ravi Shankar:
Stopping our mind, stopping the racing mind. It is always thinking about the past or it is always thinking about the future. We are angry about the past or anxious about the future. To take a fresh look at the world, the situation, you need to wake up and see, - as Mahatma Gandhi used to say never look back. He would say lets see what we should do now and for the future. That gives a lot of energy, encouragement, enthusiasm, and lifts you up from the ashes even though there are ashes around you.
Q: Gurudev, How to handle fear?
Sri Sri Ravi Shankar:
Pranayama will help. Sudarshan Kriya will help. Meditation will help. Give it to me if you have any fear. You go back home with a smile.
Q: Gurudev, Why is meditation difficult to follow?
Sri Sri Ravi Shankar:
There are three things to start a good habit: greed, fear or love. First, if someone says they will give you a million dollars for not missing your practice, will you do it? You would say "I will do for five more days, just to be safe." If you have promised your loved one you will not smoke, you will keep the promise. If your doctor says you will die if you do it, then also you will quit smoking. I prefer love over greed and fear. A Guru is a symbol of love and commitment.
Q: Gurudev, What does a yagya consist of?
Sri Sri Ravi Shankar:
In any yagya, there is dhyan (meditation), daan (giving), gyan (knowledge) and gaan(music)
Gaan nourishes the right brain. Gyan nourishes the left brain and dhyan nourishes both.
One grows due to yagya.
Q: Gurudev, Guruji, I am from Kerela. I want to ask – what does it mean to do puja (worship)?
Sri Sri Ravi Shankar:
There is a saying that talks about puja. Yen ten prakaren,Yatra kutrapi dehina,Santosham janaye pragyaTadaye vishva lochanCreate patience in people. When you bring a wave of happiness, wherever you go, that is puja. Whatever way when you create happiness and patience, that is puja, truly worshiping God. How beautiful it is!
Q: Gurudev, I don't understand why we are here, why are we here for such a short time? Why do we have to grow old and weak? How do I stop wanting and needing others' approval and love?
Sri Sri Ravi Shankar:
This is a good question - why am I here, what do I do? Keep asking. When you keep asking these questions, either you go crazy or you become wise. I wish you become the latter, become much wiser, ok? Don't tell me crazy people are very wise. It's the other way round - wise people are sometime crazy too.
Q: Gurudev, Is it true that my previous and the coming generations also get the merit when I meditate. Are my parents also benefitted when I meditate?
Sri Sri Ravi Shankar:
Yes, there is something like that also.
Q: Gurudev, I detest my job which I loved so dearly once. What can I do?
Sri Sri Ravi Shankar:
Our likes and dislikes change so often! You like something and then dislike it and so on. Life should not be swayed away by likes and dislikes but well founded on commitment. You need some work to sustain your life. Any job that sustains your life, be committed to it and if you get something better, go for it.
There is nothing like job satisfaction. Every job has some drawbacks. Earn your livelihood and then do seva for satisfaction. That brings you maximum satisfaction. Nothing else can bring you the satisfaction that seva brings.
Q: Gurudev, If love is all around us, why do we seek far and wide to find it?

Sri Sri Ravi Shankar:
Because you don't know it. Once you know it, you won't search.

Q: Gurudev, Can we achieve a goal within time? Please tell a way so that we may achieve a hundred percent result.
Sri Sri Ravi Shankar:
There is a sukti in Sanskrit - Kriya siddi bhavati mahta, kriya siddhi bhavati satve mahta . An act is perfected by satva. The higher the satvaguna rises in us, an act is achieved easily and without hurdles. When rajoguna and tamoguna are increased, then it takes longer to complete a work.
Thus, to increase the satva, follow a satvic diet, meditate, do satsang, pranayama and yoga. With all this, sadbuddhi (good sense) is developed.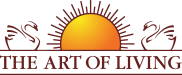 Founded in 1981 by Sri Sri Ravi Shankar,The Art of Living is an educational and humanitarian movement engaged in stress-management and service initiatives.
Read More