Question & Answers with Sri Sri Ravi Shankar

Q: Gurudev, In the modern world today, many suffer from diabetes which cannot be cured fully with allopathic medicines. Can it be cured by yoga?
Sri Sri Ravi Shankar:
Some types of diabetes can be cured with the combination of yoga and ayurveda , but they may not work in certain type of diabetes. Here at the Research Center, some research has been conducted by Dr Vedamurthacharya who has published 43 papers on it. You can talk to him. He has tested on over 1000 diabetic people, who after doing sudarshan kriya and following proper diet have overcome diabetes.
Q: Gurudev, What do you say about doubts? Should we have no doubts?
Sri Sri Ravi Shankar:
: No, I never said you shouldn't have doubts, you should have doubts, have as many doubts as you can, for truth can never be concealed by doubts . Yes, doubt can't defeat the truth, so you doubt as much as you want, but finish it quickly otherwise you will be wasting so much of time. Have as much of doubt as you want and then get over it.
I remember one incidence which happened in Sweden. There was a public meeting/ gathering and a journalist was sitting right behind. He came forward to me and said- "I want to ask you a question".
I said- "yes, go ahead."
He asked, "Are you enlightened?"
I said, "No".
But he insisted, "No, please tell the truth. I know, you are always making fun, always kidding, please tell me the truth".
I again said, "No".
You see, my answer of NO should have finished the conversation there, but he won't listen and kept insisting, "No, no, you are not telling the truth, tell me the truth, are you enlightened? I want to know the answer right away".
See when you say , 'no' –it finishes , there is no need for further proof or explanation, chapter over, but this person won't take 'no' for an answer. I said, "So what takes you not to take a 'no' for answer? You should be happy with the answer now".
But he said, "No, I don't believe it!
I said, "You see, there is something inside you which is telling you something, some deeper inner feeling saying –this is not correct, right? So you have the answer then!"
So often, you listen to your own inner voice but doubt it from the surface mind but deep inside your heart and mind are saying something, you feel something different- a gut feeling and that is what you always rely on and not on what someone else says, isn't it so? If someone says, "I love you", do you take them on face value? No, you look at their face, you look at them and even without looking at them, you feel something deep inside. So, what I am telling you is generally true. And every one has this faculty of intuition and what can overshadow this faculty is your greed.
Greed can overshadow the faculty of your intuition, being over ambitious can overshadow your intuition. Do you understand what I am saying? Wisdom gets covered with greed, feverishness or with over ambition. So, doubt as much as you can!
Q: Gurudev, How can I sustain the peace of meditation, the "all is well" feeling?
Sri Sri Ravi Shankar:
How do you sleep at night? You simply drop everything. When you wake up, you are fresh and have the energy and dynamism to deal with the situations. It is the same with meditation. You will see the contrast if you don't meditate for some time.
Q: Gurudev, Is there a higher purpose to art?
Sri Sri Ravi Shankar:
There is no purpose to art. It is an expression of happiness. For the onlooker, art brings a sort of solace and comfort. For the creator, it is just an expression.
Q: Gurudev, How can we come out of yes and no in the mind?

Sri Sri Ravi Shankar:
Just smile through. Take things as they come.

Q: Gurudev, Until 18 months ago I never believed in spirituality. Art of Living has changed my thinking and made an impact in my life. However there is something missing in my life and I don't know what it is. The daily practices help keeping me smiling, but there is still unhappiness within me. Please tell me how to rejoice from within as well.
Q: Gurudev, Dear Guruji, I heard and understood the truth, but it is not my experience, please help me realize the truth . Yours truly.
Sri Sri Ravi Shankar:
Good! Good to be in space of, "I don't know", then you have a chance of knowing. If you think, you know then you are stuck with the concept. In the Upanishad, it is beautifully said, "one who says, 'I don't know', he knows, and the one who says he knows, doesn't know!"
Q: Gurudev, Can you give me a suggestion – how to be calm when your spouse is always mad at you?
Sri Sri Ravi Shankar:
: Well, an answer coming from me won't be authentic! There are many experienced (spouses) ones here, you can exchange notes with them! But if someone gets angry so often then you get used to it, and it doesn't bother you so much anymore, isn't it? But if they are sweet and then get mad at you then you get more bothered about it, right?
There is a very popular story in India. A gentle man got married to a woman who was very shrewd. She would do everything against his will. Whatever he will say, she would do just its opposite and he was so bothered and sad about it. Divorces were not that common those days in India, so he was stuck with this situation. Then, when you are stuck in a situation, you go to a wise man, so he went to meet a yogi.
The yogi whispered something in his ears and three months later when the yogi met this gentle man again, he was beaming with happiness. He came and told the yogi- "Your formula worked, now we have peace at home!" The formula was-whatever he wanted, he said just the opposite to his wife! So if he didn't want to wear a green shirt that day, he would say- " I want to wear a green shirt", and she wouldn't do that for him anyway! So, you only need to know the pulse and do accordingly.
If your spouse is all the time angry, then I know you might have experienced and found how to handle it , and how to increase or reduce the volume, right? Interesting!May be (with such people), you should try this for one month or two months, and take them by surprise. If they are angry, praise them, and love them so much. Don't be too predictable with anger.
Q: Gurudev, Guruji, in Geeta what does Lord Krishna mean by the world as play of gunas?
Sri Sri Ravi Shankar:
If we start about Geeta, it will take a long time. So, not now. You read again. Sometimes you read and immediately understand it, and sometimes you read hundred times and then understand the same thing.
Q: Gurudev, Guruji, what importance, if any, should we hold on to what the Pundits, Astrologers and the Psychics say about our future and its course?
Sri Sri Ravi Shankar:
Take it with a pinch of salt. Take it lightly, everything will change. You know, what your Astrologer says, you don't have to believe one hundred percent. Astrology is a science, but not all astrologers are scientists. You have to take it with a pinch of salt. It can change also.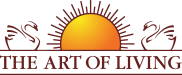 Founded in 1981 by Sri Sri Ravi Shankar,The Art of Living is an educational and humanitarian movement engaged in stress-management and service initiatives.
Read More