Question & Answers with Sri Sri Ravi Shankar

Q: Gurudev, Dear Guruji, it is easy for me to shut my mouth, but it is difficult for me to shut my thoughts. How can I do it? Please help me.
Sri Sri Ravi Shankar:
You don't need to do anything. Everything is done here for you. Hiren is giving all the courses, he will lead you at different times to different types of meditations and processes, and it'll happen. That's why you need to be here. If it's your first Advanced Meditation Course, you may find it a little difficult but when you continue, you will definitely find it very useful.
Q: Gurudev, The global warming issue is so serious now days, disasters happen everywhere. As a resident in this planet what should we do? I feel sad when I see people suffer, what can I do more?
Sri Sri Ravi Shankar:
We have to create awareness. Join the 'Art of Living' band wagon, we are everyday going and planting more trees, creating awareness about plastics, creating awareness in people. To check global warming, more and more people need to turn vegetarian. You know, what they say is even if 10 percent of the population turns vegetarian, 10 percent more; the issue of global warming will be completely gone.
The methane that is produced in the slaughter houses is so much responsible for global warming. With the price and the energy spend to produce one pound of meat, you can feed four hundred people. So more and more people should turn vegetarians, and that will bring change in the environment.
Q: Gurudev, Dear Guruji, I desperately need one good job and visa for some country, please help me!
Sri Sri Ravi Shankar:
Yeah, you pray, you do meditation. Whatever you ask for, you are getting it, right! How many of you are getting whatever you desire? You wish and you are getting, your work is getting done. How many of your wishes are coming true? (many raise hands)
Q: Gurudev, After some 'Art of Living' Courses, I have felt so happy. I thought I would explode. After a while, I realized that it was not only happiness, but also feverishness. Then I got depressed. It was like an emotional roller-coaster. How can I handle feverishness?
Sri Sri Ravi Shankar:
You have already become a witness to it. You have observed that you are on a roller-coaster. You observe these emotions are coming and going. Notice, earlier too the emotions were there. But now it is reducing. Before you were not aware, at least now you are aware of it. Just persistence on this path, in this knowledge makes you stronger, hmm!
Q: Gurudev, How do we know that we are working on our life's purpose and we are not doing somebody else's job?
Sri Sri Ravi Shankar:
Okay! How do we know we are doing our life's job? What is that we have come here to do? See whether you are happy and making people happy around you. Are you doing whatever you can do for people around you? Are you sharing your love and gaining knowledge? Whatever knowledge you have, can you share that with people? You have to ask these questions and you know, sometimes we shouldn't doubt ourselves too much; sometime self doubt arises – 'Am I doing this right?' Just be spontaneous. In every action, there is something good and there is something wrong. There is no action that is totally perfect. The field of action has some imperfection, maybe one percent or two percent. So there could be imperfection in every action.
Similarly every word that is spoken could be imperfect. But what could be perfect is our intention, our feeling. Do you see what I am saying? You have no ill intention towards anybody, and that is done. You know, I have never uttered any insulting word from my mouth all these years. At the most the word that has come out of my tongue is 'stupid'. When I get really angry, I raise my voice and say 'You stupid!', but I have never cursed anybody and that is how I am made. I can't take credit for it because I didn't make any effort. I didn't go to any course or school and try to make myself not to curse people, or not to blame anybody. To yell, shout or get upset is not in my nature at all. And all these bad words simply don't come up.
Q: Gurudev, How do I give more love to myself?
Sri Sri Ravi Shankar:
You want to give more love to yourself, IMPOSSIBLE. If an ocean says how can I give more water to myself, what can be said? If sugarcane says how can I give more sweetness to myself, what would you say? It is like sun saying how can it give more light to itself? It is impossible for you to give more love to yourself.

In fact you love yourself too much, and that is the problem, you're only thinking about yourself. Start thinking about everybody else, and give love to others. You are 'love' my dear, just relax and reduce your wants. Your wants and your desires are eating you up; you simply relax.
You should have wants. There is no problem if you have your desires, but don't let the desires have you. I don't mind you having desires at the initial stages. Later you find, before the desire arises in you, it gets fulfilled.
Q: Gurudev, Course will be perfect without translation, when can we stop?
Sri Sri Ravi Shankar:
Okay now listen, this is your concept. Just imagine if you were on the other side and I would speak only Chinese, don't speak any English, and there would be no translation, then what would you do? 'Oh, please let me have translation'. Don't keep the concept in mind, 'oh translation is bothering me'. No it does not matter, let it be there. Listen to it like music.
You know people who cannot read Chinese, we find it so beautiful when we go to Hong-Kong, because all these Chinese letters look like decoration. All the sign boards look like decoration, some rangoli or some designs. The entire Hong-Kong is decorated with design boards everywhere. It does not bother but if you know the language, you will be reading all the boards and it will be bothering you more. When you don't know, it looks so nice.
Q: Gurudev, In one's spiritual pursuit, if he goes after form, is it possible that in the long run he might learn that he went on the wrong track and miss the formless? For example in meditation, if one goes for mantra based meditation or form based meditation, is it possible that he might get the essence which might come through Vipassana or something else? He may waste his time or spend more time reaching there.
Sri Sri Ravi Shankar:
See, there are all possibilities. It is not that people who go in through form never attain. We have instances of millions of people. Thousands of saints in this country, who went through form to formless. If you see Tulsi Ramayana, what Tulsidas says..he wouldn't have written that without experience. 'Rama niranjan, arupa,' he said all that.

First he sees Rama as an individual person. But then he saw that the spirit behind Rama is formless. Same way Saint Francis of Assissi, he went through form and he became formless. Meera went into form and got to the formless. Guru Nanak Dev. We have many many examples in this country that when there is true seeking, you will never go wrong. That's my contention. Because nature will guide you. Because, see the Intelligence, the Cosmic Being is such, it doesn't let you down. So, it guides you into the right path. I don't think it would be a waste of time or it is wrong. But you have to do that with proper viveka, wisdom.
So, should we do a short meditation now. How many of you think meditation is concentration? Nobody thinks it's concentration? That's very good. So, you've passed the first thing. Often people think meditation is concentration, focusing the mind or controlling the thoughts. It is not. Meditation is deep relaxation. OK.

Three things are important for meditation. First is that for the next 10 minutes, we will be mediating. You have to know that we want nothing for the next ten minutes. Is it ok with everyone of you? Can you say I want nothing for the next 10 minutes. No you don't have to say it loud (laughter). See, if you say, 'Oh! I have to drink a cup of water, I'm thirsty,' then your mind is stuck. Next 10 minutes I want nothing. Shall we take all our mobiles and press the red button. This is an essential ritual for meditation. So, you'll all be here for next 10mins. You can't get up in the middle and go and disturb others. So, first thing is I want nothing for next 10 minutes.
Second important thing that we need to do is 'I do nothing'. We will say Om 3 times. Om is vibration. Om means love, unconditional love that is eternal. We'll say Om 3 times. All the eastern religions, Buddhism, Jainism, Sikhism, Taoism, Shintoism, Hinduism - they all have taken Om as sound that they've heard in the meditation. So, it is very much connected with yoga. So we say 3 times Om.
Third is 'I am nothing'. If you think you are very intelligent forget about it, you can't meditate. If you think you are a fool then also, impossible. If you think you are very rich, remember that quote in Bible? Rich men cannot pass..What is it? So, if you think you are rich, no way you will have meditation. If you think you are very poor then also no. If you think you are a sinner, impossible to meditate. If you think you are the holiest person then also no meditation. So, what you should be. I am nothing.
I want nothing. I do nothing. I am nothing. Can we take these 3 things? I'm not very intelligent nor I'm stupid person. I am neither rich nor poor. Not sinner nor holy saint. So, I am nothing. Nobody. OK. So we will have these 3 ideas. We don't have to go on repeating these in our mind. Just an idea. Right? Idea is like that.
Q: Gurudev, You always travel all over the world. How do you see the changes happening in the world?
Sri Sri Ravi Shankar:
You know world means changes. There are some changes for good and there is deterioration as well. If you see , the human values have deteriorated, stress is increasing on one side, pollution and environmental problems, families are breaking up into smaller families, more insecurity in financial sector, crash in the world market has affected people a lot….
At the same time, there are lot of positive developments as well. People have become much more sensitive towards environment, compassion has increased, people are coming out and helping in the times of disaster. So, you should see both happening and what is needed is to aid the positive aspects in the society and to reduce stress – these breathing exercises are necessary to do this and brings a sense of belongingness among people of various communities and age groups.
Q: Gurudev, Will there ever be Men's day?
Sri Sri Ravi Shankar:
(Smilingly) For that too, you would have to pray to the Devi(mother Divine). Even demons ask for boons from Her, and angels as well. Once somebody was telling this joke: Once a man was asked who the owner of the house is, and the man replied saying he would ask his wife!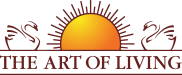 Founded in 1981 by Sri Sri Ravi Shankar,The Art of Living is an educational and humanitarian movement engaged in stress-management and service initiatives.
Read More