Question & Answers with Sri Sri Ravi Shankar

Q: Gurudev, Dear Guruji, generally one of these shaktis are predominant in us: either Brahma shakti, Vishnu shakti or Shiva shakti. How to use them and how to balance them?
Sri Sri Ravi Shankar:
Simply do it! That's it. Brahma shakti: you create but don't just drop it. Vishnu shakti is to see that whatever you start, you continue.
Q: Gurudev, Guruji, how is it different from the meditative state that comes with the practice of Sudarshan kriya?
Sri Sri Ravi Shankar:
Sudarshan kriya leads you to that inner space - a state of thoughtlessness, a state of stillness and the art of meditation helps you go deep into that state. So, they complement each other. If you meditate after the Sudarshan kriya, your meditation is deeper. And ifyou are meditating regularly, the kriya becomes easier and more natural.
Q: Gurudev, I take a lot of allopathic medicines for body aches, but still I suffer pain here and there in the body.
Sri Sri Ravi Shankar:
We don't take care of our body, we don't do enough exercise. We eat all this food with so many chemicals, pesticides, fertilizers and all that… all those pesticides get into the body and they cause all this pain, once you detoxify yourself, you will see how this pain will go.
Q: Gurudev, How do I feel more energetic repeating the same old routine everyday?
Sri Sri Ravi Shankar:
First look into the mirror and give a big smile to yourself.Ok? Then do breathing technique, little bit of yoga and meditation. Give sometime to yourself everyday and you will be more energetic and beautiful.
Q: Gurudev, Even after giving 100% effort one does not succeed, what is the reason behind this?
Sri Sri Ravi Shankar:
See; don't think that by giving your 100% alone that work gets done. For success or work to get done there are five things you require. First the intention of the person who is doing, then availability of the instruments or things needed to do the work, then the willingness or mindset to do the work. Then doing the work at the right time, there is a time to do the work, if you don't do it at the right time then there is no use. If you sow seeds in February then there is no use, you then cannot say that I sowed the seeds but nothing has come. You have to wait till April after the rain then you sow the seeds and then you yield the results. So time is a very important factor and you could get results now or you could get it later that also you cannot say.
When we came to this Ashram this whole land was barren, there was not one leaf or one tree on this land. Today see how many trees and plants are there and these trees did not come in one day, so many people have put lots of effort and after some time the trees grew. So this is how time is an important factor and then grace. Without grace of the divine there will be no success, that is why if you want grace then you must do Seva, sadhana, satsang and in time you will get the fruits of all your efforts. Okay! None of your efforts will go waste that you should be assured about, if not now you will see the results later.
Q: Gurudev, There seems to be many wars and regional violencehappening in the world. What can we do to reduce the violence in the world?
Sri Sri Ravi Shankar:
The root cause of violence is stress and anger. And the only way I know toreduce stress and anger is through meditation, pranyama, Sudarshan Kriya.This is the only way. You can do something with ayurveda, can change the diet…you can do those things, yet they are all secondary.
Q: Gurudev, What about people who haven't come to you yet?
Sri Sri Ravi Shankar:
They will come in sometime.
Q: Gurudev, Self-effort is required for enlightenment. But then you said effortlessness is the key. There is a paradox. So, what is the way?
Sri Sri Ravi Shankar:
Both. To get into your train, you need to put effort, you take your luggage and go to the right platform. But once you are on the train, you put your luggage aside and relax.
Q: Gurudev, What if Boss is so corrupt and he wants you to be part of it, how to handle such a boss? It is difficult to survive in such a case.
Sri Sri Ravi Shankar:
I know I know (laughter, clapping)! I can understand your difficulty. You need a lot of skill for that. You have to somehow tell the boss, "Boss I am not good at it, if I do some mistake you will be in trouble. Better to give it to the other person (clapping). I'm not skilled at this". You can tell this or you can suggest your idea and say, "This is better boss, maybe. You know better, you are the best judge". If you throw this last sentence he may think of taking your suggestion. But if you tell him you are wrong and what I'm saying is right then this would be the wrong way to communicate. Not only with your boss even with your parents, sometimes even with your spouse.

Q: Gurudev, So the courses you have introduced definitely help in depression?
Sri Sri Ravi Shankar:
Definitely!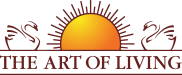 Founded in 1981 by Sri Sri Ravi Shankar,The Art of Living is an educational and humanitarian movement engaged in stress-management and service initiatives.
Read More