Question & Answers with Sri Sri Ravi Shankar

Q: Gurudev, These days most Gurus have long hair and long beard. Is it a dress code?
Sri Sri Ravi Shankar:
'Yes, you can call it as dress code. The long hair is like an antenna to receive messages from God and the long beard is like an earthing to transmit those messages to the people.
Q: Gurudev, What is real and what is unreal?
Sri Sri Ravi Shankar:
Things are changing. Everything that is changing is unreal!
Q: Gurudev, But how to have people to get out from their anger because sometimes it is so difficult to be with them because of their anger?
Sri Sri Ravi Shankar:
Yeah, how to help people come out of anger? Only through WISDOM! Knowledge, wisdom and meditation.
Q: Gurudev, What if Boss is so corrupt and he wants you to be part of it, how to handle such a boss? It is difficult to survive in such a case.
Sri Sri Ravi Shankar:
I know I know (laughter, clapping)! I can understand your difficulty. You need a lot of skill for that. You have to somehow tell the boss, "Boss I am not good at it, if I do some mistake you will be in trouble. Better to give it to the other person (clapping). I'm not skilled at this". You can tell this or you can suggest your idea and say, "This is better boss, maybe. You know better, you are the best judge". If you throw this last sentence he may think of taking your suggestion. But if you tell him you are wrong and what I'm saying is right then this would be the wrong way to communicate. Not only with your boss even with your parents, sometimes even with your spouse.

Q: Gurudev, The country is so full of gurus. I don't know whom to accept as a Guru. Kindly advice whether I choose a Guru or a Guru chooses me? If I choose then how do I select one?
Sri Sri Ravi Shankar:
Well, I can't give you any criteria. You choose. It's up to you. It's not something you choose intellectually.
Something in your heart guides. You feel at home, you feel cared for, you feel comfortable, right? Otherwise, you can keep asking this question wherever you go. There's no point, right?
Q: Gurudev, Sometimes I think I live in a world surrounded by formalities and exchanging superficial words. But the question is I feel that there is more to it, life cannot be just being nice and living in this cordial way but there is more because I worry that when I die, I wouldn't even remember where to start again?
Sri Sri Ravi Shankar:
Now I understand there is a longing, there is emptiness, and there is a craving for something higher. Right! And that gives that pain. So, that pain to attain something very fast is in a way good, but what is needed along with this is a little patience.
Q: Gurudev, If love is not an emotion but your very existence then how come love disappear one day and appear again some other day?
Sri Sri Ravi Shankar:
See, the sun appears to have disappeared but in reality, it is not. It is just hiding or we have turned to another side. That's it!
Q: Gurudev, Sometimes I feel I have no importance in this huge universe, among millions of people and other species. What is the point in living? Why should I not commit suicide?
Sri Sri Ravi Shankar:
You want to commit suicide? Never! It is the most unintelligent thing to do. Committing suicide is like saying I am feeling so cold and taking off your jacket. It is like saying I am feeling so hot and taking five blankets on you. My dear, problems are there in life but you are bigger than the problem. Remember you will always have enough to survive, you will always be protected. You are cared and loved by this universe; you have no right to take your life. You didn't give birth to yourself; even those who have given birth to you do not have the right to take your life.
How can you even dare think that you could kill yourself, NO! The body belongs to the universe and the universe will take care of your body; your spirit belongs to divinity and divinity will take care of your spirit. Have this confidence and move on. Move through the difficult times. Who doesn't have difficult times tell me? Who didn't have difficult times in the past? Everybody gets some difficult time, the wise people smile and move through it, the foolish ones keep crying, yelling, shouting, being miserable and making others miserable. Never do that! Never ever, ever, ever think; that too having an exposure to this knowledge you should not think about suicide. If such feelings come, do Sudarshan Kriya and come and sit in an advanced course, okay! You will be fine!!
Q: Gurudev, What about people who haven't come to you yet?
Sri Sri Ravi Shankar:
They will come in sometime.
Q: Gurudev, Dear Guruji please help with your advice. My husband is obsessed with computer games. He can play all night. How can he get rid of this craving and how can I help in this situation? Thank you very much!
Sri Sri Ravi Shankar:
Computer games all night!
Do one thing if you can, lock him up in the room and tell him to play the whole day and not just at night. If he can lock himself in a room and play day and night, the whole day; three days later… the fourth day he will say good bye to the computer games.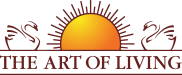 Founded in 1981 by Sri Sri Ravi Shankar,The Art of Living is an educational and humanitarian movement engaged in stress-management and service initiatives.
Read More