Question & Answers with Sri Sri Ravi Shankar

Q: Gurudev, What is Swara Yoga, could you please articulate on that?
Sri Sri Ravi Shankar:
First do alternative nostril prayanama and then go more deep into pranayama then you will see how the breath in the nostrils change throughout the day.
Q: Gurudev, I am practicing awareness all the time. Will it bring me peace?
Sri Sri Ravi Shankar:
Just be natural. For God's sake, relax. Don't practice awareness all the time. Awareness is essential, but don't practice it. Even The Gita says no extremities. Just relax.
Imagine listening to music being completely aware. No, music is to be enjoyed in relaxation. Doing is always limited. This applies to anything you do, including meditation. That is why meditation is something that must be allowed to just happen.
All the techniques create a situation for the mind to experience and go beyond its limitation. Even music creates an atmosphere to boost consciousness. Music is "Laya Yoga." Laya is dissolving. This is the highest form of Samadhi (unity with the Divine) that should also happen.
Bring a balance between awareness and this dissolution.
Q: Gurudev, You mentioned the word "transformation''. Does this transformation happen because they follow you or it happens just by them?
Sri Sri Ravi Shankar:
Well, I am good in taking credit!
I think everybody has that potential; they just need that little clue to be guided. That is why I formed different courses. We have the courses for the children so that they can become stress free. Recently, we had a conference in Chicago where educators had come and they were sharing what had happened just in 6 months of introducing the courses in the district schools.
And one of them in one of the toughest inner city school said that where children drop out and crime rate was very high to the extent of 268 crimes, it come down drastically to 60 in six months! From 268 to 60, that itself is an eye opener that children or youths can be given education in non violent way of communication or non violent way of behavior.
Q: Gurudev, I like fresh air, pure air but sometimes people add to the air artificial smell to make the air more pleasant and destroy the purity of the air. In the same way, I like your voice in meditation, but when I bought a CD for meditation I was surprised to find out that somebody had added music to your voice. Please give us a chance to have your voice in meditation without additional music.
Sri Sri Ravi Shankar:
Suggestion taken! We will request our Publications department for some CDs without music, but your comparison was very good!
Q: Gurudev, What is the future of St. Petersburg?
Sri Sri Ravi Shankar:
It is in your hands.
Q: Gurudev, What advice would you give to a skeptical non-believer?
Sri Sri Ravi Shankar:
A very good beginning point. See that you don't become cynical and frustrated. Skepticism is perfectly alright, but not cynicism. That drains your energy. One can be skeptical to begin one's journey and I would very much appreciate and welcome that. Because you would have gone through skepticism, the faith will be strongly built.
Q: Gurudev, How do you know the answers for all the questions?
Sri Sri Ravi Shankar:
I don't have one for this!
Q: Gurudev, What is surrender?
Sri Sri Ravi Shankar:
A child playing a game goes to its mother and plays or cries. That issurrender. The state of mind of the child is surrender. Another way to look atit is if there is something that we can't handle any more, we give up to thehigher power. That is surrender.
Q: Gurudev, Guruji, how does Om differ from other forms of meditation?
Sri Sri Ravi Shankar:
There are so many different kinds of meditation. Each one is unique in their own fashion. No need to compare them. For many this may suit, for many others, that may suit. And different times, different meditations may suit. Omkar is always good to begin with, however don't use it as a mantra in meditation.
Q: Gurudev, For a beginner like me, how do I understand what self is?
Sri Sri Ravi Shankar:
Everything in the world changes. Our experiences change, our understanding changes, our intellect changes, we think differently at different times, thoughts are changing, and also our emotions keep changing. How do you know that everything is changing? There must be something that is not changing. Without the existence of something that is not changing you cannot even know things are changing. So you infer. E.g. when there is a smoke you say, 'there must be fire'. You just see the smoke and you infer that there must be fire somewhere. Similarly, you cannot directly experience that which is not changing, then how do you do it? Through inference.
The ancient people said there are three ways of knowing - Pratyaksha, Anumana, Agama. There are three proofs, one is Pratyaksha - you see direct. Second is anumana - you infer, e.g. you see the smoke and you know there must be fire, right! So when you see that everything is changing, and you know that you can experience change only through something that is not changing, through some reference point, then you infer -'There is something that is not changing in us and that is called 'SELF', your soul, your spirit, whatever you call it'!
So we went from body to finer - Body, Breath, Mind, Intellect, Memory and then ego. Finer than all this, is the 'SELF'. What the 'SELF' is? Finding that out is called spirituality… is meditation! And what this 'SELF' is made up of? It is…!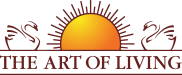 Founded in 1981 by Sri Sri Ravi Shankar,The Art of Living is an educational and humanitarian movement engaged in stress-management and service initiatives.
Read More