Question & Answers with Sri Sri Ravi Shankar

Q: Gurudev, Can you equate knowledge with wisdom?
Sri Sri Ravi Shankar:
When knowledge lodges itself firmly in your heart, then it is wisdom.
Q: Gurudev, I want to understand about desires and how we are meant to deal with them. I feel that I shouldn't be in desires, yet, I want to achieve things or find myself attracted to another person. If we don't have desires, where do motivations in life come from? Thank you.
Sri Sri Ravi Shankar:
Fine, have desires. Who said no? Have desires. But the desires should not have you, you should have desires. It is like the horse is in control of you, and you are not in control of the horse. If you are not, then it's a difficulty.
There is a story of Mulla Nasruddin. He was on the horse. And the horse was going round in circles, on the same streets! So people asked him, "Mulla, where are you going?" He said, "I don't know, ask the horse!"
Most of the time in our life, we are in similar situation. Our desires have us and they ruin us. Instead, you should have desires. You should be able to drop them any time you want to, and have them any time you want to! You should be able to get on to the horse when you want to, and get out of the horse when you don't want! Rather than getting stuck in the horse, or allowing the horse to throw you down. That is more misery.
Q: Gurudev, Life is so complex. How to stay simple like you?
Sri Sri Ravi Shankar:
Don't recognize complexity. Keep your sight on the One. In Sanskrit it is said, "Antarmukhi sada sukhi".If your mind is turned inwards, it will always be happy. What iscomplex? People's mind! They are bothered about their complexity, whyshould you be bothered about the same? People are complex, and theywill come down. Have patience and compassion.
Q: Gurudev, You travel so much… Ifeel at home with everyone and everywhere. I don't find anyone a stranger. Ioften say that I am a child who refuses to grow up.
Q:I am running after a dream since long. How to get that fulfilled?
Sri Sri Ravi Shankar:
Be practical in taking care of your daily needs and see whatthe reality is at that point. You have a dream and you want to achievesomething. But that dream or idea may not match the reality that is right now.So understand the present reality and match it with your dream. This is whateverybody has to do.
See,suppose you are teaching mathematics to a student. First you should know thepresent state of the child's mind. If the child can't count two plus two isfour, there is no point in teaching the multiplication table. Do you see thepracticality now?
Q: Gurudev, What should be one's main motive in a student's life?
Sri Sri Ravi Shankar:
The main motive is in life. But students are time bound. Main motive in life should be to see a better nation, a better world. When you have love for your nation, achievement also happens.
Q: Gurudev, What is the difference between spirit and the Universal consciousness or God?
Sri Sri Ravi Shankar:
Like an atom is inside the molecule, one that is subtle than the spirit is God. The connection is even more subtle than that between a molecule and atom. According to ancient science, if you bisect one hair vertically into 100 parts, and you take one out of those, you further bisect in 100 parts and then take one out of those. And even repeating the same process, what you get is a molecule. Even much, much smaller than that is an atom. Even subtler than that is ego and that which is more subtle than that also is themahatattva/grand element. The one whose ego has been totally dissolved, he is called Mahatama.
Q: Gurudev, Please tell us what does 'one word family' mean to you and what should we do tomake this family happy?
Sri Sri Ravi Shankar:
What family means to me? The whole world is one family for me.You know, I feel absolutely at home wherever I am. I never have a feeling ofbeing in a country or land that is not mine. I never felt strange anywhere. Myconcept is to see the whole world as one family; of course family is a veryimportant institution, it is the foundation of a society.
Q: Gurudev, I know it is bad and yet I do it. Why do I do it? And how to get rid of this?

Sri Sri Ravi Shankar:
You know it is bad and you still do it. Why do you do it, are you asking me? That is ok. You should wish that circumstances would change and know that opposite values are complementary. That gives you the strength. And, know that things change.

There are only two reasons why you don't follow knowledge or wisdom:

First: Bad habits. Old habits don't leave you so fast.

Second: Your temptation of doing wrong gives some pleasure. For example, you know that eating too much of ice cream would increase your sugar level as your doctor has warned you, but your temptation says, 'No, I should eat that. Just one more day let me eat it.' You do it because it gives you pleasure.

It is ok, you can violate the laws as long as you are ready to take the consequences. Eating after 8 pm is not good, you know? But if you still do, then keep awake in the night, keep burping and keep suffering with indigestion! If it is ok with you, then do it.

So, only these two things stop you from following the knowledge.

Like, you know that smoking is bad for health but you still smoke. Smoking is not giving you any great pleasure but to drop it has become so difficult because it has got ingrained as a bad habit in you.

Now, habits can be overcome only through three things:One is out of greed. Say, someone tells you that you will get one million dollars if you don't smoke for one whole month then you will say, 'Why one month, I will not smoke for 35 days. Five extra days to make sure the counting is right.' Greed can stop you from habits that you don't like.

The other is fear. If someone says you will get these different types of cancer if you smoke, then you won't touch it.

Third is the promise to a loved one. If you made a promise to a loved one then also you won't do it. The love for them will will stop you from smoking.

So, I prefer the last one to the other two.

Or, in the end you will realize by yourself, 'Oh! It is painful. It is misery that I am buying by continuing with this habit.' So, one day when you realize this, then it will drop the habit itself.


Q: Gurudev, What are the ingredients to be successful? How come Lord Krishna found Success in everything He does?
Sri Sri Ravi Shankar:
For success in life you need yukti (skill) and shakti (strength), Bhakti (Devotion ) and Mukti (Freedom).
Freedom and love in personal life! Without freedom you will find no love and without love there is no joy. Freedom doesn't mean doing anything. You follow some norms, a little discipline. And in social life you need shakti and yukti, strength and skill. And this is what Ramayana and Mahabharata tells you.
Though Duryodhana had all the power but he had no yukti, no bhakti. The skill was with Krishna and so he won.
Q: Gurudev, Today a big population has turned vegetarian. Thirty years ago you could hardly find vegetarianism outside India.Why is it so?
Sri Sri Ravi Shankar:
Today, it is different. Tell everybody to be friends with animals. Once you are friends, you don't eat them. Like you don't use your pets as food. Once you cultivate a relationship, you do not eat it. Cultivate the habit of befriending all the species and this is the way of turning the world, vegetarian.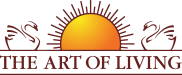 Founded in 1981 by Sri Sri Ravi Shankar,The Art of Living is an educational and humanitarian movement engaged in stress-management and service initiatives.
Read More