Question & Answers with Sri Sri Ravi Shankar

Q: Gurudev, When mind becomes imbalanced will meditation help?
Sri Sri Ravi Shankar:
It is just a matter of time. Some moments you feel shraddha, bhakti etc. have just gone. Once that time is gone, it will come back. Even when mind feels restless, just sit in Satsang. Do more pranayama and see the difference.
Q: Gurudev, What is Samadhi?
Sri Sri Ravi Shankar:
There are different types of Samadhi.
1 Laya Samadhi - Just listening to music you dive deep
2 Sakshi Samadhi - Mindful awareness
If you do too much, that also is not good. That is why one should sit with a teacher and take guidance.
Sri Sri Ravi Shankar:When somebody leaves the body we realize the magnitude of life. A person, who was there, is no more. It brings a depth to life One starts wondering - what is life? Where did the person go? It gives a depth to life, there is no point in brooding. Yes, tears, come you don't need to suppress them. But there is no need to brood over it.
In the Bhagavad Gita Lord Krishna talks about all the good qualities. And then He adds that they are already in you. Negative qualities have come because of company etc. You don't need to get positive qualities. Just like in an atom, the core is positive and the negativity is peripheral If you feel that deep inside you is sorrow or anger then you can never get rid of it. Don't ever think deep inside you is sorrow or anger. Modern psychology sometimes says this sorrow is deep inside you. It's wrong. They know nothing about consciousness. Negativity is not skin deep. Know that it's not in the core.
Q: Gurudev, My mind keeps having conversations with me, how can I deal with that?
Sri Sri Ravi Shankar:
At last you became aware of this; it was happening the entire time but now you have achieved the first step by becoming aware of it. That's why in these courses you don't have just knowledge, you have singing as well. Sing, dance and do all these techniques just like a child. As these techniques are taught, just keep doing them and you know in between there are moments the mind has become quiet. That's why what you are doing now, this advanced course, and this silence program is so valuable, you know; it won't happen in the very first sitting, I know all sorts of thoughts will come up.
It's like suppose you are cleaning this room after a long gap, there is so much dust and the dust will rise, similarly you have to continue doing advanced courses many times. Those of you who are doing the course for the second time, third time, fourth time, did you notice it is becoming quieter quickly. So it takes quite a while to gain mastery over the silence, right! So we have to keep doing, keep doing it and you will achieve that, no doubt.
Q: Gurudev, Will you sing with us today?
Sri Sri Ravi Shankar:
Well, we will do meditation of course.
Q: Gurudev, Life is so complex. How to stay simple like you?
Sri Sri Ravi Shankar:
Don't recognize complexity. Keep your sight on the One. In Sanskrit it is said, "Antarmukhi sada sukhi".If your mind is turned inwards, it will always be happy. What iscomplex? People's mind! They are bothered about their complexity, whyshould you be bothered about the same? People are complex, and theywill come down. Have patience and compassion.
Q: Gurudev, How do you know if you really love somebody?
Sri Sri Ravi Shankar:
Suppose you sit for four–five hours. Do you get a pain in your leg? (The girl nods her head.) How do you know? (Sri Sri addresses the audience in general) Our doubt is always about something positive. Someone asks, 'Are you happy?' And we say,'Well…I am not sure.' You have never doubt your depression.
Q: Gurudev, What is Swara Yoga, could you please articulate on that?
Sri Sri Ravi Shankar:
First do alternative nostril prayanama and then go more deep into pranayama then you will see how the breath in the nostrils change throughout the day.
Q: Gurudev, When people adopt violence for surviving, how to deal with it?
Sri Sri Ravi Shankar:
It is quiet natural to go towards violence for survival – it is a natural instinct. But, if selfconfidence and vision is instilled in such a person, then you will find that the person walks with a vision in self
confidence without the fear of survival problem.I have spoken about all these in a book called "Celebrating Silence". You can read that if you wish to.
Q: Gurudev, In the Part 1 course they have explained the three sounds and when they are put together they sound 'Om', 'Amen' and 'Ameen'. I don't understand how the three sounds form 'Amen' and 'Ameen'.
Sri Sri Ravi Shankar:
No it's similar, 'Aa' and 'Ma', two sounds are definitely there, it's very similar.
If you see, English is a distortion of Sanskrit. Lots of words in English are derived from Sanskrit; I would say nearly 50 percent; brother: bhratru, sister: svasa, mother: mata, etc.
When the language changes usually distortion happens.
In Bengali, there are a lot of changes that have happened, 'Vishnu' become 'Bishnu'; 'Vishwas' becomes 'Bishwas'. The Bengalis say 'eat water', 'jal khabe'; 'khabe' means eating but they say 'jal khabe'. 'Jal' becomes 'jol'; 'jol khabe'. Every language has got its own characteristics, isn't it?
In English also they change the pronunciation; instead of 'West Bengal' they say 'Best Bengal'. Don't 'baste' food; for 'waste' they say 'baste'. That is how it is. You have to accept it.
'You like bhite, you always bear bhites'; they are actually saying you always wear whites. 'Guruji always bears bhites' - that is the typical pronunciation. In Gujarat 'lawn' becomes 'loan' and 'hall' becomes 'hole'; 'the loan is in front of the hole.'
Q: Gurudev, How does one develop a sense of surrender?
Sri Sri Ravi Shankar:
Just assume that it is there.Don't put effort . Surrender is there – simply assume this and move on.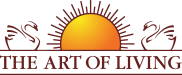 Founded in 1981 by Sri Sri Ravi Shankar,The Art of Living is an educational and humanitarian movement engaged in stress-management and service initiatives.
Read More