Question & Answers with Sri Sri Ravi Shankar

Q: Gurudev, How important is it that we act for planet? What can we do? How do we sustain?
Sri Sri Ravi Shankar:
We need to wake up and see that planet is our home and when you go higher, you don't see borders. Borders are our understanding, our illusions. There really is no border. Sky knows no border, clouds know no border, wind knows no border. The elements of this earth have no borders. The planet is one home for every one. We are all one family. So, we need to think from a broader perspective. Which is the correct perspective? That the whole planet belongs to us. We cannot dump our nuclear waste into some other place.

Any place in the earth will again come back to us! We cannot keep one place clean and pure in isolation. It is not possible. We have to care for the whole planet. We have to make the entire planet organic. When it comes to making food, growing food; you cannot say, "ok, I'll grow organic food only in this part and rest other parts can be pollute with chemicals!" Because the air will carry! We have created so many types of viruses on this planet. Because we meddled with nature. We have destroyed many species on this planet because we have not taken good care of it and our food production has gone so low. That it's going to be a very heavy thing on the coming generation, you know! I think every individual, every human being on the planet will have to take responsibility of not polluting the planet, of continuing sustainable development by planting more trees, preserving our lakes, preserving water. It is so important!

Water scarcity is another big issue in the world. Millions of people are into starvation! So, we need to have a global picture and care for the whole planet. Of course, we need to care for our immediate home, our immediate neighbors, the place where we live in. This is most important! But at the same time, we should have the idea about the whole planet and the entire humanity being a family.
Q: Gurudev, My mind keeps having conversations with me, how can I deal with that?
Sri Sri Ravi Shankar:
At last you became aware of this; it was happening the entire time but now you have achieved the first step by becoming aware of it. That's why in these courses you don't have just knowledge, you have singing as well. Sing, dance and do all these techniques just like a child. As these techniques are taught, just keep doing them and you know in between there are moments the mind has become quiet. That's why what you are doing now, this advanced course, and this silence program is so valuable, you know; it won't happen in the very first sitting, I know all sorts of thoughts will come up.
It's like suppose you are cleaning this room after a long gap, there is so much dust and the dust will rise, similarly you have to continue doing advanced courses many times. Those of you who are doing the course for the second time, third time, fourth time, did you notice it is becoming quieter quickly. So it takes quite a while to gain mastery over the silence, right! So we have to keep doing, keep doing it and you will achieve that, no doubt.
Q: Gurudev, We know we have to follow our heart but why is it difficult sometimes when our rational side is stronger, and we think it is correct whereas the emotion is weaker and sometimes more crazy. Thank you for sharing time with us.

Sri Sri Ravi Shankar:
You know in work don't use your emotions - in work use your intellect. But with your family and friends don't use your intellect so much, use your emotions. If you mix it up, you are in trouble! You know, with your wife and children if you are relating them with your intellect and doing business with your emotion you had it! You know at home you have to be more with the value of heart. When you do service you do it with your heart, right? But when you're doing your work you don't have to be an emotional thing. Just use your rational mind.

Q: Gurudev, Please give me some technique to lessen the ego.
Sri Sri Ravi Shankar:
You're asking about yourself or someone else? For God's sake don't do anything with your ego! Just let it be. If you find you have a big ego, don't try to get it out of yourself. Let it be. You know, trying to meddle with your ego becomes a bigger problem. Then you say, "Look, I erased my ego!" "Nobody could do this!" Understand that? You know it's so difficult to get rid of the ego. It's like saying – 'I'm the most humble person in the world! You can't find anyone with more humility than me!' Does it make any sense? So if you find there is any ego, let it be like that happily, huh? Don't try to meddle or get rid of it. Just smile, yes! You know ego is stiffness. When you're at home, you relax. When you feel ease, then ego is not there. The antidote for ego is just being natural. Or one day if you want to act crazy or foolish, it might help you a little bit, because your greatest fear is what others will think. Give everyone freedom to think whatever they want to think, right? Then you'll find you're so much at ease, at peace with yourself.
Q: Gurudev, In a world that is changing so fast you still seem to be the same, unchanged and so beautiful and so adorable. How is that Guruji?
Sri Sri Ravi Shankar:
Some questions are to be wondered about, so this too is not a question but something you need to wonder about. Questions are always bent, crooked, but wonder is always straight. So transforming life from question to wonder is knowledge. Knowledge does not give answers to questions but changes the questions to wonder. So this is something that you should wonder about.
The Ashramities have started chanting a few shlokas of the Bhagavad Gita every day. I would like to say that everyone, wherever you are, start reading a few shlokas of the Bhagavad Gita every day. Read three to four shlokas everyday, if you don't understand Sanskrit never mind, even the translation is good enough.
Q: Gurudev, What makes a person an achiever: science or spirituality?
Sri Sri Ravi Shankar:
While watching television, what is more important? Seeing or hearing? You need both.
In the same way, in life too, we need both.
Q: Gurudev, May we sit down in meditation after Sudarshan Kriya or is it better to lie down only?

Sri Sri Ravi Shankar:
Ya, you can sit in meditation, no problem.

Q: Gurudev, Do the ones who have died, feel something? Is there anything after death?
Sri Sri Ravi Shankar:
Yes, it happens for some time. At least the effect of worldly memories remain up to one year, and then it fades away slowly in next two – three years.
Q: Gurudev, Guruji, if our nearest and dearest ones don't understand the feelings that we have towards you and they logically try to analyze and this hurts us. How do we handle this situation, this often comes in our life.
Sri Sri Ravi Shankar:
Why do you want to explain everything to everybody? Feelings are such that people don't understand. You don't have to express all your feelings like that. They could be insecure and think that you will leave home and go to the Ashram and be there. So see that people don't get into that fear. Your love and devotion should be expressed only as much as they can understand. Same with joy, sometimes you don't know how to express your happiness; if you express too much people don't understand.
One devotee went to a funeral of somebody, a mourning meeting and there were bhajans and he started dancing and the people didn't understand. There is satsang and bhajans, of course you dance when you are in joy and he said that anyways everything should be a celebration. But if you dance there people can get annoyed. So you should see what a person can understand; how much they can understand and how to convey what you want to convey. Be skillful in conveying so that your expression doesn't bring fear and anger in others as much as possible. And then ignore. Beyond a level you should simply ignore.
Q: Gurudev, Please talk about karma.
Sri Sri Ravi Shankar:
Some karma we have to experience, and some we can change. E.g. when wecook some sweet, if there is too much sweet, we add some rava, if it is less wecan add sweetening agent. But once you have put the rava on the fire, you can'tturn it back. In the same way, some karma can be changed, some can't.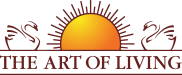 Founded in 1981 by Sri Sri Ravi Shankar,The Art of Living is an educational and humanitarian movement engaged in stress-management and service initiatives.
Read More