Question & Answers with Sri Sri Ravi Shankar

Q: Gurudev, What is the crux of Life?
Sri Sri Ravi Shankar:
What is the crux of life? At least, first you start exploring within for that adventure! What should Itell you beforehand? The whole life is in search of some juice, some happiness. Where you feel happiness, solaced, be atpeace there, relax there. And you get that joy when you look within. Meditation is such a joy! When the tiredness cracksaway, you get that relaxation, that joy you are looking for.
Q: Gurudev, I think the biggest botheration I have is my laziness. I don't feel motivated. I want to do so much.
Sri Sri Ravi Shankar:
Pay someone to be after you when you are lazy. Tell them, "If I am lazy, don't let me sit and lie down. Come get me with a stick." Laziness goes away when you have a buddy who is after you. Your spouse would be good here (laughs)!
There are three ways to get over laziness:
One, greed. If you are greedy for something, it will take you out of laziness. If someone tells you, "If you do this pranayama for 40 days, you will get $1 million." You will say, "I will do for 45 days, just to be sure!"
Two, fear. Fear makes people fall into hoaxes. Some hoaxes even claim to cleanse Karmas. Karmas go away when you meditate. When you are in love, and serve, Karmas are erased. It is unfortunate that people don't know anything about spirituality - they have neither the experience nor have they read scriptures. This is where the Vedic tradition is important. So many seers laid down the rules. And then authenticated it to make sure it's not an illusion. But people still go into hoaxes, because of fear.
Three, love. When you are deeply in love, where is the question of laziness?
If none of these three work, revert to my first option. Pay someone to be after you!
Q: Gurudev, Human beings will always be imperfect, then how does one see Godliness in a human?
Sri Sri Ravi Shankar:
Who says human beings are always imperfect? Inside human beings, thereis Godliness. Wake that Godliness up. Move from one perfection toanother and not from imperfection to imperfection.
Eitheryou can see fault with everything, like milk gets spoilt and becomescurd and then butter. You can see first milk gets spoilt and becomescurd, and then curd gets spoilt and becomes butter. You can talk aboutonly imperfections, or you can see progress from perfection toperfection.
Q: Gurudev, What does ayurveda have to do with meditation?
Sri Sri Ravi Shankar:
Ayurveda is a complete science. It describes dincharaya (daily routine) and ritucharya (seasonal routine). Dinacharya includes meditation for balancing of the three doshas (mind or body type). The mind has an impact on the body and all its doshas and gunas (three qualities of nature: sattva, rajas and tamas). So, the mind, breath, herbs - they are all linked. Similarly, ayurveda helps one to meditate deeply. Too many thoughts indicates high pitta (one of the three doshas). So pitta must be treated. In ayurveda, combinations are referred to as 'yoga'. For example, when two herbs are put together it is called yoga. So that concept of yoga is similar to meditation and to ayurveda.
Q: Gurudev, If joy and peace are truly our nature, why is it so difficult to be happy and satisfied in our daily life?
Sri Sri Ravi Shankar:
Is it so difficult? You know you should have one policy, 'We will not do anything which is too difficult!' Be easy going, a happy go lucky person. Why do you have to struggle? If being unhappy is easy, just go for it. If being miserable is the easiest thing and being happy is so difficult, why do you have to struggle to be happy! Got it? Go for the easiest, and the easiest is to be unhappy? NO! The simplest, the easiest thing is to be relaxed and happy. If you say why it is so difficult, we have to fix this a little bit. And that thing which fixes this is knowledge. Got it? (After a break of a few breaths) And I tell you, it's easy!
Q: Gurudev, Why do so many religions face east when praying? Is it good to face east when meditating?
Sri Sri Ravi Shankar:
Different reasons exist. The sun rises in the east. So, in the morning, you meditate facing east. But in the evening, you face west because the sun sets in the west. Energy flows from where the sun is. So, when you face the sun, you are balanced. For prayer and meditation, you need balance - balance of mind, posture… See, it does not matter which direction you face when you meditate, as long as you are facing a direction and meditating.
Q: Gurudev, What is difference between God, Guru and me?
Sri Sri Ravi Shankar:
Let's talk of the common thread. The same Divine is in me and in thewhole universe. There is no place which is not permeated by the divine. In Sanskrit,
Ishwaro gurur atmeti murti bheda vibhagine,
There is no difference between Guru, Divine and me. What iscommon in all three is what I am!
Q: Gurudev, How to bring up children in a competitive world?
Sri Sri Ravi Shankar:
The world has always been competitive. In the past, competition was present on a smaller scale. It is much bigger now. We need to instill values. Even in the satyuga, there were rakshasas (demons). So don't blame time. You do your part. Instill values in children.
Q: Gurudev, Before the course when I was at home my mind would jump from job, gym, party, plan, and here the mind jumps from breakfast to lunch to dinner (laughter from audience). Why can't my mind slow down?

I think we should have read this a couple of days ago, we could have told the cook to make the food a little less tasty! Never mind, never mind, you have recognized this, at least. The mind is jumping – it's already coming to a halt. You know those of u doing advance Course (The Silence Course) for the first time, you would have noticed for the first few days, for the first few sittings you can't even figure out where the tip of the nose is! Or whether the nose is hollow and empty or you don't even feel any part of the body. Does it happen to you? Your mind doesn't stop, it keeps racing…but this is normal. Even if you get 20% in the first silence program, it's a great achievement, I tell you! First Advance Course, because you've never been silent except, while you're sleeping! Some aren't even silent when they're sleeping! We never experience this. We never had a chance to have the mind turn inward. It's like you're racing the car in the autobahn and you put the break - it takes some time for the car to stop. It doesn't stop immediately. In the same way, it takes a little while. It may take… not for everybody it may take, mostly it takes a little time. You will see that from yesterday today was better– today was good, no? Today's meditation was a little better? How many of you felt better today, huh? See, already it's better, two days into silence, tomorrow it get's deeper and when it gets really good then it's time to leave. So, you got it! It's good to do a couple of advance courses once in 6 months or once in 4 – 5 months. Then the mind gets trained to switch modes, you know? It's easy to switch modes in silence and get into that creative field within you, or be dynamic.

Q: What are the most sacred, most divine qualities of marriage? Is there a mantra for a happy marriage?

Sri Sri Ravi Shankar:
I have no experience… to give you ideas, but whatever I infer I can share with you. In marriage you should consider the other person as your own part, part - like your arm, like your body. It's two bodies, one mind, one soul. So, whatever your spouse desires, you make it your own desire, that's it. Your spouse's taste, consider it as your own taste. See, you have many, different tastes, right? Sometimes you like this, sometimes you like that. When the conflict arises? When your tastes start moving apart. You should start saying your taste is my taste; your pleasure is my pleasure. I am here for you, rather than, what can you do for me? When we start 'What can you do for me?' then both become unhappy, yes? But when you say, 'What can I do for you? I'm here for you.' This is the only mantra. Happy marriages are what? 'I'm here for you, come what may, happy times or unhappy times!' See in life sometimes there are disappointments, sometimes there is success. In either case, 'I'm with you.' This is one thing. The second thing is, if one is upset, the other should not get upset at the same time. Choose a different time to get upset. Know that 'Oh, my spouse is upset! Okay.' Give him or her the time to be upset. Don't question 'Why are you so upset?'If someone is upset, the other gets angry and expects them not to be upset. This is a big mistake! Someone is upset, leave them that space. You know many of us don't even know how to receive love! See, someone comes and keeps telling you, 'Oh, I love you, I love you so much, I love you!!!' Suddenly you go, 'Wow, what do I say now!? How do I react?' You get into a corner; you don't know how to react. You don't know what to say, so that person who kept saying, 'I love you, I love you, I love you!!!', suddenly finds you are not responding, then starts accusing you, 'See, look, you're so cold!' 'See you don't know how to love. You never said you love me!' and blah, blah, blah…Demand – demand destroys love. Never demand love from your spouse. Take it for granted they love you, but that's it, finished, you know! So when we start demanding and policing our spouse, we get into a mess, right! So that is important and the rest you can have tomorrow when you are out of silence and we can have a conversation. So, many of you can come out with your own experiences and add more to this. What do you say, good idea?
Q: Gurudev, Why does everyone want to meet you?
Sri Sri Ravi Shankar:
I don't know It happens like this. The soul communicates with each other.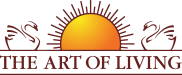 Founded in 1981 by Sri Sri Ravi Shankar,The Art of Living is an educational and humanitarian movement engaged in stress-management and service initiatives.
Read More