Question & Answers with Sri Sri Ravi Shankar

Q: Gurudev,
Guruji I wish I were you. Is it possible or not?
Sri Sri Ravi Shankar:
Of course! You don't have to wish, you are already! We are all one. I am you and you are me.
See, the mind is like the space. The self is like the space inside and outside the body. The thoughts come and go, emotions come and go, but when you go inside there is only empty space. And our true nature is that. When we identify ourselves too much with thoughts, with feelings and emotions, that is when we feel we are stuck, we are small. But, the 'Real, Magnanimous You' are that space inside where you feel totally at peace. Those moments when you are totally in peace or fully in love, you feel an expansion, right? You feel boundless, you feel limitless, and that is our true nature. That is what the beauty is. We are all one in that, there is no two!
I will give you an example. Suppose you keep here many different vessels with different sizes. They have different capacities: one can have two liters, one can have ten liters, and one can have five litres. But the space is the same. The capacity of each vessel may be different. So what! But it is the same space which is inside, outside and which is everywhere. Our ability to do different things, our energy to do different things is immaterial to what we are. And this ability, this energy doesn't stay the same throughout life. See, when you were a baby your abilities were different, rather nothing. You could not help even yourself. Somebody had to care for you. And what happens when you get very old? Then also your abilities are different. So changing of our abilities, our thought is immaterial to the real you, to who you are. You are simply space, you are love, you are peace and this identification removes all other complexes in life. Otherwise you will always find somebody is more capable than you and somebody is less capable than you. You are better somewhere and you are not in some others. When you compare yourself with others in the world, either who are living or dead or may be being born in the future, there will always be a difference. This is part of the world, part of the Universe, okay?
Q: Gurudev, What is difference between God, Guru and me?
Sri Sri Ravi Shankar:
Let's talk of the common thread. The same Divine is in me and in thewhole universe. There is no place which is not permeated by the divine. In Sanskrit,
Ishwaro gurur atmeti murti bheda vibhagine,
There is no difference between Guru, Divine and me. What iscommon in all three is what I am!
Q: Gurudev, Whenever I see a good looking girl, I find myself in love. Is that love or infatuation?
Sri Sri Ravi Shankar:
Well, time will tell you! First, find out whether they are in love withyou or not. If that matches, it is a different story. If it doesn'tmatch, that is a different story altogether. Either case, you willbecome mature. But don't keep falling in love. Rise in love! In love,you don't expect anything in return. If you want something in return,don't call it love. Then that's need. In a relationship there is aneed, but there is no need in love. Love is your very nature. If itsounds too philosophical for now, just keep it in the background andrelax. One day you will understand, when your heart breaks or when yourealize you expected something too much, something will pop up from thebackground of the mind and try to save you.
Q: Gurudev, If one faces failure in some task again and again, should I continue to do the same, or should Idrop that?
Sri Sri Ravi Shankar:
There is one proverb in India, "Task gets accomplished with the Sattva, and not with the material".So, in order to get something done, sattogun should rise. And what does one do to increase Sattogun?With right food, right conduct, and relaxing your mind for some time - This is first. Secondly, even if you face failure inspite of that, sattogun doesn't let your enthusiasm to shatter, and when that driving force is still there, you don't eventhink of dropping. Like if gambler wins once, he develops that taste to win. And then he continues to play again and againwith the wish to win, and even when some failure is encountered, hedoesn'teven think of dropping in between. Even duringsome failure, that strong conviction of achieving some good is there, and this conviction will be there when you have thatdedication for the task. Like, with enthusiasm in action and peace in heart, people kept fighting for freedom for twocenturies.
The ones who were fighting for freedom, theydidn'tget any money, they didn't steal anything, but did they leavethe drive?
And third factor, look for the reason of failure. Every failure is a step towards success. One reason can be some weakness inoneself or some weak point in the system, arrangements. Self weakness – like someone is not able to present the workproperly. E.g. if you go for interview, and say some words here and there, then interviewer develops a doubt if you would beable to do that or not. So, onedoesn'tget job because of one's weakness. To get rid of one's weakness, enhance yourabilities.
Each failure is a step towards success, so analyze what did you learn out of this? Did you flow with the emotions? You didn'tconsult those who are already into that profession? Youdidn'ttrust them, or you didn't keep faithful people with you. Allthese reasons could be there. So, to get rid of any weakness, enhance your ability, and go into the depth of knowledge of thefield in which you wish to move ahead.
Second is to amend the system or arrangements. Now, this is not in hands of a single person. Like if corruption is to bechecked, can you fight alone? Be with the group. Awaken that intelligence in people for that. Get people to move ahead withyou."Sanghe Shakti Kaliyuge"
In kalyuga, the power is in the team. People say that it is the peak of kalyuga, and it is as if truth has taken a backseat.If you feel like that, then work in a team. Take some people along and then see if the task gets accomplished or not. Toenhance capability, you would have to do something yourself, go within yourself. Be in the world to get more people along,and be with yourself to gain abilities. Taking along both the fields, you will definitely get success in your tasks.If you have given all your trials, put in your 100 percent and if, even then, youdidn'tget success, then it isOK. Takesome other work in your hands. But don't run away if you face failure for the first or second time.
Q: Gurudev, What to do when desires arises in mind?
Sri Sri Ravi Shankar:
When desires arise just see whether it is beneficial for you or not. When desires come up and pass through the intellect, then it is good. If it is just an unqualified desire, it could cause problems.
Q: Gurudev, How does Yoga help one in life?
Sri Sri Ravi Shankar:
Yoga increases our qualifications - Yogbrings 'yogyata (Talents)'. Whatever we think that starts to happen.People have started recognizing this secret all over the world. Even in china, where they don't believe in God, they have asked us to start spreading the knowledge of yoga.
Krishna says, "Do your duty. I will take care of your sins.You just surrender. If you surrender then it's my responsibility to take care of your sins. Don't worry. That's what I also say. Just come and participate inmeditation, yoga and Satsang, you will not have any worries in life. Just meditate and believe that you have left your sins here.
Human beings have responsibilities and needs. If needs are more and responsibilities are less, that is not a rich life. Meditation and yoga makes our body and mind active, our life rich. We have to have a quality life, a joyful life.
If our life is not joyous, there is no way we can take care of others. That's why we should use Yoga, Ayurveda and Siddha techniques.

I have a dream - everyone should have a proper house to live in.
The second is that
caste conflicts should be erased. We should increase the love between human beings. We have forgotten these practices, and it is time to renew these.
Let us meditate now!
(22 minutes of meditation passes away in less than 2minutes!)
We meditated for 22 minutes. Did you notice the time passing by?
You should learn this, become teachers and take this knowledge to every village.
If you have any worries, you have to leave it here; That's the rule of Satsang, you cannot take your worries back. You can go only after you drop them here.
How many of you are ready to do some Seva?
There is a village in Maharashtra -Kathewadi where everyone gets together to do Satsang. There are no locks on the houses. It has become an ideal village! Now 188 other villages are inspired to become like that. Villages in Tamil Nadu should also walk towards this. I am sure you can do this. If possible, you visit this place.
Our work is happening in 36,200 villages.
We should adopt more villages in Tamil Nadu.
When you sleep, make one wish and then surrender that wish also.
How many of your wishes are being fulfilled since you started meditating?
If you can win your mind, you can win the whole world! For this, meditation is necessary. Purpose of human life is to know who you are! This is spirituality.
There can be no appreciation for good forces if there are no bad forces. It is presence of villain which makes Hero a Hero. So, life is just a game.
Q: Gurudev, I want to thank you for everything you gave me, but most of all to the world. We're blessed that you're here for us!

Sri Sri Ravi Shankar:
Thank you.
Q: Gurudev, How do I get over of what people think about me?
Sri Sri Ravi Shankar:
When mind is outward and is stuck in an outside event or incident, you have to retrieve it back. That's what you have to do. Either something good happens or bad, it stays in mind for some time, produces an impression in your consciousness. But nothing stays for long and it vanishes by time. Sign of waking up is that you don't hold on to it for long. Sadhana, meditation is the greatest tool for that.
Q: Gurudev, Before the course when I was at home my mind would jump from job, gym, party, plan, and here the mind jumps from breakfast to lunch to dinner (laughter from audience). Why can't my mind slow down?

I think we should have read this a couple of days ago, we could have told the cook to make the food a little less tasty! Never mind, never mind, you have recognized this, at least. The mind is jumping – it's already coming to a halt. You know those of u doing advance Course (The Silence Course) for the first time, you would have noticed for the first few days, for the first few sittings you can't even figure out where the tip of the nose is! Or whether the nose is hollow and empty or you don't even feel any part of the body. Does it happen to you? Your mind doesn't stop, it keeps racing…but this is normal. Even if you get 20% in the first silence program, it's a great achievement, I tell you! First Advance Course, because you've never been silent except, while you're sleeping! Some aren't even silent when they're sleeping! We never experience this. We never had a chance to have the mind turn inward. It's like you're racing the car in the autobahn and you put the break - it takes some time for the car to stop. It doesn't stop immediately. In the same way, it takes a little while. It may take… not for everybody it may take, mostly it takes a little time. You will see that from yesterday today was better– today was good, no? Today's meditation was a little better? How many of you felt better today, huh? See, already it's better, two days into silence, tomorrow it get's deeper and when it gets really good then it's time to leave. So, you got it! It's good to do a couple of advance courses once in 6 months or once in 4 – 5 months. Then the mind gets trained to switch modes, you know? It's easy to switch modes in silence and get into that creative field within you, or be dynamic.

Q: What are the most sacred, most divine qualities of marriage? Is there a mantra for a happy marriage?

Sri Sri Ravi Shankar:
I have no experience… to give you ideas, but whatever I infer I can share with you. In marriage you should consider the other person as your own part, part - like your arm, like your body. It's two bodies, one mind, one soul. So, whatever your spouse desires, you make it your own desire, that's it. Your spouse's taste, consider it as your own taste. See, you have many, different tastes, right? Sometimes you like this, sometimes you like that. When the conflict arises? When your tastes start moving apart. You should start saying your taste is my taste; your pleasure is my pleasure. I am here for you, rather than, what can you do for me? When we start 'What can you do for me?' then both become unhappy, yes? But when you say, 'What can I do for you? I'm here for you.' This is the only mantra. Happy marriages are what? 'I'm here for you, come what may, happy times or unhappy times!' See in life sometimes there are disappointments, sometimes there is success. In either case, 'I'm with you.' This is one thing. The second thing is, if one is upset, the other should not get upset at the same time. Choose a different time to get upset. Know that 'Oh, my spouse is upset! Okay.' Give him or her the time to be upset. Don't question 'Why are you so upset?'If someone is upset, the other gets angry and expects them not to be upset. This is a big mistake! Someone is upset, leave them that space. You know many of us don't even know how to receive love! See, someone comes and keeps telling you, 'Oh, I love you, I love you so much, I love you!!!' Suddenly you go, 'Wow, what do I say now!? How do I react?' You get into a corner; you don't know how to react. You don't know what to say, so that person who kept saying, 'I love you, I love you, I love you!!!', suddenly finds you are not responding, then starts accusing you, 'See, look, you're so cold!' 'See you don't know how to love. You never said you love me!' and blah, blah, blah…Demand – demand destroys love. Never demand love from your spouse. Take it for granted they love you, but that's it, finished, you know! So when we start demanding and policing our spouse, we get into a mess, right! So that is important and the rest you can have tomorrow when you are out of silence and we can have a conversation. So, many of you can come out with your own experiences and add more to this. What do you say, good idea?
Q: Gurudev, How to bring up children in a competitive world?
Sri Sri Ravi Shankar:
The world has always been competitive. In the past, competition was present on a smaller scale. It is much bigger now. We need to instill values. Even in the satyuga, there were rakshasas (demons). So don't blame time. You do your part. Instill values in children.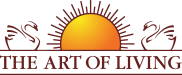 Founded in 1981 by Sri Sri Ravi Shankar,The Art of Living is an educational and humanitarian movement engaged in stress-management and service initiatives.
Read More