Question & Answers with Sri Sri Ravi Shankar

Q: Gurudev, How do we get our sankalpas accomplished?
Sri Sri Ravi Shankar:
These cell phones are so powerful that you can reach anybody in the world through it. So, the mind which has made these cell phones, won't that be more powerful than this? If these radiations can produce such effect, what effect would human radiations produce?
The Sankalpa that one takes for the goodness of society, that definitely gets accomplished. Drop your worries and the Divine will care of you. Be in the innocent state of surrender.
Q: Gurudev, Guruji, when we say that so and so person is a realized soul, please tell me what do they realize?
Sri Sri Ravi Shankar:
Realization is just that I am not the body but I am much more than the body. I have been here before this birth and I will continue to be there after my death also. If someone realizes this, that's it. But that only they can say, others cannot judge for them.
Q: Gurudev, Why is Krishna known as poorna avatar?
Sri Sri Ravi Shankar:
There are many aspects of Krishna which are complete. I have spoken about it in Krishna - absolute joy.
Q: Gurudev, There is another thing Guruji, there is violence at individual level also and at national, international level also but how do we tackle this?
Sri Sri Ravi Shankar:
You know violence is a result of fermented stress. When stress gets fermented and it is not rooted out in its infancy, it either turns into societal violence or depression or suicidal tendencies. These are two things that happen. Stress comes up and then either one gets suicidal on one hand or they swing towards becoming violent and agitated. So yoga brings that balance to the personality; balance of body, mind and spirit. Yoga brings that equanimity and balance; decency in one's personality. That's why we say 'Yogyatha' for one who is qualified. The qualification to be called a decent human being comes to you through Yoga because then you can balance your emotions, you have a say over your behavior. It's not like your behavior goes out of your control.
Q: Gurudev, Dear Guruji, you say that our relationship is as old as this earth. Have we celebrated your birthday in some past live as well? I don't remember but you would, so please tell me.
Sri Sri Ravi Shankar:
Yes we have. Of course! Now tell me, the first time you met me did you feel that we are meeting for the first time? No, I also have never felt as if meeting a stranger with anybody. All those people, everyone I met, I have always felt I have met them before and I know them. As of now I have not met a single stranger.
Q: Gurudev, Dearest Gurudev, just to handle one person I lose all my energy, how do you handle so many people?
Sri Sri Ravi Shankar:
That is why I am sitting here!
Q: Gurudev, I feel that India's socio-economic problems are a lot based on over population, do you agree?
Sri Sri Ravi Shankar:
No, no. India's problems are not based on over population, they are based on corruption. The problem is because of corruption. Population was thought to be a curse till a few years ago but today it's the population that is the basis for improving the economy. Population means big market, why would other countries look at India? Because it's a huge market.
Q: Gurudev, How does the Art of meditation help the mind, the body, spiritual aspirations and relationships and society as a whole?
Sri Sri Ravi Shankar:
Meditation helps to change your perspective. It improves the way you perceive things. It brings clarity in the mind. It improves your interaction with people around –what you say, how you react and act in different situations, you become more aware. In general, from a stress-free society to peace and health in individuals and from a violence-free society to a sorrow-free soul – all are side effects of meditation.
Q: Gurudev, Jai Gurudev, you are so attractive, is this the bondage in my path? If I get stuck in your form what should I do to see beyond the form?
Sri Sri Ravi Shankar:
So that you get detached from everything else - and then this will also automatically dissolve. You will see me more, much different than the form.
Q: Gurudev, Guruji what is the use of Seva? How does it help meditation?
Sri Sri Ravi Shankar:
Listen, suppose you are stranded in some place and you need someone to give you a lift in their car or taxi and nobody stops their car to give you a lift, how would you feel?
You are carrying two bags and you have to go to the restroom in a railway station. You can't leave the bags unattended and you have to go to the restroom, what will you do? You will find some nice elderly person, go to them and keep the bags with them requesting them to take care while you go for five minutes to the restroom. Don't you need other's help? If they refuse to help you then how can you survive? You know in this world as human beings we have to help each other and that is what seva is.
Seva means what? 'Sa' means 'him' which refers to God and 'Eva' means 'like him'; doing things like him. God does so many things for you but does not expect anything in return from you. Whether you pray to him, thank him or not he will still continue to do. He is not doing you a favor. When you thank God, that is for your own joy, it does not matter to God. In the same way whether people acknowledge your work or not, whether they thank you or not you still do it because you find that it is important to do!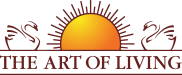 Founded in 1981 by Sri Sri Ravi Shankar,The Art of Living is an educational and humanitarian movement engaged in stress-management and service initiatives.
Read More