Question & Answers with Sri Sri Ravi Shankar

Q: Gurudev, How to get over habits?
Sri Sri Ravi Shankar:
To get over habits, there are three options If someone gives you a temptation: Suppose you stop this bad habit for 10 days you will get 10 lakhs of rupees. Then you will do it. Something higher than your habit can create greed in you. Or if someone creates fear in you, eg. A doctor says if you drink, you will spoil your liver. Then you can get over your habit. The third way is through love.
Q: Gurudev, Dear Guruji, I notice that during meditation my mind wanders a lot and many irrelevant and absurd thoughts come and go. What do I do?
Sri Sri Ravi Shankar:
If thoughts are coming, never mind, you know. When you realize, you again come back, observe the breath and just sit, that's it. Some irrelevant, absurd thoughts come and go, it's all part of stress release, hmm? You may get some brilliant thoughts or some very bad thoughts, don't judge at that time, we don't need to get excited, just relax. After meditation if you have some brilliant thoughts you may write it down, you may get some poems, some ideas, creativity may come. That's all fine, ok? So, just relax, hmm? Some people get ideas, some people can see some visions, some colors, some experience: some may smell some fragrance, or feel something – any of the 5 senses, I would say even the sixth sense, can just get activated during meditation, and it's good. With all the hollow and empty meditation what's happening is that the nervous system is getting clearer, purer and so it's reflecting the inner realm, hmm?
Q: Gurudev, When can I be like the Divine?
Sri Sri Ravi Shankar:
You are already now.
Q: Gurudev, Dear Guruji, I believe in this: As we sow, so we reap.But many instances we see that a person is going through bad times, even if wedon't see any major fault done by him or her. Why it happens?
Sri Sri Ravi Shankar:
Karma! The ways of karma areunfathomable. Karma is like an ocean. This is not one lifetime. In manylifetimes, we have done so many actions and they all have repercussions. Whichkarma has sprouted from which seed and what fruit this karma will give is verydifficult to pin point. That is why it is said 'gahana karmanogati' . Unfathomableare the ways of karma. Because it is not just one lifetime, many lifetimes, wehave done many things and we don't know which karma sprouts when. That's whydon't worry about the karma, just be active and follow your conscience.
Act with conscience!
Q: Gurudev, Guruji, The Art of Living has changed hundreds of thousands of us in Latin America. We have such gratitude for you! We now want the world to feel the way we feel: love, service, happiness, gratitude and celebration. Mucho gracias. Miracalindo! My heart is happy, can I hug you?
Sri Sri Ravi Shankar:
Flying hugs!
Q: Gurudev, How does God see the world?
Sri Sri Ravi Shankar:
God cannot see two. For God there is no you and I! He can only see himself in everything and everyone!!
Q: Gurudev, I get angry often and I don't live knowledge up to the mark. But I feel I am very close to you. Is this an illusion or really it is so?
Sri Sri Ravi Shankar:
Of course! Don't be too harsh on yourself. Be natural. Ok? Don't drain yourself thinking, "Oh I don't live up to the knowledge". If it happens sometimes it is ok. Move on. Life moves on. So many things fall into the river – leaves, flowers and the river takes everything forward. Time is carrying life forward. So, move forward. Actually what we are doing? We have turned our head backwards and are trying to moving forward. All that you need to do is to look ahead. You have done mistakes in the past, accept it and move on.
Q: Gurudev, Should we follow Bhagat Singh or Mahatma Gandhi?
Sri Sri Ravi Shankar:
Bhagat Singh was also supporter of non - violence. But they were encountered with one such situation, thatthey had to take such steps. Follow Sri Guru Gobind Singh, be a Saint – Sipahi. Have peace of saint in heart and strength ofwarrior in action. That is why Sri Krishan told Arjuna to be a Yogi and then fight
Q: Gurudev, What are the qualifications to gain liberation?
Sri Sri Ravi Shankar:
The fact that you are a sane human being is enough and the fact that you are a good human being. And ALL human beings are good!
Unfortunately, some scientists claim that human beings have dark and light sides. So the concept is that half of you is dark and half of you is light. That is not how it is. Just imagine someone coming up to you and saying, "You have a dark side. You could be a murderer." You would say, "No, I didn't even dream of something like that!" Then you start wondering, "Oh, maybe there is something like that inside me..." Then you put that seed in yourself and start nurturing that which was not there before.
There is a beautiful verse by the Indian poet Kabir, "I went to find a bad person in the universe, and I found none." There are negative tendencies in people but that is not the basic human nature. That is only on the circumference. Why is someone behaving negatively? Because they are hurt. A happy, joyful, centered person will never do harm to anyone, even to animals. See, even lions go for prey only when they are hungry, not all the time. That too, they don't kill other animals out of rage. They do it out of need.
So, these concepts that a person has a light and dark side are man-made, far from reality! Go into the soul, "Satchidananda"- true, blissful: the Consciousness.
A desire has arisen and I want to ask you about this. Give me a glimpse of self-knowledge.
You are getting it. Just relax. See, to catch a train, you have to hurry up, pack your things, go to the train station and get onto the train or go to the airport and catch a plane. But once you are on the plane, relax. Running between aisles holding your luggage will not get you to your destination any faster! Once you are on the path, relax.
Lord Krishna tells Arjuna after he has told him all that Arjuna had to do, "Drop all that, I will relieve you from your sins. You drop all that you are holding onto. Drop even your dharma. I will relieve you from your sins." Instead, people try to get rid of their sins. That will never happen. The Divine will relieve you of your sins.
All that you need to do is to let go of everything you are holding on to. It is beautiful. First, Lord Krishna makes Arjuna understand Dharma. Then, Arjuna is made to drop all of it. Lord Krishna says, "Take refuge in Me and Me alone. I will relieve you of all your sins."
Q: Gurudev, Jai Gurudev means victory to the big mind. But doesn't the small mind play a role in this?
Sri Sri Ravi Shankar:
Small mind has its role. It is only because of the small mind that the big mind wins. It is Obvious. There are only two kinds of people: those who are victorious, and those who make others victorious.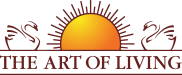 Founded in 1981 by Sri Sri Ravi Shankar,The Art of Living is an educational and humanitarian movement engaged in stress-management and service initiatives.
Read More