Question & Answers with Sri Sri Ravi Shankar

Q: Gurudev, What do you say about the eastern and western cultures?
Sri Sri Ravi Shankar:
Pick up good things like cleanliness and following the rules from the Western society. Western Civilization has such cleanliness and the sense of following rules. Learn the Human values from the East. Every country or tradition has something good to offer. We need to learn hospitality from the Japanese, precision from Germans, etiquette from the English and marketing from America and from India, human values.
We can also learn, what not to learn or what to unlearn? Too much formality! At some places, the mother has to take permission to go to her daughter, or the daughter has to take appointment from the mother. This has started to happen somewhere in urban society here also. The naturalness, sense of belongingness is disappearing from the society. That has given rise to depression and other disorders in so many countries in the west. There is such a sense of belongingness and human values even in a village in the east, and that is to be maintained.
Q: Gurudev, How do I know if I am doing the right job?
Sri Sri Ravi Shankar:
If you had a million dollars in your bank and would still do what you are doing, then that means you are in the right place. - Contributed By Yes Plus Teachers
Q: Gurudev, People around me feel jealous due to my good performance. Please suggest what I should do in these circumstances?
Sri Sri Ravi Shankar:
Ok! About jealousy! Just join hands with them or praise them. Another thing that you can do is not to take any notice of their jealousy at all. - Contributed By Yes Plus Teachers
Q: Gurudev, In a world full of jealousy and hatred, how do I go on a path of humbleness and serenity?
Sri Sri Ravi Shankar:
Don't label the world. Some people are this way, but don't pay too much attention to them. Just move on. Let them get cooked in their jealousy. It is alright. That which you put attention on, will grow. Manifestation follows intention and attention. If your intention is clear, I tell you, you will move on. If someone is jealous, what do you do? Just move on. Your attention should be on something higher, on the blossoming of the self.
Q: Gurudev, Can spirituality save the world?
Sri Sri Ravi Shankar:
What is destroying this world? It's the greed, jealousy, hatred, narrow mindedness, selfishness, and all these negative emotions and qualities which are destroying the world, right? Because of greed of few people, anger and hatred of few people, lack of awareness, lack of understanding or misunderstanding and narrow mindedness of a few people, the world is getting destroyed. How can these negative emotions be overcome? Is there a way? Yes, SPIRITUALITY. It is only spirituality which can turn hatred into love, anger into awareness and selfishness into compassion. It is only spirituality that can save the mind of the people, isn't it so?!
Q: Gurudev, How to choose right career path?
Sri Sri Ravi Shankar:
Identifying your energy type is the most important. There are 3 energy types, predominance in creativity, sustenance or challenge facing ability. What kind of person are you? First identify that. Then it will become easy for you to choose a carrier. – Contributed By Yes Plus Teachers
Q: Gurudev, Bali culture is connected to India, would you throw a little more light onto this?
Sri Sri Ravi Shankar:
If you go into the native cultures all over the world, you will find that they are all similar - in British Columbia, Australia, New Zealand, India etc. They all are similar to one another. They all honor the directions, the moon, the earth, the sun, the water, the mountains. They all honor creation. India and Bali are in Southeast Asia, and are of course connected. It's good to find similarities, and celebrate differences.
Q: Gurudev, How important is it that we act for planet? What can we do? How do we sustain?
Sri Sri Ravi Shankar:
We need to wake up and see that planet is our home and when you go higher, you don't see borders. Borders are our understanding, our illusions. There really is no border. Sky knows no border, clouds know no border, and wind also knows no border. The elements of this earth have no borders. The planet is one home for everyone. We are all one family. So, we need to think from a broader perspective. Which is the correct perspective? That the whole planet belongs to us.
We cannot dump our nuclear waste into some other place. The effect of dumping any waste anywhere in Earth will again come back to us! We cannot keep one place clean and pure in isolation. It is not possible because the air will carry! We have to care for the whole planet.
We have to make the entire planet organic.
We have created so many types of viruses on this planet. Because we meddled with nature. We have destroyed many species on this planet because we have not taken good care of it, and our food production has gone so low. That it's going to be a very heavy thing on the coming generation, you know! I think every individual, every human being on the planet will have to take responsibility of not polluting the planet, of continuing sustainable development by planting more trees, preserving our lakes, preserving water. It is so important!
Water scarcity is another big issue in the world. Millions of people are into starvation! So, we need to have a global picture and care for the whole planet. Of course, we need This is most important! But at the same time, we should have the idea about the whole planet and the entire humanity being a family.
Q: Gurudev, Is it possible to become like a child again and to rekindle that positive vibration around us?
Sri Sri Ravi Shankar:
It is possible. The secret lies in our own breath. Through breathing exercises, certain breathing techniques and some practice of meditation, we can rekindle positive vibrations within and around us.
Are you aware that sometimes for no reasons you feel like talking to some people, and sometimes for no reason you want to avoid some people? I am sure everyone has this experience!
We convey more through our presence than through our words. If we are uptight, angry or stressed, then we become repulsive. Now, the question is how do these negative vibrations come in our aura? We are storing all these negative things that we have seen and heard in our aura.
Q: Gurudev, what is the purpose of life and what is the definition of a successful life?
Sri Sri Ravi Shankar:
One who knows won't tell you and anybody who tells you, they don't know. It's very important question; keep it with yourself, 'what is the purpose of life'? You should ask yourself again at times. The question will clear all the cobwebs around you and will keep you on track of what you want and where do you want to go.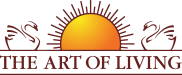 Founded in 1981 by Sri Sri Ravi Shankar,The Art of Living is an educational and humanitarian movement engaged in stress-management and service initiatives.
Read More