Question & Answers with Sri Sri Ravi Shankar

Q: Gurudev, How to learn from experience? Often we keep doing same thing but don't learn.
Sri Sri Ravi Shankar:
If you keep doing the same thing again and again knowing that it brings you misery, you really don't understand that it brings you misery, or you think it brings you some pleasure. Craving for pleasure and non awareness that it is going to cause you misery are two things which makes you commit same mistake again and again. That's why it is called habit. Habits don't give you pleasure but they inflict pain by not following them.
Q: Gurudev, What do I do when I close my eyes for meditation?
Sri Sri Ravi Shankar:
Whole time you keep on doing something or the other. Your body is involved in some function or the other, thoughts keep passing and bombarding the mind. Good news is that, you need not do anything – meditation is not an act, it happens. You simply sit and let it happen. There are three steps to meditation:
Step 1: Relax
Step 2: Relax more
Step 3: Relax more and more
Meditation happens with effortlessness!
Q: Gurudev, I would like to know about your views on this wonderful time on the planet when service is accelerated and technology is connecting the world, when we have the opportunity to make this world one world family, when teachings from the teachers like you are spreading all over the planet and we have a chance to evolve spiritually. At the same time, planet is facing dangers that the old ecological and political structures are not sustainable anymore. We are coming to a choice point where we are ending one paradigm and accelerating in a spiritual paradigm. Also so many souls are incarnated at this time. And wonderful events are happening like this to accelerate that. Would you please speak on that?
Sri Sri Ravi Shankar:
I think I have said it all. All the lines between different disciplines are blurred now. I remember when I was in school there was a thick line of difference between physics and chemistry, and they were thought not to be connected. Today, whether it is astrophysics, physics, knowledge about the spirit or information technology, all have come together. Environment and spirituality are not two different things. Perhaps the ancient people of this country knew this. They worship the trees, mountains, rivers etc in nature. And it is true for all native civilizations in the world. They honored nature. They took care that they care for nature and progress and development was aligned with the sustainable conditions on planet Earth. The most needed thing today is – Globalizing wisdom. There are two types of calamities – one is natural calamities like earthquakes. And second is man - made calamities. Man - made calamities can be overcome by wisdom and a Cultural Revolution, and by spreading this knowledge of one world family. Natural calamities can be overcome by caring for the planet, planting more trees, preserving water, by spiritual energy and with the thought that you are one with the vishavatma(Universal soul).
Q: Gurudev, What does a person with passion and aptitude, but very less investment does?
Sri Sri Ravi Shankar:
If you have a passion and aptitude then a lot can be done with less investment too. Whatever your idea is, you need to talk to experts and have a practical implementation plan for it. - Contributed By Yes Plus Teachers
Q: Gurudev, If one doesn't want to do a full time job then what are the options available, as in business/franchise?
Sri Sri Ravi Shankar:
Take calculated risks. Experiment and be ready to fail. Don't be scared of failure. You don't do business because you don't want to do a job. You do business because you have a great business idea and you have a passion to pursue it. - Contributed By Yes Plus Teachers
Q: Gurudev, Which are the most important values which can transform this universe into a heaven?
Sri Sri Ravi Shankar:
 Shift in our vision. This universe is already a heaven. What blocks us from perceiving it as heaven is our own mind. The mind clings on to the past or it wants perfection. It has its own ideas of perfection. This is about the universe. But if you ask me about improving the society, I think this is a question every human being should ask himself/herself. We need to have a violence-free and stress-free society. The way to such a society is Yoga, Meditation and Service.
The gentleman continues, "But I find 99.9 percent of people in the world are already good. But still that 0.1 percent dominates. Even if 10 percent people come together and say they don't want violence and terrorism in society we can achieve this. How can this happen?"
Q: Gurudev, Sometimes I think I live in a world surrounded by formalities and exchanging superficial words. But the question is I feel that there is more to it, life cannot be just being nice and living in this cordial way but there is more because I worry that when I die, I wouldn't even remember where to start again?
Sri Sri Ravi Shankar:
Now I understand there is a longing, there is emptiness, and there is a craving for something higher. Right! And that gives that pain. So, that pain to attain something very fast is in a way good, but what is needed along with this is a little patience.
Q: Gurudev, There is so many violence and natural disasters happening in the world. Why does God let this all happen? If God exists then why does all this happen?
Sri Sri Ravi Shankar:
You chop off some leaves and branches of plants. Don't you prune rose plant? Does it die by pruning? It grows up. Same way nature brings all this from a bigger picture.
It is not always that ripe fruits fall from a coconut tree. Sometimes even small coconut drops off. Baby fishes are also swollen by big fishes in an ocean. So, these natural calamities are all part of the nature. If we exploit nature too much, more natural calamities occur. We are putting dynamites in the Earth. We are blasting it every day. Imbalance gets created and so Earth starts shaking. Sustainable development is what is needed today. We need to care for the planet.
Nature moves with the law. God means a rule, a law. Everything goes by that. This planet Earth has to be protected and cared for. One is natural calamity. Another is man-made calamity. Man-made calamities can always be avoided. People are not valuing human life for a little piece of gold. Human values need to be brought back into society.
Q: Gurudev, As per research statistics, there is major portion of population which is depressed in the West. Comparatively, it is much less in the East. It is so pinching to see such a condition, in spite of having so many comforts and electronic lifestyle. What is the reason and under these circumstances, where are we heading to?
Sri Sri Ravi Shankar:
Yes, and that is why we all have to work together. The planet is facing a kind of stagnation; and it is only through youth, the transformation will happen. An empowered youthful heart, free from alcohol, drugs and other addictions is the hope of the world.
Q: Gurudev, What is driving many people away from faith and religion, and why do faith and power to pull people from doing good towards the society exist? Can you please talk about the destruction and dimensioning in the world about Maris in NZ and aborigine in Australia, all the native loving traditions are getting destroyed?
Sri Sri Ravi Shankar:
I am for preserving the natives around the world, and I always encourage them to preserve it. I have seen similarities between aborigine in Australia, Maori in NZ, Arunachal Pradesh in India and British Columbia in Canada. The way they welcome a guest is so loving. They all have similar traditions and cultures. In the past, there was some connection or similar culture all over the world. You know, we need to celebrate the diversity and not think that everybody should be like us. We should take good things from every culture and I feel that is the way we can overcome the terrorism in the world.
If every child knows a little bit about all the wisdom in the world then they grow up much wiser. They don't become fanatics or fundamentalist or terrorist. You know, terrorists think that only they know the truth, only they will go to heaven and everybody else will go to hell but they create hell for everybody else. No sense of global wisdom and we have to take responsibility because we haven't globalised wisdom. We have globalised everything else on the planet from eatables to equipments to cold drinks but we haven't given a comprehensive wisdom for youth of the world, don't you think so?
Once a child asked me a question, Guruji dogs can communicate with any other dog in the world, but why not human beings? I still remember, this is some 25 years ago, in Manchester, UK. A small girl came to me and asked me, "Guruji, Why not human beings connect with everyone else in the world". This is because we are so stuck in our identities, we have to grow beyond that, it's good to have identity but we have to grow beyond that. Don't you think so?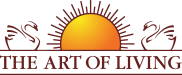 Founded in 1981 by Sri Sri Ravi Shankar,The Art of Living is an educational and humanitarian movement engaged in stress-management and service initiatives.
Read More