Saving the Ganga – by recycling dried puja offerings
3 tons of discarded puja offerings converted into more than 1 ton of compost at the Dakshineshwar Temple in one month
The clanging of temple bells, luminous oil lamps casting their illuminating glow all around, the mesmerizing scent of incense sticks, colorful flowers adorning the deity: it can be such a delight for all the senses to take in the beauty of worship. However, there is another side to it as well, a not so pleasing one. Discarded offerings, dried flowers, plastic packets – the waste products from a temple - if not disposed of carefully - can also dirty its surroundings.
Many temples in North India are built on the banks of the Ganga. To avoid offending sentiments of devotees, offerings tend to be dumped in the river and not disposed with general waste. The situation is further aggravated during festivals when the footfalls in temple complexes peaks.
It is the first project of its kind in West Bengal in the Dakshineshwar Temple, Alambazaar. The flowers, garlands and other organic offerings are recycled through a processing plant and converted into organic compost, through an initiative of The Art of Living in collaboration with the Dakshineshwar Temple, Debottar Estate and a PSU. The same compost can be used by farmers and also for urban gardens.
The construction of the plant commenced in September 2015 with trial runs done towards the end of October. The results were encouraging: In December, 2015, 1241 Kgs. of waste was converted into 414 Kgs. of compost and in January 2016, 3,000 kgs. of waste was turned into 1114 kgs. of compost. The temple provided the land and the waste flowers, the equipment was sponsored by a PSU, while The Art of Living brought in the concept, the know-how and the implementation. The plant is manned by four people - two for segregation of floral and organic waste from other waste and two for operating the plant. They work under Supratik Barik, the manager, according to Subhra Ray, the Project Director.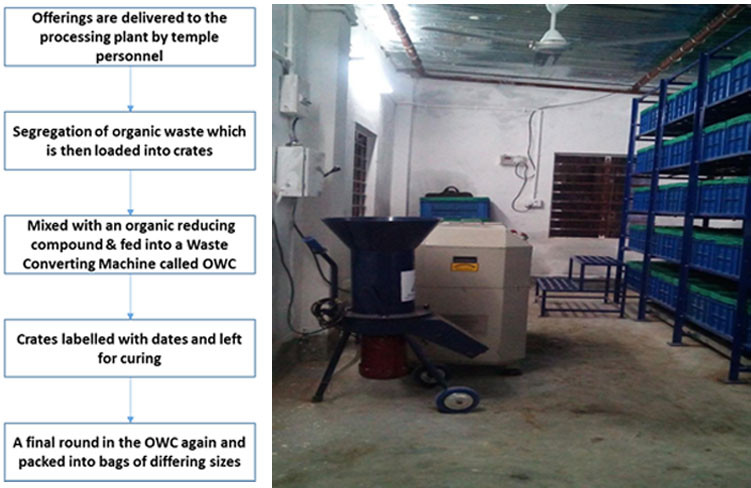 Commercial Production and Sustainability: the plant is capable of processing 200 kg of waste daily, yielding about 60 kg of organic compost after a 11-13 day curing cycle. It thus produces 1500 kg in a month, which is then sold through a distributor in the local market. The proceeds from the sales in turn make the project sustainable.
The Art of Living is initiating similar projects at the Tarapith Temple in Birbhum District and the Kalighat Temple in Kolkata as well.