How to deal with Anxiety? 
Get relief from anxiety with Sudarshan Kriya 
Whether its constant worry interfering with your daily life, or the fear of experiencing another panic attack or nightmares that don't let you sleep, simple breathing techniques make for effective anxiety treatment & can help you break away, cut the stress and experience calm.
Sudarshan Kriya, a research backed, powerful technique is one of the solutions for anxiety treatment. It draws you to a deep state of relaxation which is not found even in sleep.
Break free from Anxiety
Whether you are experiencing social anxiety, generalized anxiety disorder, occasional anxiety or panic attacks, Yogic breathing techniques are just the tools you need to empower yourself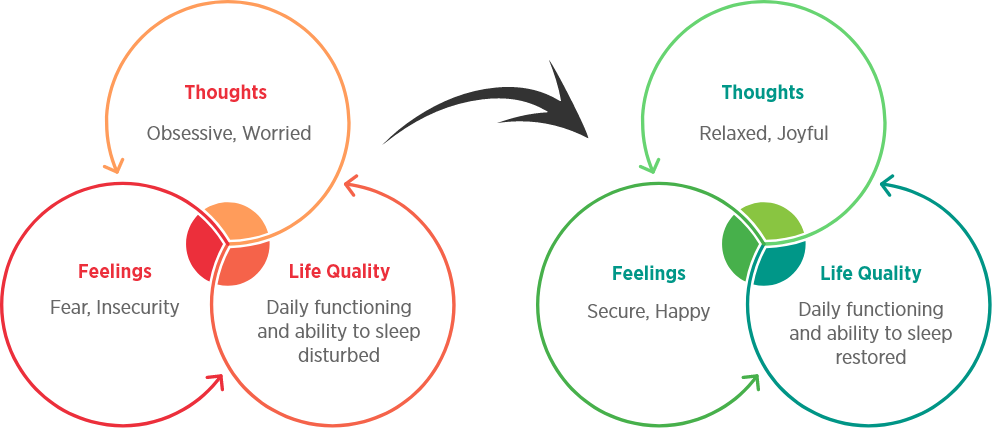 Sudarshan Kriya taught in The Happiness Program can help!
9 hours is all it takes!
In just a few hours per day over 3 to 6 consecutive days, you will learn the simple and useful practical tools to practice every day at home and keep the anxious thoughts, bodily stress at bay. Once you've completed the program, you can attend the weekly follow-ups available at our 10,000+ centers worldwide.
Testimonials
Helen Turner
Personal Secretary
I had struggled with anxiety and depression since I was a child and tried many things to overcome them. However since learning the Sudarshan Kriya and the techniques the Art of Living teaches, anxiety and depression are no longer part of my life and I am the happiest I have ever been 

I used to suffer from Post Traumatic Stress Disorder which led to anxiety, depression, low self-esteem and daily panic attacks. Since practicing the art of living techniques I no longer suffer from this condition and have been set free to live every moment, in the moment.
Since I was a teenager I have never been taught at either school or university on how to deal with certain emotions such as anger, fear, anxiety or jealousy. The Sudarshan Kriya and Yoga practice has helped me to release accumulated stress in a healthy and active way, whilst enabling me to live my life to the fullest bringing joy, enthusiasm & happiness."
Company reviews
Out of 100+ leading organisations across the globe where the Art of Living programs have been taught, here are a few that shared their experiences of Sudarshan Kriya with us...
"I believe this workshop has been directly contributing to the cherished values of Professionalism, Perseverance and Respect."
- Dr. M. Otgon,
Regional Fellowships Officer

"Increase in sense of community, confidence and clarity of mind." 
- Mark Ball,
Sr. Associate, Training 
"Sustained reduction in stress, and consequent increase in productivity." 
- Sanjay Pradhan,
Director, Public Sector Governance 
"[The Art of living course] has tremendously helped in highly tense situations." 
- Col. A.M.Muhammed,
Special Police Units

"I have seen fundamental changes in participants functioning...to be more productive, creative and skilled."
- Bill Hayden,
Senior Systems Engineer
"In a world facing the challenges of globalisation, Art of Living offers the tools necessary to build a harmonious and
- Raman FG
Vishwanathan, Manager