Published by: We Blog The World
I had an opportunity to interview Sri Sri Ravi Shankar recently, who although based in India, travels around the world to work with people on reducing their stress so we can have a violent-free and more loving society. Many yogis may know about Sri Sri's work and the unique rhythmic breathing technique Sudarshan Kriya, which is at the cornerstone of all of his Art of Living courses.
This came about when Sri Sri went into a ten day silent period in Shimoga, India, where this breath work came to him and he began to teach it. This was 1980 and since then, Sudarshan Kriya has been practiced by millions all over the world, from Fortune companies, Olympic athletes and top business schools to CEO's and yogis.
People report physical and emotional health benefits from practicing these breathing techniques, including a stronger immune system, enhanced energy, lower cholesterol levels, greater clarity of the mind, deeper sleep, greater awareness of self and one's surroundings, improved patience, reduced anxiety & depression and more. Teaching this had a goal however – a bigger picture one and that was to reduce stress and create a violent-free society as a way to get there.
And so, in my interview, we started there.
Renee: Can you tell me a bit about your vision of a stress-free, violence-free society?
Sri Sri: I believe in and work towards a stress-free and violent-free society, and to bring a smile to everyone's face. Mental stress is blocking so many people in society today and the human touch is missing. A sense of belonging is also shrinking. When I talk to kids even in India about their friends at school, they are very few. It doesn't reach out beyond this community often.
We focus on that everyone is a human being – it's our main thing. And, that every human being has something good in them. Let's kindle the beauty and goodness in each individual rather than what is perceived to be bad. There is joy in seeing the good in others and joy in making others happy, putting a smile on other people's faces.
While technology has been good for connecting us, the human touch is missing and the connection to other individuals.
Renee: Why do you think people are so stressed today?
Sri Sri: People are so over-stressed today that they don't trust anyone. Many things can lead to mental distress and stress, from conflicts with the family to insecurity in oneself. All of these things affect children's social behavior and it shows up through lack of trust and relationships which are few and not deep. When people are stressed, mistrust follows.  
Renee: What daily practice do you do to quiet the human monkey mind?
Sri Sri: How we breathe affects our state of mind. I use breathing techniques every day, so I can have a say over my human emotions. I also do yoga and meditation as well and in the evening, I sit and listen to music.
Renee: What advice could you give to others to calm the mind? Meditation and yoga isn't for everyone, so what advice could you give to others to calm the monkey mind and be at one with their Soul & Higher Self?
Renee: What advice could you give to others to calm the mind? Meditation and yoga isn't for everyone, so what advice could you give to others to calm the monkey mind and be at one with their Soul & Higher Self?
We are missing the human touch and everyone feels that. And, the lack of belonging and connecting. You can connect deeper by understanding the power of your breath. Observe your breath & do some daily breathing techniques. One of the things we teach is Sudarshan Kriya breath work.
We consume 10,000 liters of air every day but only 2 kilos of food and 2.5 liters of liquid. Breath is so important. In 25-30 minutes of meditation, you can get so much clarity. Try to see your life in a bigger context – beyond you. What will bring you more compassion in your life?  Then things will become more clear.
Renee: Who most inspired you & supported your spiritual growth growing up as a child and why?
Sri Sri: Mahatma Gandhi was both an influencer for me and a teacher as was my grandfather who lived on an ashram with Gandhi for 20 years. We grew up with these stories and the understanding that we must contribute to society….and, that we must find joy in making others happy – this is key.
Renee: Can you tell me about your philosophy of peace?
Sri Sri: World peace begins with inner peace. Unless someone is at peace within, we cannot have peace on the outside. Our vibrations speak much louder than our words. This is what we work on with others in all of our programs.
Renee: What & Who is God for you?
Sri Sri: God is from which everything comes. God is from what everything comes and will be. God is everything which we are and everything we will dissolve into. God is omniprescent. All of consciousness. In India, a child will ask his parent, "who is God?" for which we respond: It is the space in which everything IS. It's not just an empty space but a space full of compassion, infinite divine love and consciousness.
"God is Everything which we are and will dissolve into."
Renee: You founded The Art of Living Foundation?  Tell me more about how it evolved.
Sri Sri: The foundation grew organically, mainly from getting interest from others who wished to learn about our meditations, breathing techniques and to teach others. We began to train teachers. If there is a call, I try to build something there in that location. I cover around 20-30 countries a year right now but we do a lot in India too. Remember that India is about 3 times the size of the United States although growth is happening all around the world. Mongolia. Panama, Costa Rica, Mexico, Argentina and other parts of South America.
Renee: What are some of the humanitarian programs that your foundation is creating?
Sri Sri: We have many many programs and each are designed for different types of groups, such as veterans, inner city schools and youth. The Art of Living movement has spread peace across communities through diverse humanitarian projects, including conflict resolution, disaster relief, sustainable rural development, empowerment of women, prisoner rehabilitation, education for all, and environmental sustainability. Every slide of society could use it – it is taught as a 3 day program with an instructor – it's a deep detox process and is done in an administered environment. We have even worked with around 800,000 prisoners.
Renee: What is a typical program for these prisoners?   
Sri Sri: They all differ depending on where we are, but most are around two hours a day for 6-8 days. It's a group process – do guide them through meditations and talk to them about how and why they need to let go of the past. Find the good within themselves. Focus on the present. Focus on the future and not to look back.
Renee: Tell me about the Art of Living programs and events? Who are they designed for?
Sri Sri: We have been around since 1981.  It is really an educational and humanitarian movement and we are engaged in stress-management and service initiatives. The organization operates globally in 155 countries and has touched the lives of over 370 million people.
The programs are guided by my philosophy of peace: "Unless we have a stress-free mind and a violence-free society, we cannot achieve world peace."To help people reduce stress and experience inner peace, we have created stress-elimination programs which include breathing techniques, meditation and yoga.
"Unless we have a stress-free mind and a violent-free society, we cannot achieve world peace."
In Denver Colorado in July, we're going to have a Summit but also lead 20,000 people to meditate in the public park. We did this with around 150,000 people in Argentina a few years ago. You can come to one of our programs where it is being offered in the United States. We also have an ashram in India – it has one of the largest kitchens in the world.
Renee: Can you tell me some other spiritual teachers and leaders who inspire you and why?
Sri Sri: Others for inspiration? So many. I am aware of others around me. I keep my eyes and ears open all the time – life is teaching me all the time. I am always learning from others: children and animals. Nature is a big teacher for me too. My philosophy is that we are all one consciousness so we can learn from everyone around us.
Their core program is called The Happiness Program which was the foundation of the central breathing technique, Sudarshan Kriya, which effectively reduces stress and seems to take people effortlessly into a state of deep meditation. There are now over 700 Happiness Program instructors around the United States, most of whom volunteer their time to lead these programs.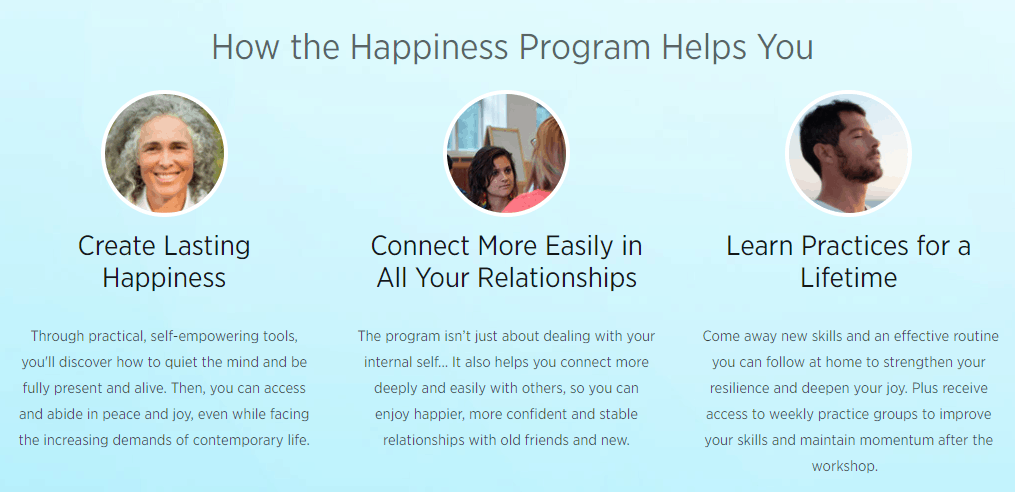 Courtesy: We Blog The World