International Women's Conference 2020
Bengaluru, India
The International Women's Conference (IWC) brings together women leaders from various spheres of society such as politics, arts, business, media, and academia to engage in meaningful dialogue and sessions to:
Learn from each other's inspirational life stories
Explore how to amplify the message of peace, empowerment, and service to society
Highlight the many ways in which women contribute to the world
Discover spiritual tools, techniques to increase positivity and well being
IWC's unique two-tier model - individual development and collective action - facilitates partnership-building and leadership development among women leaders globally. To achieve its vision, the summit agenda integrates unique leadership development modules based on the principles of personal development programs offered by The Art of Living.
What Our Speakers and Guests Say

Ndileka Mandela
Social Activist, and Head of a Rural Upliftment Organisation the Thembekile Mandela Foundation in South Africa.
"Today I met and listened to some phenomenal women who have broken barriers and become pioneers in their respective fields. Especially, Dr. Kiran Bedi's and justice of the Supreme Court of Nepal who has transformed the legal system to fight against atrocities occurring in the society against women and children. I'm sure by the time I leave this conference I would have learned a lot about the spirit of being a woman."
Divyanand Prana
Ramakrishna Sarada Mission
The arrangement and ambiance of this place are simply fulfilling and everything about this conference is so memorable. All the interactions with people from different walks of life are so interesting and engaging in nature. I feel that passion, compassion, and dispassion are important elements of life and for me, dispassion is something very beautiful that I like to kindle in my life and have a discussion about."
Dhrupad Karwa
Founder, Haikujam
"Most conferences are about the intellect but this was about the soul and the heart. Fantastic experience!"
Fantine Tho
Brazilian Singer
"Compassion has shaped my life. There are so many teachers and this really moves me as I speak. There are people who have dedicated their whole lives with all their devotion, surrender and dispassion with a total detachment to deliver us something and I have had access to information, education, access to knowledge through the efforts of Gurudev and his teachers. Their living compassion is giving us an opportunity to develop a capacity to reflect on ourselves, to move forward  and evolve together."
Annelies Richmond
Director of SKY campus Happiness Program, USA
"I am so grateful for Bhanu ma for bringing this together. There is so much color celebration and insight at this conference. So happy to be here!"
Larisa Fomina
Owner of the largest PR advertising company in Tatarstan, Russia
"I have attended many business conferences but I must say this was very different and unique. I'm amazed at the way this conference has been organized and the scale of this. There are so many brilliant radiating women here. This conference is particularly important for me and any woman who is self-employed in business, politics as spirituality comes first before our profession. That's why we have such an atmosphere of love, warmth, friendship support, and openness which is simply heartwarming. If we could take this experience to other countries it would be amazing. "
Katherine Sellery
Director, Conscious Parenting Revolution
"I attended IWC two years back and this was the same time when a tragedy happened in the USA- Brooklyn school shootings and this shook me to the bones. I realized that I had to do something about the issue of mass shootings. Rather than thinking that it is not my job, I was moved to take action. For me, this beautiful culmination of women is inspiring."
Veronica Rita Soares
Portugal
"It is my very first-time international women's conference and my experience is incredible. After attending today's session I felt like my life is so short and I can contribute so much more to society. I saw the grandness of so many hearts today and it shifted something inside me as well. It is so inspiring to see women who have normal 24 hours in a day but they are able to touch so many lives"
Anjali Marla
Senior Technical scientist, Millipos USA
"I was very curious about attending this conference and find out what all these amazing women are doing. I believe in using it as a benchmark to get inspired and make a change in my little small world. What really touched my heart is the belongingness that I feel. Everyone is loving and caring and of course, the presence of Gurudev Sri Sri Ravi Shankar makes it all the more beautiful."
Smt. Indira Merani on Day 1, IWC - "Kiran Bedi's inspiring speech in today's session touched me to the bottom of my heart. For me, my Dad has always been the one to push me forward. I was the first girl to graduate as an engineer from Moti Lal Nehru engineering college back in those days. It was a big deal then but my father believed that both girls and boys should have equal opportunities."
Patricia Seubittere Yakubu
Executive Director, CESD-Kaduna, Nigeria
"I love the tree plantation initiative. I am a farmer and agriculturist and I know the value of these amazing medicinal plants that the art of living is planting. These plants are known to cure cancer, diabetes, constipation and even prolonged labor. It's a great and much-needed movement."
Priti Manmode
Program Manager Healthcare IT, North Carolina, USA
"I really want to give a shout out to the hospitality team in Basava for their exquisite  Seva. I needed a shampoo in the middle of the night and this volunteer arranged it for me and decorated it very nicely in a plate with a fruit a basket. You know the attention to the small details in the conference was very heartwarming. All the volunteers were just constantly on their toes taking care of the big and small stuff. So I am really thankful to the team of volunteers  for making it so special for us."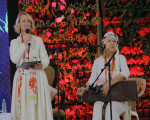 Launches
Trees are the guardians of our natural world, the lungs of our planet and our biggest life-sustaining force.
It is our honor and delight, at the International Women's Conference, to unveil Mission Green Earth 2020 as part of our sustained efforts to take care of our Mother Earth, the environment and our natural resources. We are committed to planting 5 million indigenous trees in harmony with nature and we invite you to join us on this beautiful journey to regreen our planet. We have created an exhibition to spread awareness and information about indigenous trees and how you can participate in this sacred mission to
Plant more trees and protect our planet.
Partners
Contact us
Phone number: India +91 93425 52503 | International +91 98866 60006 | Helpdesk +91 80672 62637
Email ID: iwc@artofliving.org