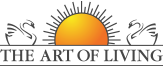 Science of Consciousness
Vigyan Bhairav
ORGANISED BY THE ART OF LIVING FOUNDATION SINGAPORE
It gives us great pleasure to announce our forthcoming event, Vigyan Bhairav – Science of Consciousness, with Sri Sri Ravi Shankar, the founder of the Art of Living Foundation and International Association for Human Values, on the 21st to 22nd of November 2017, at the Kallang Theatre, Singapore.
Understanding the Mind
It is the aim of most if not all meditators to still the mind – for only if you still the mind can you go deep into meditation.  Although there are countless texts available in the mass market which attempt to provide this understanding to meditators, it is a formidable task because the knowledge of the mind and consciousness was often recorded and written in Sanskrit or Pali, which were the language used at that period of time.  Vigyan Bhairav or the Science of the Super-consciousness is a 5000 year old masterpiece on meditation.  Very few translations and commentaries of Vigyan Bhairav are currently available.  Written in a coded and abbreviated way, the true essence of the text is not easy to decode and is best decoded by a master.  
Vigyan Bhairav –Science of Consciousness
This session which is being organised in Singapore, will have Sri Sri share powerful, insightful techniques from the ancient esoteric scripture.  This is truly a rare occasion to have Sri Sri personally lead participants over 2 days, in 4 sessions, totaling 8 hours of teaching, where he will be imparting techniques which meditators can use in their daily life to reach a higher state of being, and to experience deep rest and stillness. 
Schedule
| | |
| --- | --- |
| Tuesday 21st November 2017 | Session 1: 9.30am to 12pm Session 2: 2.30pm to 5pm |
| Wednesday 22nd November 2017 | Session 1: 9.30am to 12pm Session 2: 2.30pm to 5pm |
| Address | Kallang Theatre 1 Stadium Walk (nearest MRT station – Stadium, circle line) |
Important Guidelines
Please ensure you arrive at the venue in good time. Doors will close15 minutes before start of the event.
Late comers will not be allowed into the event hall, until the next break.
Please ensure that you have your entry pass with you at all times.
You will have to present your entry pass at each session for scanning and admission.
Wear loose comfortable clothes.
Bring along a shawl or jacket in case the venue is too cold.
Bring your own water bottle.
No food and soft drinks allowed in the event hall.
Mobile phone must be switched off during all sessions.
Strictly no photography and videography.
Ticket price does not include meals and accommodation.
Admission to the Event is restricted to individuals age 18 and above. As there will be no child care facility provided you are advised not to bring children below the age of 18 to the venue.
Organisers reserve the right to refuse and/or limit entry.
H.H Sri Sri Ravi Shankar
Uniting the World into a Global Family
H.H Sri Sri Ravi Shankar, Founder of The Art of Living, is a universally-revered spiritual and humanitarian leader. His vision of a violence-free, stress-free society – through the reawakening of human values – has inspired millions to broaden their spheres of responsibilities and work towards the betterment of the world.
His major initiatives include conflict resolution, poverty alleviation, empowerment of women, and free education. H.H Sri Sri Ravi Shankar is personally engaged in peace negotiations and counseling in conflict zones around the world.
Numerous honors have been bestowed upon H.H Sri Sri Ravi Shankar, including:
The 'Padma Vibhushan,' one of India's highest civilian awards, in 2016
The highest Civilian Awards of Brazil, Colombia, Paraguay, and Mongolia
16 honorary doctorates from various parts of the world
H.H Sri Sri Ravi Shankar has addressed several international forums, parliaments, business platforms, world conferences and prestigious universities across the globe. Some of his recent addresses include:  
Keynote Speaker at Reconciliation Colombia (along with speakers like Nobel Peace Prize Winner & Colombian President Juan Manuel Santos) – 2016
On invitation from FARC and the Colombian President, H.H Sri Sri Ravi Shankar gave a motivational address, which paved the way to a peace agreement between the FARC & the Colombian Government – formally ending their 52-year-old war – 2016
Speaker given the rarest honor of opening the Miraflores Locks (Panama Canal Gates) –  where H.H Sri Sri Ravi Shankar was acknowledged as an influential leader inspiring people towards positive social transformation – Panama, December 2016
International Yoga Day, European Parliament, Brussels, Belgium – June 2016
House of Commons, United Kingdom – June 2016
The Art of Living
Transforming Lives
Founded in 1981, The Art of Living is an educational and humanitarian movement engaged in stress-elimination and service.
Its signature programs – which include breathing techniques, meditation and yoga – help individuals get rid of stress and experience inner calm. And, its diverse humanitarian projects spread peace across communities the world over.
The organization operates in 155 countries and has touched the lives of over 370 million people.
Know more at www.artofliving.org.
Contact Us
For Enquiries
Do not hesitate to contact us should you have any queries.