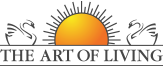 SWAMI Atmanand - UK TOUR
SWAMI ATMANAND
Swami Atmanand is a highly regarded international teacher and lecturer on yoga and meditation from India.He has been teaching meditation and breathing techniques with the Art of Living foundation for 20 years.  In 2005 he was initiated into the fraternity of Swami's and has since pioneered the Art of Living's Vedic Wisdom program.  Vedic wisdom has seen individuals from all over the world travel to the Gurukul (traditional Vedic school) in Bangalore to study veda's and learn about the power and impact of Sanskrit chanting of mantra's as well as a yogic practices and most importantly how such practices are inculcated into ones daily routine.
Sandhyavandanam and Upanayanam
Among the many purificatory rites, Upanayanam holds a special place. The meaning of the Sanskrit word Upanayanam means 'moving closer' to higher knowledge and marks the beginning of a new phase in a person's life. It is also called the 'sacred thread ceremony' performed to mark the point at which children or adults began their formal education in the Vedic tradition. Upanayana is traditionally seen as getting a new birth in the spiritual world towards the higher knowledge of the Self and is an initiation process to learning the sacred chants and mantras according to the Vedic tradition.
Register Here 
Decoding Karma
Swamiji will be sharing precious knowledge on "Decoding Karma" and open to all! Understand and learn:
- The principles behind karma
- The different types of karma
- How to manage and influence your karma through tools and techniques
Other Events around UK
    Secret behind Worship
Lecture in English
on The Secret behind
worship, traditions
and ideals
by Swami Atmanand

Warrington contact 07809735574
Midlands contact 07956455128 
                     
      Way to Happiness
 Interact & Meditiate 
with Swami Atmanand 

Contact: 07553746720 
Maha Kriya +
Only open to those who have who have completed the Part 1/Happiness Program. Experience the energy of group sadhana with Swamiji. Swamiji will be sharing some extra tools and tips to all course graduates. Join us at the beautiful Keythorpe Manor. 
Register Here
Introductory Talks 
Come and experience the benefits of meditation and breathing techniques at our free introduction to the world-renowned Happiness Programme (London Bridge).
More Details Here