Press Report
Search results
Sun, 12/07/2014

Huffington Post's ARIANNA HUFFINGTON interacts with Art of Living founder SRI SRI RAVI SHANKAR in Bangalore at his ashram on Saturday, December 6, 2014 Arianna Huffington: The Indian people will rediscover all this tradition you teach about – I love what y ...

The World Forum for Ethics in Business (WFEB) held its international leadership symposium on business ethics in the European Parliament in Brussels on 30 November. The symposium, which was entitled Rethinking Capitalism, brought together top business lead ...

Delicious Food For The Soul Art of Living to conduct nation-wide meditation camps   ...

Meditation classes for Tihar inmates 1 Jul 2004, 2253 hrs IST, Anuradha Mukherjee, TNN http://timesofindia.indiatimes.com/articleshow/msid-761499,prtpage-1.cms times of india articel NEW DELHI: Yoga's the new mantra of well being for terrorists and harden ...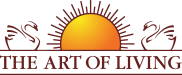 Founded in 1981 by Sri Sri Ravi Shankar,The Art of Living is an educational and humanitarian movement engaged in stress-management and service initiatives.
Read More